Bernard Charles Lannen, 85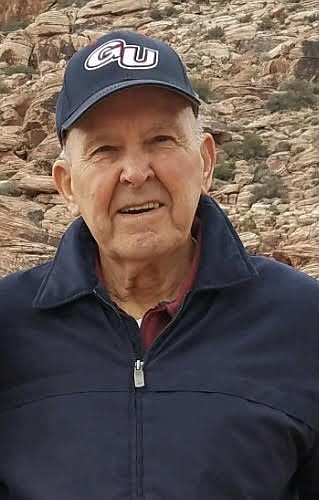 Bernard Charles Lannen, 85, of Cataldo, Idaho, passed away May 23, 2022, at the family home in Cataldo. He was born on a hot summer day in August 1936, in Mobridge, S.D. Bernard was the son of Edward "Mike" and Eileen (Zuehlsdorff) Lannen.
Bernard moved to the Silver Valley with his family as an infant from Mobridge. He attended and graduated from Kingston High School in 1954. While attending high school, Bernard was a high point player for basketball and football. Bernard furthered his education and attended the University of Idaho and North Idaho College.
Bernard was united in marriage to Lillian Jennings on Nov. 28, 1959, at St. Rita's Catholic Church in Kellogg, Idaho.
While attending high school and after graduating, Bernard worked for the U.S. Forest Service. He then went to work for the Bunker Hill Mining Company Zinc Plant. Bernard had also served as a log sawyer for several companies including Kellogg Transfer, Sverdsten Logging, Weingart Logging and Brown Logging; he served in the logging industry for 41 years. After retirement, Bernard served as president of the Independence Lead Mining Company.
Bernard was a member of St. Rita's Catholic Church in Kellogg and a member of the Knights of Columbus Third Degree.
Bernard so loved and enjoyed his family and providing for them was always of most importance to him. He also enjoyed geology, the outdoors, nature and yard work. Bernard loved all sports and was an avid Gonzaga Basketball fan.
Bernard is survived by his beloved wife of 62 years, Lillian Lannen of the family home in Cataldo; four children, Brent Lannen (Brenda) of Anchorage, Alaska, Jonathan Lannen (Cheryl) of Hayden, Idaho, Jennifer Reno of Las Vegas, Nev., and Gregg Lannen (Korena) of Kellogg; 11 grandchildren, Jessica, Emily, Tony, Ryan, Steven, Alicia, Bradley, Angelina, Nathan, Jared and Katie; numerous great-grandchildren; and two sisters, Maureen "Susie" Boone (Martin) of Santa Cruz, Calif., and Michalene Hauser (Steve) of Pacifica, Calif. He is also survived by several nieces and nephews. Bernard was preceded in death by his parents and one brother, Vernon Lannen.
A rosary and memorial Mass will be held at 11 a.m. Saturday, July 9, 2022, at St. Rita's Catholic Church in Kellogg, with Father Jerome Montez serving as Celebrant. A gathering of family and friends and a luncheon will be held in the Church Fellowship Hall following services.
The family suggests memorials may be made to the charity of the donor's choice.
Shoshone Funeral Services & Crematory, Kellogg, is entrusted with services. You may share your special memories of Bernard with his family at www.shoshonefuneralservice.com.
Recent Headlines
---