Patrick Daniel Farris, 80
|
November 9, 2022 2:50 PM
Patrick Daniel Farris, loving father, grandfather and brother passed away peacefully Oct. 25, 2022. Born Oct. 28, 1941, Pat grew up in Osburn and Wallace in the Silver Valley of North Idaho.
His parents were James and Eleanor Farris, and he was the older brother to two sisters, Mary Gaffney and Sally McManus. He is survived by his former wife, Jansie Farris, and his four children and their families: Katie, Dave, Dylan, Collin and Josh; Jimmy, Melissa, Adelle, Lila, Chloe and James; Steve, Mickie, Owen and Luke; and Paul, Corey, Charlotte and Jaxon. He is also survived by many other loving family members, including: Sally, John, Sean, Dian, Kiera and Fiona; Shannon, Ash, Uma and Declan; Kelly, CJ, Kathleen and Daisy; and Paul, Bill, Judy and their families.
Growing up in mountainous Shoshone County, Pat especially loved skiing, scouting and playing football. After graduating from Wallace High School, Pat spent one year at Seattle University before joining the Society of Jesus (Jesuits) for the next 11 years, earning a M.A. in history. Having left the Jesuits and moved to the San Francisco Bay Area to pursue other life dreams, he met Jansie, who had also recently left her life in the Dominican Sisters. The two Catholic devotees-turned-lay-folks married and lived all over the Bay Area before settling in Palo Alto with their four children.
Pat devoted his life to working for his family and local service groups, namely the Kiwanis Club of Palo Alto. He loved sports, supporting the Giants and Warriors, but was a true die-hard fan and season ticket holder of the San Francisco 49ers. He also enjoyed traveling, socializing, board games, and talking about history, politics and real estate. However, his passion for the last several years was attending the weekday, weekend, whenever and wherever sports games of his several grandchildren. Rain or shine, Grandpa was as sure to be at the game as the grass on the field.
Pat will forever rest with his parents and other family in the Nine Mile Cemetery in Wallace.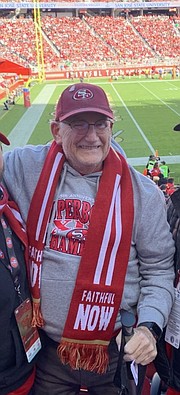 Recent Headlines
---