Shoshone passes election audit with flying colors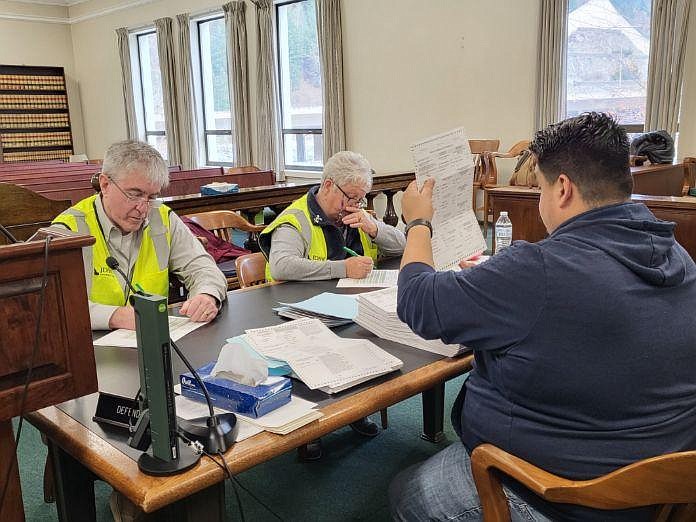 Republican watcher Tim O'Donell, Democratic watcher Julie Robbins and Secretary of State's Office official Jair Carreo pour over ballots in the District Courtroom during the county's random audit last Tuesday.
Photo by TAMIE LEWIS-EBERHARD
by
CHANSE WATSON
Hagadone News Network
|
November 29, 2022 1:00 AM
WALLACE — Officials with the Idaho Secretary of State's office recently paid a visit to Shoshone County for a random election audit and were more than satisfied with what they found.
Shoshone County Clerk Tamie Lewis-Eberhard explained to the News-Press that on Nov. 18 at 7:30 p.m., her office in Wallace was informed that Shoshone had been one of eight Idaho counties selected to participate in an audit of certain ballots from the most recent election on Nov. 8.
As soon as Lewis-Eberhard received the news, she immediately contacted Undersheriff Holly Lindsey at the Shoshone County Sheriff's Office to begin the process of collecting all ballots from that election and transporting them from the Courthouse to the SCSO evidence room for safe keeping.
The audit focused on one state-level measure in particular that was consistently on the ballot of seven different county precincts. Idaho Amendment SJR 102 allowed voters to decide whether or not to amend the state constitution and allow the legislature to call itself into special sessions.
On the morning of Nov. 22, the ballots were recovered from the SCSO evidence room and taken to the District Courtroom to be hand counted.
In attendance for the audit were two officials with the Secretary of State's office, one Republican party watcher, one Democratic party watcher, Deputy Clerk-Elections/Recorder Savanna Willer and Lewis-Eberhard.
Accounting for the 983 "Yes" votes and the 839 "No" votes, in addition to the spoiled and left over ones, the numbers exactly mirrored what was reported on election night.
"We passed 100%. Everything matched up perfectly," Lewis-Eberhard said.
Lewis-Eberhard said that the random audits began in May 2021 and that this was the first time that her office had experienced one during her time as clerk.
She was pretty pleased with the result.
"That was amazing. We were elated. The poll workers did what they were supposed to do and they were spot on. There were no questions, I was very, very proud of the poll workers and Savanna because that's who ultimately pulled this off. This random audit ensures our elections are done properly and all results are accounted for accurately."
For more information on the audit or election questions, visit www.shoshonecounty.id.gov/clerk/ or call 208-752-1264.
Recent Headlines
---