Silver Valley Sports Recap: Sept. 26-Oct. 2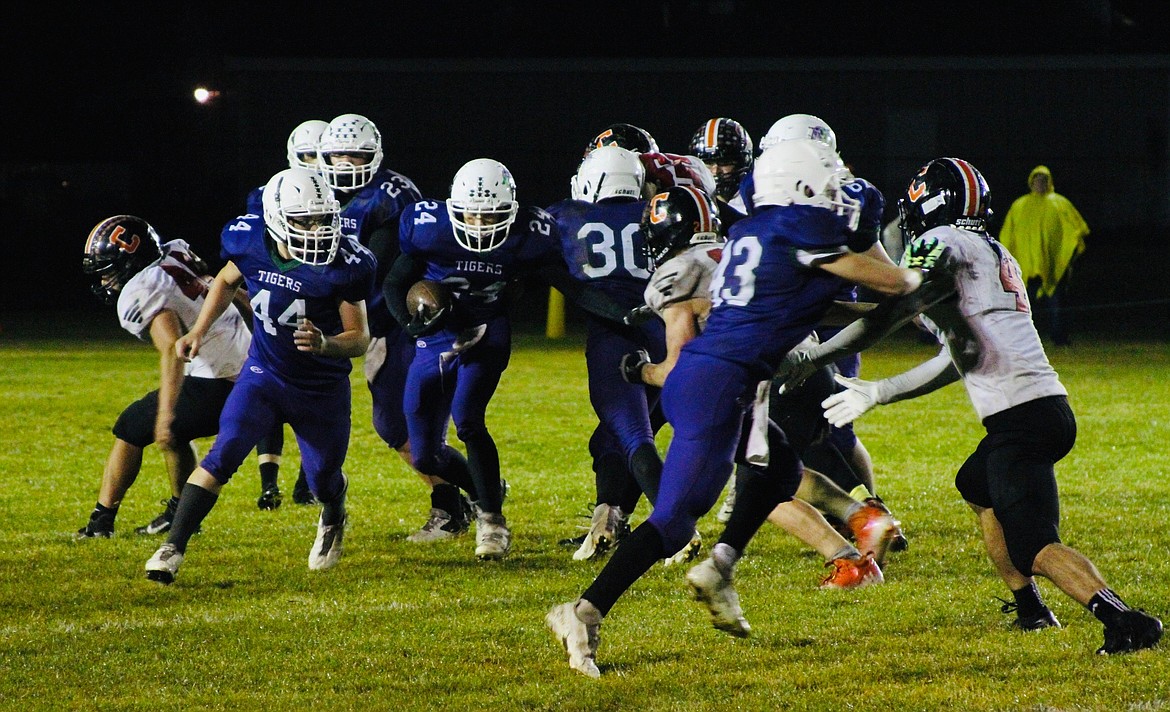 Mullan runningback Alex Trogden splits the tackles during the Tigers' loss to Chinook last week.
Photo by SHERRY LEITZ
|
October 4, 2022 1:00 AM
MULLAN FOOTBALL
• Sept. 30
Chinook (MT) 42, Mullan/St. Regis 26
LINCOLN — The Tigers and the Sugarbeeters met in the middle for a battle between two of the better 8-man squads in the region.
The highly competitive game saw scores traded by both teams until the final minute when Chinook extended their lead to two-scores.
Senior Caleb Ball continued his streak of scintillating play for the Tigers, passing for over 200 yards and three touchdowns, all to tight end Blake Layton.
Layton also led the defense with double-digit tackles.
"It was a one-score game with a minute left against a top-four, undefeated team," Mullan head coach Stetson Spooner said. "That's where we are wanting to be as a program. We're happy with the performance and battling while being down. We scored first — they scored two in a row then we went back and forth until the end."
The 4-2 Tigers will be on the road this week against Clark Fork at 7 p.m.
KELLOGG FOOTBALL
• Sept. 30
Kellogg 20, Frenchtown 29
KELLOGG — The Wildcats had a shot to win in the final two minutes, but an interception from senior quarterback Riply Luna gave the Broncs the ball back.
The Wildcats scored first on a scramble from Luna, following an interception by twin brother Kolby Luna.
Frenchtown, led by former Kellogg coach Dan Lucier, settled down and the game went into the intermission tied at 14, following a deep strike from Luna to junior Jeager Hall.
Following a scoreless third quarter, the pace quickened for both teams.
The Lunas would connect on a short touchdown that put Kellogg within two points, but the failed conversion left the 'Cats trailing 20-22 with just under five minutes to play.
Kellogg's defense held strong, forcing a punt just two minutes later.
But that's when Kellogg's senior signal-caller underthrew receiver Varick Meredith and Frenchtown picked Luna off.
The interception was returned inside the Wildcat 10-yard line, forcing Kellogg to allow a quick score in hopes of getting the ball back.
Riply finished with 201 passing yards (two touchdowns) and 77 rushing yards (one touchdown), while Kolby caught nine passes for 143 yards (one touchdown).
Kellogg (4-2, 2-0), will host undefeated Bonners Ferry this week at 7 p.m. at Teeters Field in a match-up of former 3A rivals.
KELLOGG VOLLEYBALL
• Sept. 27
Kellogg d. Bonners Ferry
BONNERS FERRY — The Wildcats knocked off the host Badgers 25-16, 25-13, 11-25, 25-23.
Maddie Cheney had seven kills, eight aces, and four blocks for the Wildcat, who played their first of three consecutive matches.
Head coach Steph Batchelder was pleased with the win, but is still trying to get her team to show that killer instinct and finish opponents off.
• Sept. 29
Kellogg d. Priest River
KELLOGG — The host Wildcats needed four sets to knock off the visiting Spartans ( 25-15, 15-25, 25-23, 25-17) at Andrews Gymnasium.
Freshman Abby Neff led the Wildcats with eight kills and 20 assists, while junior Maddie Cheney did a little bit of everything with eight kills, five blocks, and four aces.
Kellogg hosts St. Maries on Tuesday in a battle for the Central Idaho League's top spot.
WALLACE VOLLEYBALL
• Sept. 28
Kellogg d. Wallace
WALLACE — Emily Coe had nine kills, three blocks and 10 digs for the Wildcats in a 25-22, 25-21, 25-17 nonleague win over the Miners during the annual Dig Pink Night.
Abby Neff had 27 assists and five aces and Olivia Sawyer 10 digs for Kellogg (8-3).
Brittany Phillips had 16 digs and four aces, Savannah Smith 12 kills, Megan Hull 15 assists and Tia Hendrick two blocks for Wallace (5-5).
• Sept. 29
Wallace d. Clark Fork
WALLACE — Britany Phillips had 10 kills as the host Miners outlasted the Wampus Cats 25-19, 25-17, 12-25, 18-25, 15-13 in a nonleague match at Kirby Krulitz Court.
Aubrey Birdsell had 20 assists, Kynadee Gilmore five aces, Tia Hendrick four blocks for Wallace (6-5).
MULLAN VOLLEYBALL
• Sept. 27
Lakeside d. Mullan
MULLAN — Tylah Lambert had 10 kills, 10 digs, seven assists and two aces as the visiting Knights downed the Tigers 22-25, 25-18, 25-14, 27-25 in nonleague play at the Mullan Pavilion. Arianna Havier Gorr added six kills, 15 digs, three assists and two aces for Lakeside (2-5). Martina Rivera had seven kills, three aces, 16 assists and 11 digs, Kimberly Pluff seven kills and 11 digs. "The girls started out a little slow, but they stepped up and played their game," Lakeside coach Te'a Kolar said. Lakeside plays host to Genesis Prep on Thursday.
• Sept. 29
Mullan d. Kootenai
MULLAN — The Tigers got a big league win over the Warriors last week (25-17, 25-14, and 26-24).
"We mixed up our defense a little bit tonight," Mullan coach Dawn McKinnon said. "It was pretty darn effective and I like our hustle and teamwork."
McKinnon highlighted the efforts of Dakota Driggers and Kara Stahle during the match.
KELLOGG CROSS COUNTRY
• Oct. 1
LEWISTON — Coeur d'Alene Charter senior McKenna Kozeluh won the girls race at the Inland Empire Challenge at the Lewiston Orchards, finishing in 17 minutes, 55 seconds in a field of 176 runners on the Lewis-Clark State course.
Coeur d'Alene sophomore Max Cervi-Skinner was the top local boys finisher, taking eighth out of 229 runners in 15:30.
Kellogg's Makai Peak broke a 30-year old school record with his time of 16:20 (future story to come).
Rocky Mountain of Meridian swept team titles at the course, which will play host to the state meet in all classifications on Oct. 29.
BOYS TEAM SCORES (Winner, locals) — 1, Rocky Mountain 38. 3, Coeur d'Alene 98. 11, Sandpoint 307. 18, Timberlake 481. 21, Lake City 560. 23, Cd'A Charter 691.
FINISHERS (Winner, locals) — 1, Tyler Sainsbury, Rocky Mountain, 14:48. 8, Max Cervi-Skinner, Coeur d'Alene, 15:30. 12, Jacob King, Coeur d'Alene, 15:49. 13, Lachlan May, Coeur d'Alene, 15:50. 14, Zack Cervi-Skinner, Coeur d'Alene, 15:52. 16, Jacob Barnhart, Timberlake, 15:59. 23, Nathan Roche, Sandpoint, 16:16. 27, Makai Peak, Kellogg, 16:20. 36, Daniel Ricks, Sandpoint, 16:24. 44, Logan Anderson, Lake City, 16:31. 56, Kyle Rohlinger, Coeur d'Alene, 16:46. 57, Slate Fragoso, Sandpoint, 16:46. 58, Mitchell Rietze, Coeur d'Alene, 16:46. 66, Nathan Russell, Cd'A Charter, 16:54. 82, Owen Elizondo-Banchiero, Lakeland, 17:11. 99, Jeremiah Alameda, Timberlake, 17:32.
GIRLS TEAM SCORES (Winner, locals) — 1, Rocky Mountain 50. 7, Coeur d'Alene 238. 8, Sandpoint 255. 11, Cd'A Charter 283. 20, Lake City 550.
FINISHERS (Winner, locals) — 1, McKenna Kozeluh, Cd'A Charter, 17:55. 8, Olivia May, Coeur d'Alene, 18:32. 15, Annabelle Carr, Cd'A Charter, 19:02. 29, Maren Davidson, Sandpoint, 19:30.
35, Lily Richardson, Sandpoint, 19:41. 42, Anne Marie Dance, Coeur d'Alene, 19:54. 50, Elliana Rietze, Coeur d'Alene, 20:07. 56, Helen Oyler, Cd'A Charter, 20:15. 60, Ara Clark, Sandpoint, 20:20. 76, Lacey Medina, Kellogg, 20:44. 82, Taylah Chapman, Lake City, 20:48. 84, Olivia Fishback, Coeur d'Alene, 20:50. 88, Sydney Beckle, Bonners Ferry, 20:54. 91, Ceci Roemer, Bonners Ferry, 20:58. 94, Chloe Frank, Coeur d'Alene, 21:02. 96, Payton Betz, Sandpoint, 21:04. 98, Kyliegh Chapman, Lake City, 21:09.
Recent Headlines
---