Silver Valley Sports Recap: Oct. 2-9
|
October 11, 2022 1:00 AM
MULLAN FOOTBALL
• Oct. 7
CLARK FORK — The Mullan/St. Regis Tigers showed why they are at the top of the North Star League Friday night with a 56-40 win over Clark Fork.
The Wampus Cats, hoping to challenge Mullan for that top spot, were able to put together three solid quarters of football, but were ultimately doomed by the one that got away.
Led by the solid offensive play of Alex Trogden, Caleb Ball and Austin Zingler, who made his first varsity start Friday night, the Tigers went to work on the Wampus Cat defense in the second quarter and carried a 36-6 lead into halftime.
"We bend, but don't break, and we're opportunistic. Wait, wait, wait, pick. Wait, wait, wait, fumble. Just keep tackling, just keep getting there to the ball and it seems to work," Mullan/St. Regis Coach Stetson Spooner said.
Zingler, in Friday's lineup due to injury, rushed for three touchdowns and over 100 yards.
Not going down without a fight though, the Wampus Cats stormed back in the second half, nearly trading touchdowns with the visitors.
The 34-point Clark Fork effort was spearheaded by Antonio Mayorga, who was responsible for five touchdowns and three two-point conversions.
With the win, Mullan/St. Regis claimed the North Star League championship and secured a playoff berth — the Tigers have a bye this week, before wrapping things up with a game against Wallace to close the season.
WALLACE FOOTBALL
• Oct. 7
Wallace 36, Lakeside 8
SILVERTON — There is a saying, that he who laughs last, laughs loudest.
The visiting Knights knotted things up at 8-8 less than two minutes into the game — but that would be it for Lakeside and the scoreboard.
Wallace would score 28 unanswered points to get a massive North Star League win at Sather Field.
Arik Wilkinson finished with 120 yards rushing for Wallace (4-2, 4-2), which hosts Clark Fork next Friday in a game that could potentially determine the league's second seed to the state playoffs.
KELLOGG FOOTBALL
• Oct. 7
Kellogg 0, Bonners Ferry 25
KELLOGG — The game needed to be a statement win — and it was — just not for the host Wildcats.
The 3A Badgers rolled into town with a 6-0 record, but little fanfare to accompany that success.
Kellogg — coming off just their second loss of the season, a tight battle with Frenchtown — needed to get a big win to help them jockey for position in the 2A rankings.
Bonners was having none of it.
After taking the Wildcats' best shot on their first possession (a turnover on downs inside the Badger 10-yard-line), Bonners Ferry senior do-everything player Blake Rice went to work.
A blend of option-style rushing battered Kellogg's defensive front and kept them on the field for long stretches.
Despite raking up the yards, the Badgers only held an 8-0 lead at halftime, but they quickly extended it to 15-0 in the second half.
Kellogg seemed to find some success with their own rushing attack — much of it a combination seniors Riply Luna and Daeton Bauer — but couldn't find a balanced approach with their passing game as Bonners routinely forced Luna out of the pocket.
Kellogg (4-3, 2-0) will host Grangeville this Friday in a game that could determine the Central Idaho League championship.
KELLOGG VOLLEYBALL
• Oct. 4
St. Maries d. Kellogg
KELLOGG — Taci Watkins had 10 kills and Mia Asbury added eight for the Lumberjacks in a 19-25, 25-18, 25-19, 20-25, 15-11 Central Idaho League win over the Wildcats at Andrews Gymnasium.
"We had to work for our win tonight," St. Maries coach Rachele Fischer said. "Kellogg was doing a good job of shutting down our hitters and we had to make some adjustments to get around their defense. While we would rather win a match in three, having to go five and be challenged is only going to make us better and be more prepared for the rest of the season if put into that situation again."
"Both teams stayed really aggressive and played smart volleyball all night," Kellogg coach Stephanie Batchelder said. "Both placed the ball really well. We struggled with our serve-receive and kind of dug ourselves a little bit of a hole."
Kellogg trailed St. Maries 14-6 in the final set before rallying.
"We pushed back in that fifth set," Batchelder said. "But when you've got to push that far, you can't make mistakes."
Abbie Wilks had four aces, Ava Stancil 12 digs, Berkli McGreal 11 digs, Stacie Mitchell two blocks and Lily Daniel 24 assists for St. Maries (12-6, 6-0 CIL), which clinched the top seed to the 2A District 1-2 tournament, and hosts Timberlake on Thursday. Maddie Cheney had 18 kills, six aces and six blocks, Emily Coe 15 digs and Abby Neff 32 assists for Kellogg (9-5, 4-2).
• Oct. 7
Kellogg d. Grangeville
GRANGEVILLE — Maddie Cheney had nine kills, four blocks and four aces for the Wildcats in a 25-10, 25-23, 25-19 Central Idaho League win over the Bulldogs.
Emily Coe had 18 digs and Abby Neff 15 assists for Kellogg (10-4, 5-2 CIL).
• Oct. 8
Orofino d. Kellogg
OROFINO — Maddie Cheney had nine kills, seven blocks and two aces for the Wildcats, who fell to the Maniacs 21-25, 27-25, 26-24, 25-13 in a Central Idaho League match. Emily Coe had nine kills and two aces, Abby Neff 24 assists, Macy Jerome 18 digs and Brielle Hei 18 digs for Kellogg (10-5, 5-3 CIL).
WALLACE VOLLEYBALL
• Oct. 5
Wallace d. Lakeside
WALLACE — Tia Hendrick had 14 kills, four aces and three blocks as the host Miners beat the Knights 25-19, 26-24, 28-26 in Scenic Idaho Conference play at Kirby Krulitz Court.
Aubrey Birdsell had 25 digs, Britany Phillips 13 assists for Wallace.
Arianna Havier-Gorr had eight kills and 16 digs for Lakeside (2-7, 0-4). Martina Rivera added six kills, nine assists, nine digs and three blocks, Kimberly Pluff five kills, nine digs and two aces, Tylah Lambert four kills, 12 assists and 11 digs.
MULLAN VOLLEYBALL
• Oct. 6
Wallace d. Mullan
MULLAN — Tia Hendrick had nine aces, nine digs and three blocks in a 25-5, 25-17, 25-12 nonleague win over the Tigers at the Mullan Pavilion for Dig Pink Night.
Bethany Phillips had six kills and Aubrey Birdsell 14 assists for Wallace (8-5).
Mullan (5-6) faces Genesis Prep at The Courts in Post Falls on Tuesday.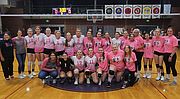 Recent Headlines
---