Elsie Wilhelmina Magnuson, 95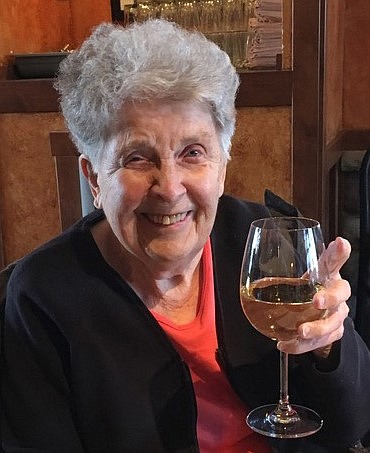 |
September 9, 2022 7:55 PM
Elsie Wilhelmina Magnuson, 95, passed peacefully Sept. 3, 2022, at Shoshone Medical Center in Kellogg.
Elsie was a lifelong resident of the Wallace area who lived a full life and left the legacy of an adoring family who learned much about life and love from her.
Elsie Johnson was born on Feb. 27, 1927, in Wallace and grew up in Mullan, the oldest of three children. Her father, John, was a miner at the Lucky Friday, Galena and other area mines. Her mother, Edith, was a homemaker and also worked in the family dairy in Grouse Gulch.
Elsie went through the public schools in Mullan with perfect attendance from kindergarten through high school, graduating as valedictorian of her class in 1945. She then went on to the University of Washington on a Pepsi-Cola scholarship and graduated with a degree in economics in 1949. Elsie met her future husband, Richard Magnuson, on July 7, 1947, while working at Hecla Mining Company in Wallace. She often talked about noticing his brown eyes observing her over his typewriter.
Elsie and Richard married on Sept. 10, 1950, in Mullan and enjoyed nearly 66 years of "Pure Bliss" before Richard passed in 2016. They lived in Moscow while Richard attended law school at the University of Idaho, and Elsie worked for the University of Idaho Athletic Department.
Upon moving to Wallace after Richard graduated from law school in 1951, Elsie worked at different jobs until leaving the workforce to devote herself full-time to her family. She was a great mother and household manager and was especially proud of arranging to buy their home at 301 Cedar St. in Wallace in 1969.
Elsie was a tremendous cook, and family and friends loved gathering around her table for meals. She loved golf, bowling and gardening and was involved with different groups in and around Wallace. She was a member of PEO and Holy Trinity Episcopal Church, played bridge with the same group for more than 70 years, participated in a local investment group, and was a member of the Shoshone Golf Club, serving as treasurer for the Shoshone Ladies Golf Association for several years. Most recently, she was a Trustee of the Wallace Library and Director of its Foundation.
Elsie is survived by son Rick Magnuson (Amy) and daughters Janet Morse (John) and Julie Magnuson (Scott Wayman); nine grandchildren, Charles, Eric (Bryn), Molly (Matt), Paul, David, Max (Emily), Brad, Emily and Natalie; four great-grandchildren, Jack, Chloe, Harry and Grace; brother-in-law Robert Magnuson (Elinor); and several nieces and nephews.
Elsie's children are deeply grateful to their mother's friend and longtime helper, Gail Featherstone, as well as her caregivers who provided such attentive and loving support over the past 17 months — Raisa Fox, Raia Chaka, Alix Fox, Nadia Peskova and Tetyana Rudenko.
A celebration of life for Elsie will be held at 2 p.m. Sunday, Oct. 9, 2022, at the Wallace Elks Lodge. In lieu of flowers, the family suggests contributions can be made in Elsie's memory to the Wallace Public Library or the Wallace Flower Project.
Shoshone Funeral Services & Crematory, Kellogg, is entrusted with cremation services. You may share your special memories of Elsie with her family at www.shoshonefuneralservice.com.
Recent Headlines
---