Citizen tip leads to major drug bust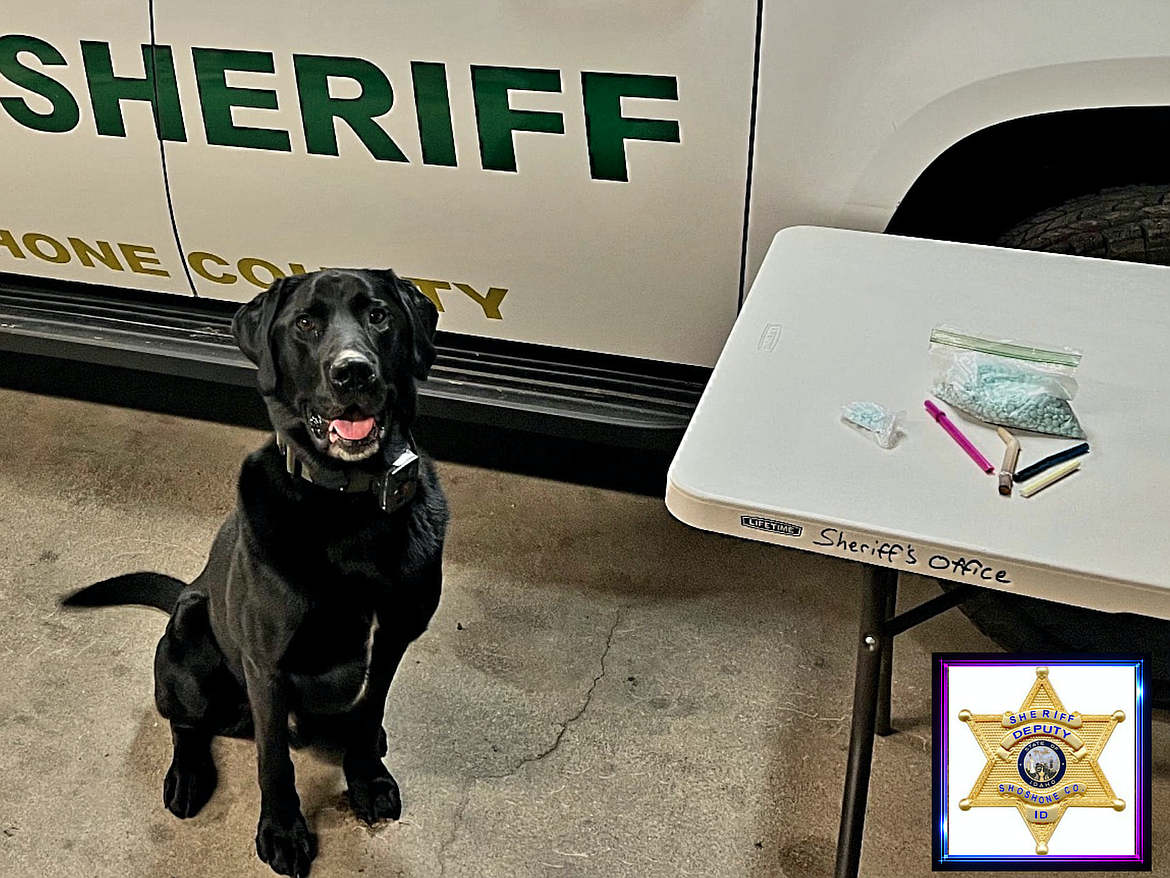 Deputy Midnight sits (like such a good doggy) next to her most recent drug bust. Inside the bag on the table are 225 grams of suspected fentanyl, along with eight grams of methamphetamine.
Courtesy photo
|
September 20, 2022 1:00 AM
OSBURN –– A reported drunk driver resulted in the confiscation of a high amount of dangerous narcotics early Sunday morning.
According to a release from the Shoshone County Sheriff's Office, they received a call just after 1 a.m. of a possible drunk driver that had struck several cones along Interstate 90 through Kellogg headed eastbound toward Montana.
The vehicle was located and stopped for a traffic violation near Osburn.
During the stop, one of the SCSO's K9 deputies picked up on something within the vehicle and upon searching it they were able to seize 225 grams of suspected fentanyl pills – called Mexi Blues, as well as eight grams of suspected methamphetamine.
Doses of 200 micrograms of fentanyl are used for purposes of anesthesia, each gram of fentanyl contains 5,000 of those 200 microgram doses.
The driver of the vehicle – Duane Thomas, 51, of Butte, Montana – was arrested on several felony drug charges including possessing trafficking amounts of a controlled substance, as well possession with intent to deliver.
The passenger of the vehicle – Kristen Petersen, 20, of Spokane, Washington – was also taken into custody on a drug paraphernalia charge.
According to the Idaho State Police, these Mexi Blues are easier to get than most drugs and can even be ordered through online forums and social media.
They are stamped to look like basic opioids like Oxycontin or Xanax.
More often than not, the users don't realize what they're taking when they ingest these pills – believing them to be something they've already taken in the past.
But fentanyl's potency is through the roof.
According to medical experts, fentanyl is 100 times more potent than morphine, and morphine itself is one-and-a-half times more powerful than oxycodone – and that's just discussing pills that are mixed and manufactured properly.
Just recently, ISP warned of a new, brightly colored version of the pill that was being referred to as 'skittles' or 'rainbow' due to their similarity to the popular candy.
According to the CDC, drug overdose deaths are the leading killer of Americans between 18 and 45. In 2021, over 107,000 Americans and 353 Idahoans died from drug overdose deaths. Unfortunately, these are record-setting numbers in both cases. Synthetic opioids (primarily fentanyl) accounted for more than three-quarters of these deaths. Drug overdose continues to be the leading cause of injury or death in the United States. While North Idaho has seen a recent increase in drug-related overdoses, Kootenai County in particular has already doubled the number of fentanyl overdose deaths from 2021.
Fentanyl is a synthetic opioid 80 to 100 times more powerful than morphine and 30 to 50 times more potent than heroin. A 3-milligram dose of fentanyl - equal to 10-15 grains of table salt - is enough to kill an average adult male. Without laboratory testing, there is no way to know how much fentanyl is in a pill or powder.
If you encounter any version of fentanyl, refrain from handling it and call 911 immediately.
If you or someone you know suffers from addiction, call the Lines for Life substance abuse helpline at 1-800-923-4357 or visit www.linesforlife.org. Phone support is available 24 hours a day, seven days a week. You can also text "RecoveryNow" to 839863 between 8 a.m. and 11 p.m. Pacific Time daily.
The DEA North Idaho Narcotics Enforcement (DEA NINE) Task Force is a multi-jurisdictional narcotics task force that identifies, disrupts, and dismantles local, multi-state, and international drug trafficking organizations using an intelligence-driven, multi-agency prosecutor-supported approach. The task force is comprised of members from the Idaho State Police, Coeur d'Alene Police, the Drug Enforcement Administration, the Bureau of Indian Affairs, the United States Postal Inspection Service, and the United States Border Patrol.
Recent Headlines
---