Silver Valley Sports 9/12 – 9/18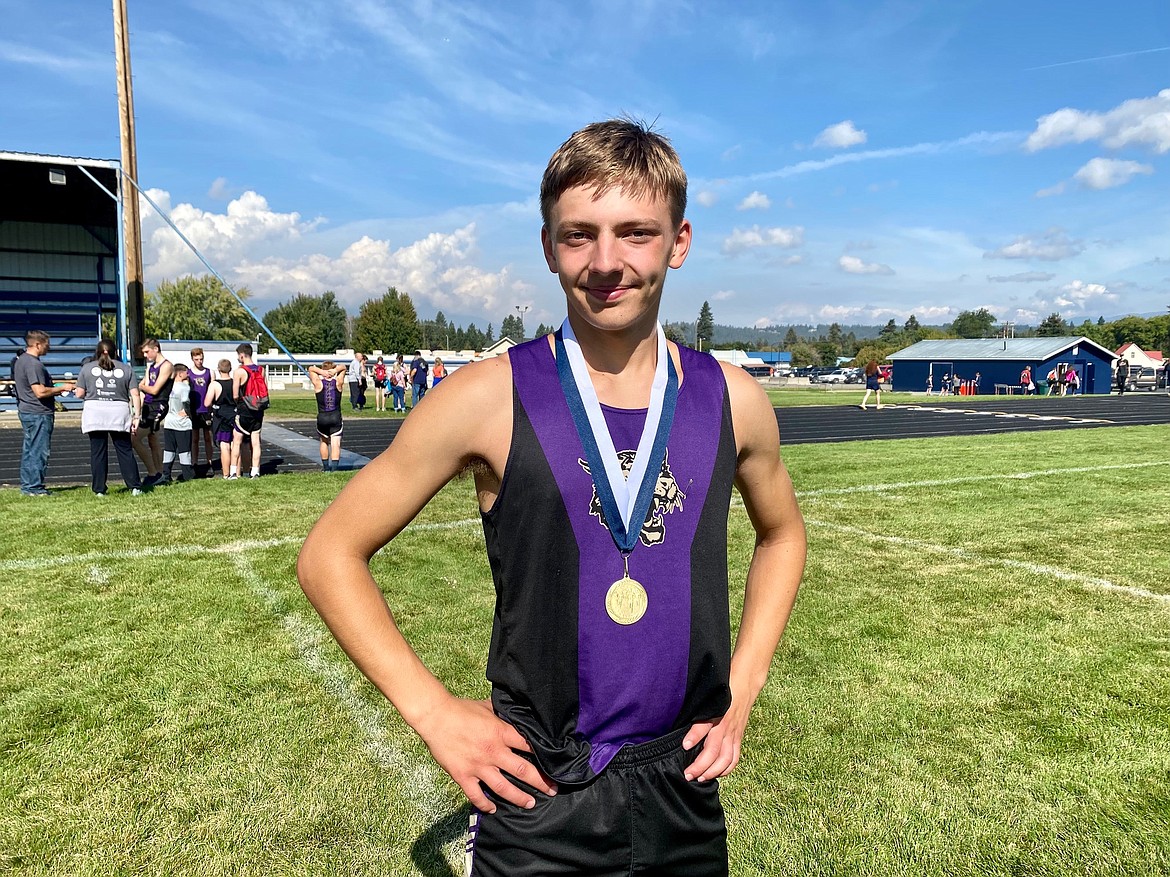 Kellogg Cross Country runner Makai Peak won the Bonners Ferry Invitational last week, posting an impressive 17-minute flat finish.
Courtesy photo
|
September 20, 2022 1:00 AM
KELLOGG FOOTBALL
Kellogg 44
St. Maries 21
KELLOGG –– Wildcat Riply Luna threw four touchdowns and ran for a pair of scores as Kellogg won a physical matchup in their Central Idaho League opener on homecoming.
For 24 minutes, coach Craig Teft and the St. Maries Lumberjacks had the perfect game plan.
A relentless rushing attack anchored by the efforts of the Lumberjack offensive line kept the Wildcat defense on the field for long stretches and resulted in a score on their first three drives.
Luna kept the Wildcats in the ball game, using his legs to extend plays long enough to find an open receiver – despite those efforts St. Maries took a 21-16 halftime lead.
Following an extended halftime, the feeling amongst the Teeters Field faithful was that the Wildcats were going to have to get a stop in order to win this game.
And they did just that.
Following an opening drive touchdown by the 'Cats, Kellogg's defense forced and recovered a fumble near mid-field and suddenly the competitive game was a Wildcat blowout.
Kellogg would score four times in the second half while shutting the Lumberjacks out, including two back-breaking touchdown runs from Luna, who finished with 245 passing yards on 16 of 19 attempts and 105 rushing yards.
Luna usually leans on twin brother Kolby for most of the heavy lifting in the receiving department. Still, despite a six-catch, 125-yard performance from Kolby – it was senior Varick Meredith who caught seven passes for two scores during some pivotal moments in the game.
Kellogg (3-1, 1-0 CIL) is on the road this week to take on Orofino in another CIL matchup, that game kicks off at 7 p.m. following the J.V. game at Orofino High School.
WALLACE FOOTBALL
Wallace 6
Mullan - St. Regis 46
SILVERTON –– The visiting Tigers got the better of their Silver Valley rivals during a matchup of North Star League teams last weekend.
After a back-and-forth first quarter, the Tigers were able to pull away on the back of senior quarterback Caleb Ball.
Ball's four touchdown, 170-rushing yards performance was the difference between his team and the short-handed Miners.
A week after Wallace allowed the Tigers to use Sather Field in order to have lights to play, Mullan-St. Regis Head Coach Stetson Spooner was still thankful for Wallace School District and humble in victory.
"That Wallace team was short-handed with their QB out but still came to play," Spooner said. Both sides had a ton of helping each other up and really good sportsmanship. They are a well-coached team and stay disciplined within their scheme. If they get some pieces back they will be tough."
Mullan (3-1, 2-0 NSL) will host Lakeside this week for homecoming, that game kicks off at 3:30 p.m. at John Drager Field.
Wallace (2-2 NSL), will be on the road this week to take on a Kootenai team that they beat earlier in the season. That game kicks off at 7 p.m. at Kootenai High School.
WALLACE VOLLEYBALL
9/13
Wallace d. Clark Fork
CLARK FORK –– The visiting Miners knocked off the Wampus Cats in a thrilling five-set match (20-25, 27-25, 25-10, 21-25, & 15-6).
Tia Hendrick led Wallace with six aces and 11 kills, Savannah Smith also had 11 kills, and two blocks.
Aubrey Birdsell moved the ball for the Miners with 26 assists, Megan Hull had 23 digs.
9/15
Wallace d. Lakeside
WALLACE –– It was a three-up, three-down night for the host Miners who opened up their Scenic Idaho League play with a big win over Lakeside (25-14, 25-18, & 25-8).
Bethany Phillips had seven kills and two blocks, Tia Hendrick finished with five aces, Aubrey Birdsell had 16 assists, and Britany Phillips finished with six digs.
KELLOGG VOLLEYBALL
9/13
St. Maries d. Kellogg
ST. MARIES –– The Wildcats let go of a nine-point lead during the pivotal fourth set of their loss to the Lumberjacks (19-25, 25-22, 18-25, & 20-25).
Head coach Steph Batchelder was frustrated with the loss, but saw a lot of things she liked during the match.
"Our passing was amazing last night," she told the News-Press. "(We) Got burned on a few balls where the girls were in the perfect spot. Our front row struggled on blocking and placing the ball in the holes. That's what lost the match for us. We also had way too many missed serves – most at pivotal moments."
Junior Maddie Cheney finished with 12 kills, while freshman Abby Neff distributed the ball well to the tune of 33 assists. Macy Jerome finished with 10 digs and three aces, Emily Coe also had 10 digs and three blocks.
Kellogg had previously been undefeated in Central Idaho League play.
9/15
Clarkston d. Kellogg
KELLOGG –– The Wildcats dominated set one, but then seemingly could figure out how to win the rest of the match against the visiting Bantams (25-6, 22-25, 16-25, & 19-25).
After the initial blitz of the opening set, Clarkston settled into their style of play and forced the 'Cats to play that way as well.
Coach Steph Batchelder, still feeling the sting of losing to St. Maries just a few nights prior, is going back to the drawing board with her team – while shouldering the responsibility of the back-to-back losses.
"It's frustrating to lose to a team that you have no business losing to," Batchelder said. "We had better stats almost across the board. We are missing mental toughness and seem to hang our heads after a few mistakes. I need to figure out a solution for this but haven't found it yet. Until I do I suppose these senseless losses are on me."
Batchelder is attributing some of the issues to the team's youth – as the Wildcats feature several freshman and sophomores, along with some tenured juniors, but have only one senior player. But she also mentioned that her team has improved in overall skill since the season began – it's just a matter of closing games.
Maddie Cheney had six kills and six blocks for Kellogg, while teammate Abby Neff finished with 17 assists, six kills, and four aces.
MULLAN VOLLEYBALL
9/13
Mullan d. Kootenai
HARRISON –– The Lady Tigers grabbed three quick sets from the host Warriors (25-19, 25-18, & 25-19).
"Leah Frazier was excellent from the service line going 18 for 18 along with two kills," Head coach Dawn McKinnon said. "Laeylah Parish (sophomore) stepped up tonight playing all the way around. Great start to league play."
Jazz Nelson added four kills, while Caitlin Garitone notched six assists.
9/15
Clark Fork d. Mullan
MULLAN –– The host Tigers struggled against their North Star League rivals the Wampus Cats (9-25, 19-25, & 11-25).
Playing short-handed without senior leader Leah Frazier, who is recovering from an ankle injury, the Tigers couldn't capitalize on opportunities and Clark Fork was able to.
"We had some great volleys with them just couldn't score," Head coach Dawn McKinnon said. "They are a very well-rounded team. I'm proud of our effort, we have some younger players coming in and doing a great job. Freshman Avah Blankenship has done a great job at the net."
KELLOGG CROSS COUNTRY
9/17
BONNERS FERRY — Kellogg junior Makai Peak won the boys' race in 17 minutes. Timberlake won the boys' team title with 30 points.
Coeur d'Alene Charter senior McKenna Kozeluh breezed to the girls' title, winning in 18 minutes, 33 seconds at the Bonners Ferry Invitational at Bonners Ferry High.
Charter had six girls in the top 10 to win the team title with 18 points.
BOYS TEAM SCORES — 1, Timberlake 30. 2, Kellogg 65. 3, Cd'A Charter 66. 4, Priest River 73. 5, Bonners Ferry 116.
FINISHERS (Top 10) — 1, Makai Peak, Kellogg, 17:00. 2, Jacob Barnhart, Timberlake, 17:31. 3, Nathan Russell, Cd'A Charter, 17:41. 4, Jeremiah Alameda, Timberlake, 18:26. 5, Brayden Lamanna, Priest River, 18:29. 6, Dylan Nelson, Timberlake, 18:55. 7, Colm McLaimtaig, Priest River, 18:58. 8, Jacob Howell, Timberlake, 19:03. 9, Nolan Oyler, Cd'A Charter, 19:04. 10, Josh Yeager, Timberlake, 19:11.
GIRLS TEAM SCORES — 1, Coeur d'Alene Charter 18. 2, Bonners Ferry 43.
FINISHERS (Top 10) — 1, McKenna Kozeluh, Cd'A Charter, 18:33. 2, Annabelle Carr, Cd'A Charter, 20:14. 3, Helen Oyler, Cd'A Charter, 20:43. 4, Sydney Beckle, Bonners Ferry, 21:56. 5, Izabella Cornell, Timberlake, 22:11. 6, Natal Davis, Cd'A Charter, 23:03. 7, Ceci Roemer, Bonners Ferry, 23:20. 8, Jane Robinson, Cd'A Charter, 24:04. 9, Abby Moehring, Cd'A Charter, 24:15. 10, Aubrey Jenson, Timberlake, 24:43.
Recent Headlines
---