Volunteers remove TONS of metal from South Fork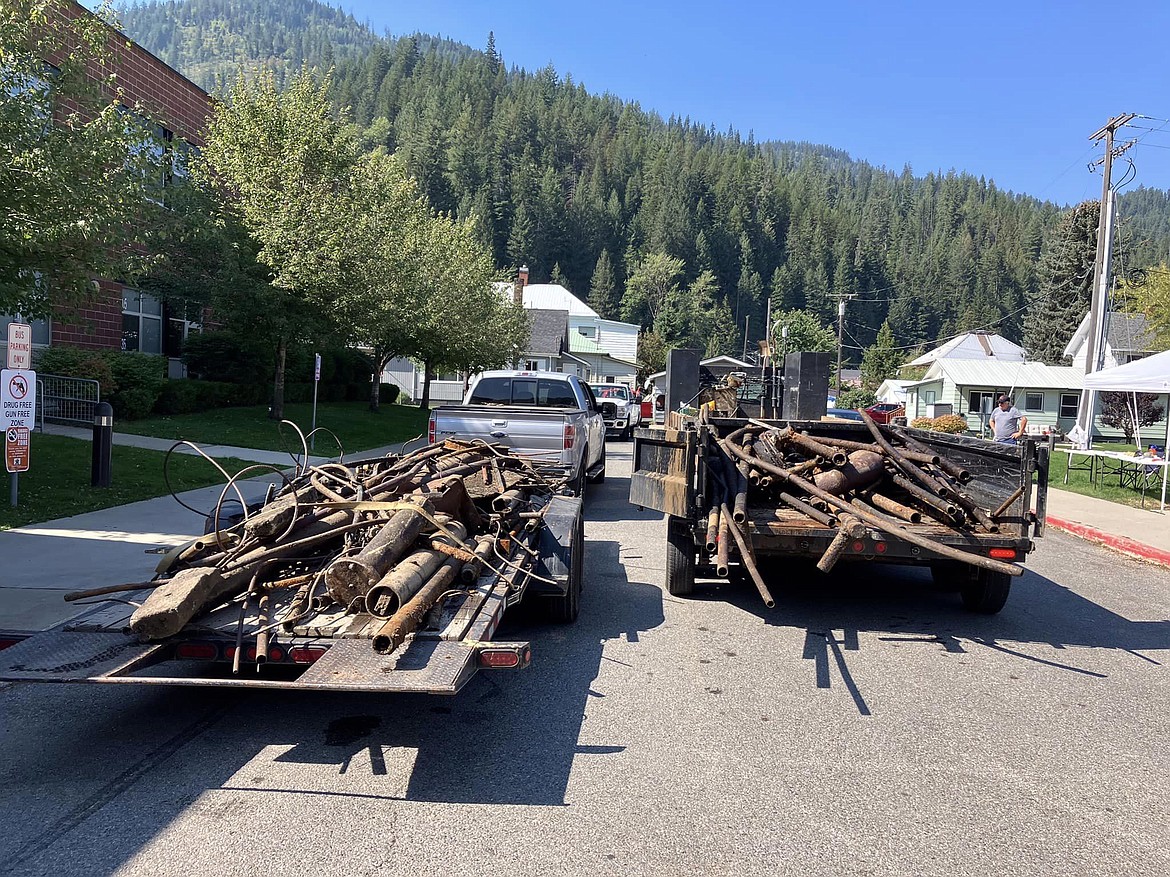 Around 4 1/2 to 5 tons of metal debris was cleaned out of the Wallace stretch of the South Fork of the Coeur d' Alene River.
Molly Roberts
by
MOLLY ROBERTS
Staff Reporter
|
September 20, 2022 5:05 AM
WALLACE — Fifty volunteers joined the quest to clean the metal debris in the mile-long Wallace stretch of the South Fork of the Coeur d' Alene River, clearing out almost five tons.
"Some of the debris must have been in the water from the early 1900s," explained Wallace Councilman Elmer Mattila, who has been planning this project for years, "The thought in the past was throwing it in the water was getting rid of it. Out of sight out of mind."
Pollution and heavy metal contamination throughout the Silver Valley are higher than average as mining companies would have previously discharged mining waste directly into the streams, only stopping in the 1960s.
Some volunteers were Wallace locals, but others came from Couer D'Alene, Spokane, Wash., and Missoula, Mont., to clear the water and make the water feature safer and more pleasant for the historic town.
The cleanup was divided into four zones, east to west, with deeper water handled by local business Zanetti Brothers Inc., bringing in a crane to clear up the bigger chunks of debris.
The debris that was pulled out filled up three large trailers and will be taken to Zanetti Bros. and eventually recycled by the Osburn business McGillivray Environmental.
"The President of Zanetti Bros., Herb Zanetti, volunteered his time, as well as his grandson Stephen Zanetti and Jeff Elliot helped get the majority of the large chunks by running and operating the crane. It was good to have the head honcho take time out of his day for this project," Mattila told the News-Press, "This couldn't have been accomplished without the help of Don Hoffman and John Olsen who drove the large trailers full of debris to be recycled."
Between four and a half to five tons of debris was removed from this stretch of the river, which is around 11,000 pounds, roughly the size of the Asian elephant.
Although he has had the thought of the river clean-up for years, last February, Mattila formed a six-man committee consisting of Steve Turley, Charlie Mooney, Tyson Clyne, Todd Hoffman, Brandon Kramer, and Mike Branstetter, who spent the following months planning the most efficient way to clean the river, and how to fund the project. The group applied for a grant with the Frank A. Morbeck Community Foundation Inc. and received $3,500 to help financially support the project. Costs were also offset by people volunteering their resources and time.
Volunteers could enjoy a delicious sandwich lunch provided by the deli at Harvest Foods and the Blackboard Cafe'.
"Everyone felt good about doing something for the community and I'm really proud of the volunteers who showed up and spent time wading through and cleaning up the river."
Recent Headlines
---