Charlotte Ann (Gross) Kasner, 75
|
September 22, 2022 3:00 PM
Charlotte Ann "Char" Kasner lost her four-year battle with cancer on March 3, 2022. Her battle was bravely fought, always seeking the positive, just like she did throughout her life. Char was born on April 4, 1947, in Chewelah, Wash., to Lillian and William "Bill" Gross. Her family then moved to what is now the Silver Valley in North Idaho. She spent the majority of her formative years up Big Creek where her folks owned The Big Creek Store, about a mile from the Sunshine Mine.
Char attended Osburn Elementary, Elk Creek Elementary, Kellogg Junior High, and graduated from Kellogg High School in 1965. After graduation, she moved to Spokane, attended Kelsey-Baird Secretarial School, and then worked in the insurance industry. It was in Spokane she met her soulmate, Ronald P. Kasner (from Norton, Ohio), while he was stationed at Fairchild AFB. The two were united in marriage May 1969 and immediately moved to Ohio.
Char was preceded in death by her parents, Bill and Lillian Gross; brother Paul Gross; daughter Christine Ann (Kasner) Stiltner; several aunts, uncles and cousins.
Char leaves behind her loving husband, Ron Kasner; two sons, William and Scott Kasner; granddaughters Carlee and Camryn Stiltner, and Arianna Kasner; and grandson Beau Kasner; as well as her dear sister, Tami (Gross) Bertram and her best friend, Mary Jane (Scott) Watt.
Char lived her life always putting those she loved ahead of herself, especially her grandchildren who were the light of her life. She was a wonderful wife, mom, sister, aunt, cousin and friend. If you were one of the lucky ones to have Char in your life, you experienced her kind soul. She enhanced each of our lives, and we miss her dearly.
Char lived in Ohio, but her heart was forever in the Silver Valley in the mountains of Idaho.
To Char's friends in the Class of 1965, thank you for reaching out to her in her final couple of years. She loved you all and cherished hearing from you.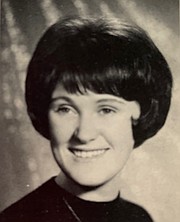 Recent Headlines
---