On to state!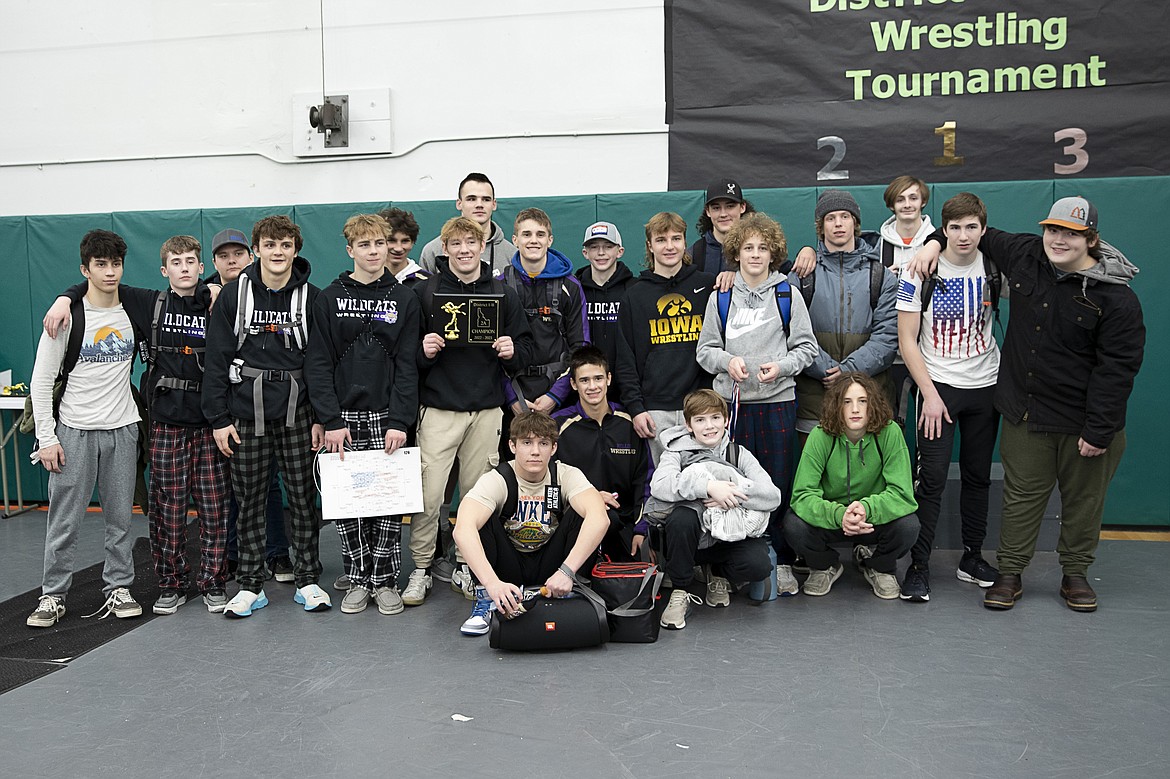 The Kellogg Wildcats are the District 1-2 2A Champions. Fifteen members of the boys' team and three girls will compete at the upcoming state tournament.
Photo by RUSSELLE STOREY PHOTOGRAPHY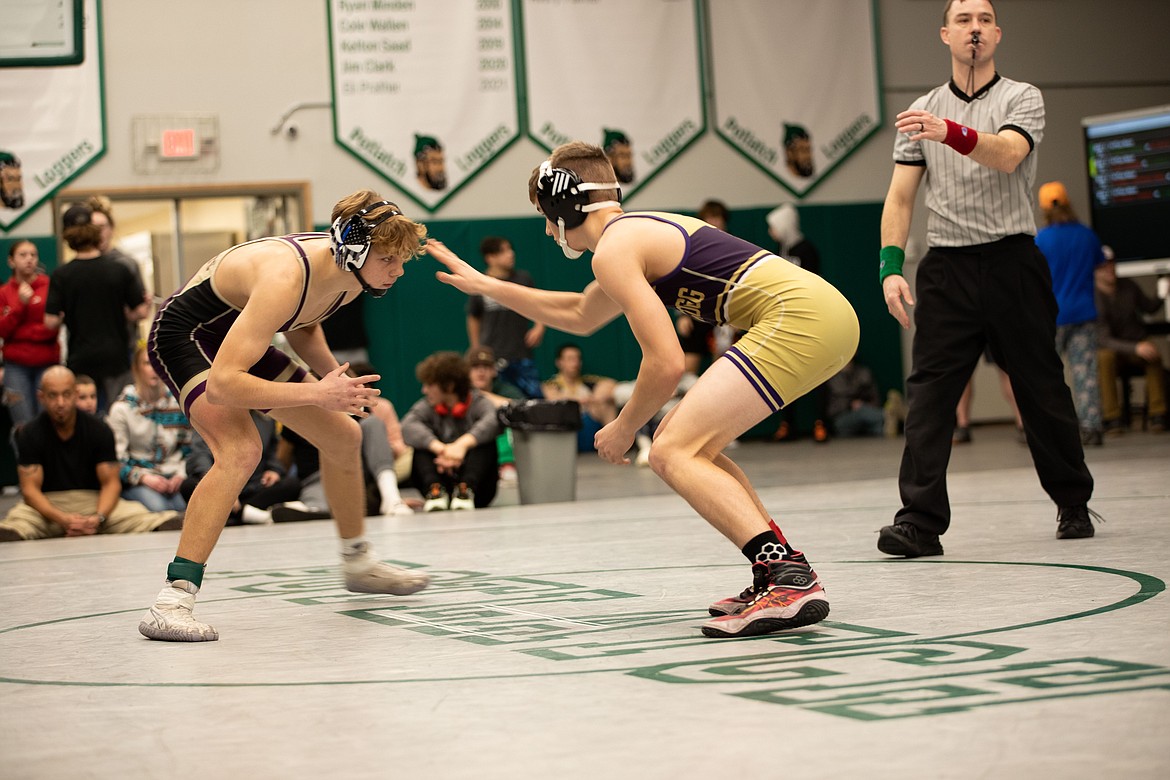 Junior Kolter Wood (left) took on teammate and sophomore Wyatt Storey for the 126-pound District Championship this past weekend. Wood would get the win, but both Wildcats will represent Kellogg at this weekend's state tournament.
Previous
Next
POTLATCH — The Kellogg Wildcats Wrestling Team is headed for the state tournament — and they're not traveling light.
After winning the team title at the 2A District 1-2 Tournament this past weekend, 15 Wildcat boys and three girls will be competing at the Idaho Center in Nampa this weekend.
The boys secured the team title with a strong 384-point performance, outpacing the runner-up, St. Maries, by a tidy 130 points.
The girls took third at the District 1-2 Tournament, where all classifications compete by district — not by size. The Lady Wildcats trailed only Post Falls and Bonners Ferry in the team standings.
In the boys' divisions, Kellogg was paced by its three district champions; Kolter Wood (126), Chase Scribner (106) and Jaeger Hall (132) — and while three district champions is great, it was the work that happened everywhere else that put Kellogg in a position to win the team title.
The results… Eight second-place finishes, three third-place finishers, a fourth, and three fifth-place finishes.
"This team has been on a mission all season and had a really good tournament," said head coach Scott Miller. "We had 14 qualifiers, three weights where we had both our kids in the finals and 11 finalists so it was a very good performance by our team. Most importantly, we qualified enough kids that we have a real chance to battle for a state title, so it was a successful tournament for us."
The 14 automatic qualifiers were joined by one wildcard selection, which means that with 15 team members, the Wildcats will have the second-largest boys squad at the state tournament behind New Plymouth (16 wrestlers).
The plan is to compete, both as individuals and as a team — which is where Miller believes his team is being a little overlooked compared to some of the other teams.
"We have a chance to win it, but it comes down to who gets hot at the state tournament," Miller said. "On the good side, we have the numbers to make a run at it, but everyone has to contribute. New Plymouth and Ririe are the favorites but we are getting a lot of attention also. According to the rankings, New Plymouth is the favorite followed by Ririe, us, Malad and West Side. It's our intention to come back with a championship, that has been our goal since our first meeting before the season started."
While their opposition are rarely ever slouches, Kellogg's three champions routinely made their matches look easy.
Technically sound and all-around dominance are just a few of the hallmarks exhibited by Scribner, Hall and Wood — Miller doesn't expect that to change as the competition ramps up.
"Chase had a great tournament and was dominant throughout. Sometimes while watching him it's hard to remember he is only a freshman. We expect him to be seeded very high at state," Miller said. "Kolter was very steady throughout the weekend and has set himself up well for a strong run at state. He has been such a consistent wrestler all year and he is ready to make a great run at the state tournament. Jaeger has become almost impossible to score upon and had another great weekend for us. He is ready to make a really good run through the state tournament. His riding is really good and his neutral wrestling continues to get better as the season progresses. We expect a great performance from him this weekend."
Scribner beat Wallace's Chase Morden in the championship match — Wallace's lone wrestler co-ops with the Kellogg team, which means that Morden will represent the Miners at the state tournament.
In the girls' division — which was held on Friday in Moscow — only the top two finishers at each weight receive the automatic berths into the state tournament. Izzy Davis (132) was Kellogg's lone champion and Sophia McLain (100) finished as a runner-up. Reese Bauer (126) took third in a competitive division, and then handily won the third-place match.
"Reese showed grit throughout the tournament," Miller said. "Knowing only the top two qualify, she lost a tough match in the semifinals but still came back and took a dominating third place. Her performance earned her a wildcard berth to the tournament and I look forward to watching her compete against the best in the state."
Miller believes that his trio of girls are as good as any in the state and that they will make some noise this weekend.
"I'm really proud of our performance this weekend. Our girls were aggressive, fought through difficulty, and to finish third in this district is a tremendous achievement," Miller said. "Izzy showed tremendous focus and dealt with adversity so well in her run to the district title. She fought through difficult matches and earned every one of her wins. She is going to be seeded fourth at state and has a great chance to make it to the finals. Sophie has wrestled all year against girls that are in weight classes above her to get matches. She has persevered and I look forward to watching her perform against girls that weigh the same as her. I'm very proud of her development and look forward to her week at state."
The Idaho State Wrestling Tournament is Feb. 23-24 at the Ford Idaho Center in Nampa, Idaho.
GIRLS TEAM SCORES:
1) Lewiston 99.5
2) Bonners Ferry 98.5
3) KELLOGG 68
4) Coeur d'Alene 65
5) Clearwater Valley 60
6) Sandpoint 60
7) Lake City 55
8) Post Falls 43
9) Potlatch 37
10) Priest River 36
11) Timberlake 34
12) Lakeland 30
13) Highland (Cragmont) 26
14) Moscow 26
15) St. Maries 15
16) Prairie 14
17) Grangeville 0
18) Orofino 0
INDIVIDUAL RESULTS:
Weight — Name, (Finish)
100 — Sophie McLain (2nd Place) State Qualifier
107 — Kyrin Huber (3rd Place)
120 — Maddison White (6th Place)
126 — Reese Bauer (3rd Place) State Qualifier via Wildcard Selection
132 — Izzy Davis (1st Place) State Qualifier
BOYS TEAM SCORES
1) KELLOGG 384.0
2) St. Maries 252
3) Clearwater Valley 217
4) Priest River 214.5
5) Potlatch 141
6) Grangeville 73
7) Orofino 60
8) Kamiah 44
9) Nez Perce 30
10) WALLACE 24
11) Highland (Cragmont) 20
12) Lapwai 17
13) Kootenai 7.0
INDIVIDUAL RESULTS
Weight — Name (Finish)
98 — Aiden Figueroa (2nd Place) — State Qualifier
98 — Johnny Stovern (3rd Place) — State Qualifier
106 — Chase Scribner (1st Place) — State Qualifier
113 — Dalton Coburn (2nd Place) — State Qualifier
120 — Ricky Haralson (2nd Place) — State Qualifier
120 — Treven Bush (3rd Place) — State Qualifier
126 — Kolter Wood (1st Place) — State Qualifier
126 — Wyatt Storey (2nd Place) — State Qualifier
132 — Jaeger Hall (1st Place) — State Qualifier
132 — Kolby Lemmon (2nd Place) — State Qualifier
138 — Jayce Haynes (5th Place)
152 — Brady Vergobbi (3rd Place) — State Qualifier
152 — Jackson Stepro (5th Place)
160 — Jayce Garcia (2nd Place) — State Qualifier
170 — Ramsey Rainio (2nd Place) — State Qualifier
195 — Tanner Lee (2nd Place) — State Qualifier
220 — Kyle VanVleet (5th Place)
285 — Russell Fields (4th Place) — State Qualifier via Wildcard Selection
106 — Chase Morden (2nd Place) — State Qualifier (Representing Wallace)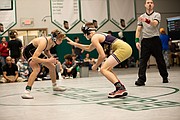 Recent Headlines
---