Local students win big in VFW contests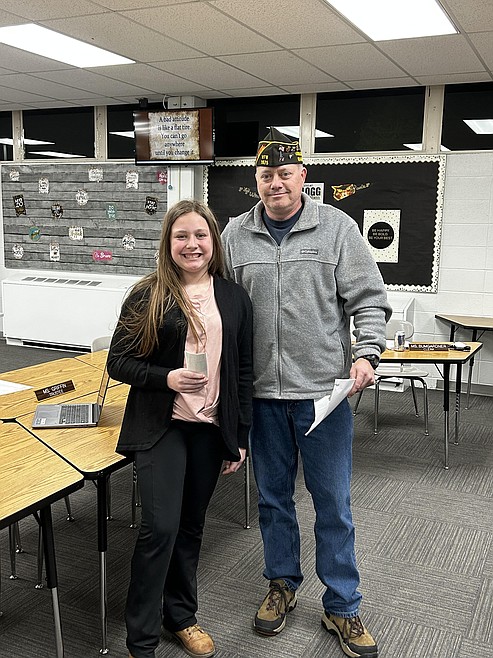 Kellogg Middle School student Alyssa Lopez stands with VFW Post 1675 Commander Chris Marker after Lopez was honored for her first-place essay winnings in the Patriot's Pen.
Courtesy photo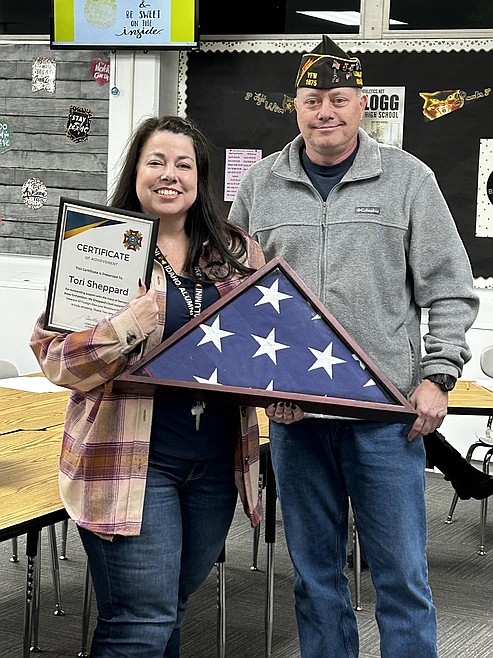 VFW Post 1675 Commander Chris Marker stands alongside Kellogg High School teacher Tori Sheppard. Sheppard has been instrumental in the VFW reviving their Voice of Democracy contest.
Previous
Next
by
JOSH McDONALD
Local Editor
|
February 24, 2023 1:00 AM
KELLOGG — Four Silver Valley students were honored earlier this month after competing in two different essay contests curated by the local Veterans of Foreign Wars (VFW) Post.
VFW Post 1675 Commander Chris Marker awarded KMS students Alyssa Lopez, Lacey Medina and Alissun Hinkelmann for their efforts in the two essay contests.
Lopez, a student at Kellogg Middle School finished in first place in the Patriot's Pen contest, both at the local and district level, and for her efforts, she received $275 in prize money.
More than 165,400 students in grades 6-8 enter the VFW's Patriot's Pen youth essay contest each year to win their share of more than $1.4 million in state and national awards.
With her win, Lopez's essay will now move on to the state-level competition, where she could win up to $500.
Should she win there, her essay moves on to nationals, where the top 50% of all of the other state champions receive some sort of cash prize.
Each first-place state winner receives a minimum of $500 at the national level, and the national first-place winner wins $5,000.
The essay contest encourages young minds to examine America's history, along with their own experiences in modern American society, by drafting a 300- to 400-word essay, expressing their views based on a patriotic theme chosen by the VFW Commander-in-Chief.
High school students Lacey Medina, Emma Brainard and Alissun Hinkelmann finished in first, second and third place respectively in the local VFW Voice of Democracy competition, Medina then went on to take first place in the regional competition as well — while Brainard finished in third.
Medina received $275 for her wins, Brainard $225 and Hinkelmann received $100.
Established in 1947, the Voice of Democracy audio-essay program provides high school students with the unique opportunity to express themselves in regard to a democratic and patriotic-themed recorded essay.
Each year, nearly 64,500 ninth to 12th-grade students from across the country enter to win their share of more than $2.1 million in educational scholarships and incentives awarded through the program.
The national first-place winner receives a $30,000 scholarship paid directly to the recipient's American university, college or vocational/technical school.
A complete list of other national scholarships ranges from $1,000-$16,000, and the first-place winner from each VFW Department (state) wins a minimum scholarship of $1,000.
Marker had been discouraged by low turnout over the past few years, but this year participation was a little bit higher and the results spoke for themselves.
"We've won the Patriot's Pen, we've won the Voice of Democracy — but we hadn't ever won both in the same year until this year," Marker said. "I think it's a big deal for us and the community, especially when you consider that our kids are going up against kids from the Coeur d'Alene/Post Falls, Timberlake and Sandpoint areas. It's quite a bit of competition and these four made us proud this year."
Marker also honored Kellogg High School teacher Tori Sheppard for her help with the Voice of Democracy and was given a certificate of achievement and a flag that has been flown at the VFW for her contributions.
The VFW also presented Major Craig Petersen, the Senior Marine Instructor for the Kellogg High School Marine Corps JROTC Program, with a $250 donation.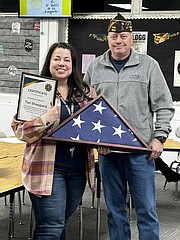 Recent Headlines
---