Laying down the law of licensing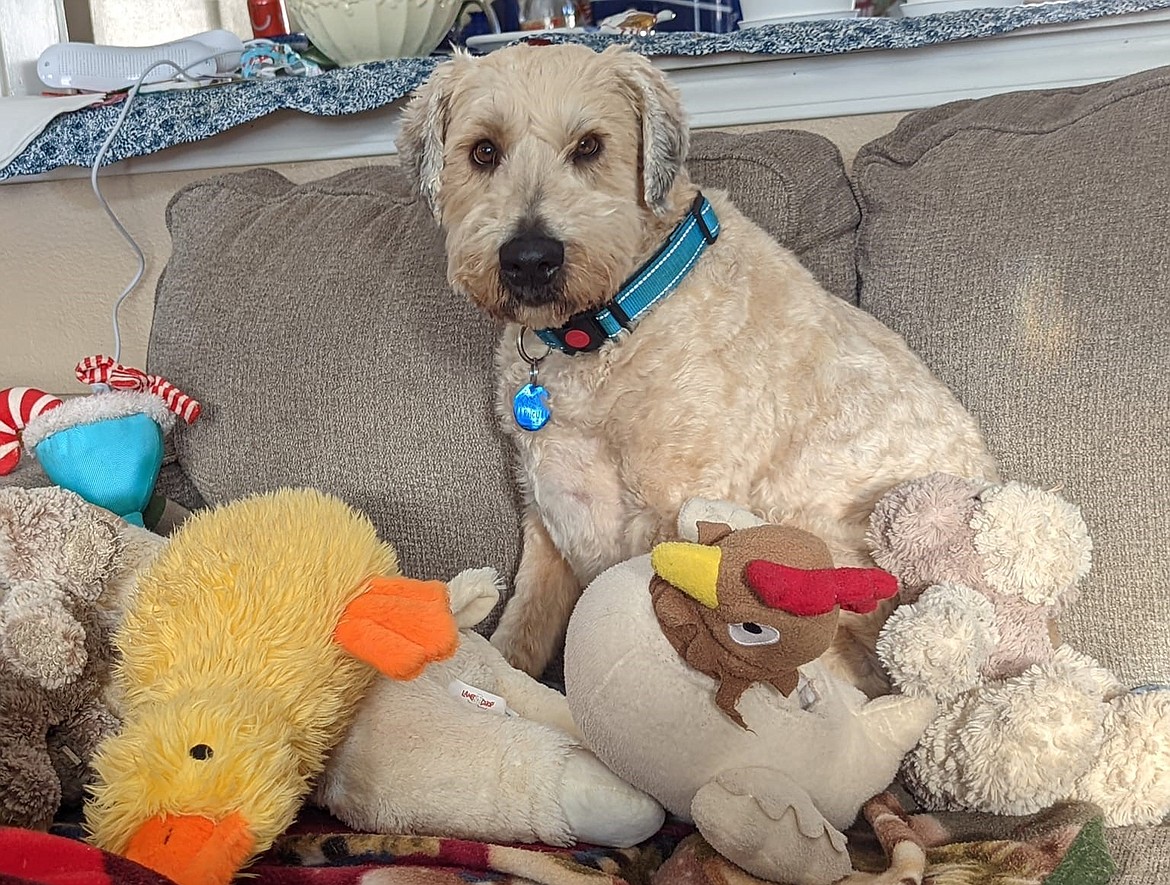 Soft-coated Wheaton-Terrier Riley sits with his toys, possibly wondering if all the dogs he sees outside the window are licensed.
Photo courtesy of CHIRSTY WOOLUM
by
MOLLY ROBERTS
Staff Reporter
|
January 24, 2023 5:10 AM
Dog licensing can be traced back to the first documentation in Utrecht, Holland, in 1946, with the fee for the license paid in pounds in salt. Licensing your dog can help law enforcement, animal control, shelters, and anyone who finds it quickly identify your dog and help it get back to its owner safely.
The Shoshone News-Press spoke with city clerks around Shoshone County to find out some information about licensing in the different cities.
OSBURN
Municipal Deputy Clerk Jenna Grant-Arthun with the city of Osburn explained that dog licenses are required, and cat licenses are not. Dogs' licenses are $10 if spayed or neutered and $15 if not. Licenses are good for one year and come in at the beginning of each year.
There are no late fees, and proof of rabies vaccination is not required.
"Violations have progressive penalties," Grant-Arthun said. "The first violation is $25, second is $50, and a third violation or more in the same calendar year is $100."
City of Osburn
921 E. Mullan Ave.
Osburn, ID 83849
208-752-0001
KELLOGG
In the city of Kellogg, Clerk Bobby Jukovich explain that dog licensing is $20 for dogs that are not spayed or neutered and $10 if they are. "The city of Kellogg typically issues around 30-40 tags per year. I don't believe we have ever written a ticket to someone for not registering their dog for the past seven years I have been working for the city."
City of Kellogg
1007 McKinley Ave W.
Kellogg, ID 83837
208-786-9131
WALLACE
Kristina Larson with the city of Wallace explained, "We require dog tags. They are $6 for spayed/neutered and $10 for non. If a dog is impounded, it is $25 for the first day, and $10 for any additional day."
City of Wallace
703 Cedar St.
Wallace, ID 83873
208-752-1147
PINEHURST
The city of Pinehurst has dog licenses required for residents of Pinehurst.
Licensing costs $5 if the dog is spayed/neutered and $25 if not, and proof of rabies vaccination is required. The sooner, the better, as there is a $5 late fee if purchased after April 1.
"Violations increased from $25 to $100, so please license your dog. It helps us find you if your dog decides to wander, and keeps you from being fined," as stated by Pinehurst Police Chief John Richter, who also added that this is something the city has required since 1971.
City of Pinehurst
106 N. Division St.
Pinehurst, ID 83850
208-682-3721
WARDNER
In 2021, the city of Wardner contracted with the Shoshone County Sheriff's Department to assist with patrolling and licensing the community's dog population. "The fees are $10 for a neutered or spayed animal and $15 for non," said Rick Gilbert, a volunteer who helps enforce city ordinances involving animals. Wardner recently removed the three-dog kennel fee, but they have a breeder fee. If someone living in the city limits of Wardner would like to breed dogs, they must go to a city council meeting to get approval, and the fee is $50. Dog registration will begin in the middle of April and runs for about a month, and dog owners will receive a notification in the mail.
For any questions regarding dog regulations and/or licensing fees, call Rick Gilbert between the hours of 9 a.m. to 4 p.m. at 208-512-2174 or email casapelicanos@att.net.
SMELTERVILLE
Clerk Heidi Klein, with the city of Smelterville, explained that the city does have a three-dog limit without a kennel license. "Fees are $7.50 for a spayed or neutered dog and $25 if not. Fine violations start at $25 and go up to $100."
Klein explained that they have hired a code enforcement agent to monitor and issue citations soon.
City of Smelterville
501 Main St.
Smelterville, ID 83868
208-786-3351
For Idaho city codes, visit https://codelibrary.amlegal.com/
Recent Headlines
---