Jess North, 46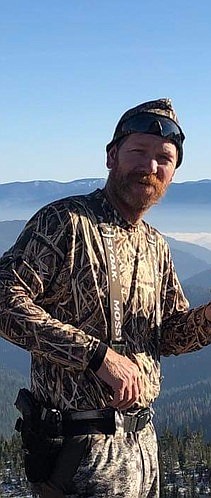 |
January 27, 2023 10:02 AM
Jess Edward North of Osburn, Idaho, passed away Jan. 20, 2023, after his battle with cancer. He was born on May 23, 1976, to Jerry and DeLila North. As a kid growing up in the Silver Valley, Jess was full of energy and attitude. He loved riding horses and motorcycles and he was fiercely protective of others when he felt they needed to be protected. Jess loved his mom and always took what she said to heart.
In high school, Jess started his career logging working for his uncles and later became a truck driver. Over the years, he was employed with Zanetti Brothers, Jack Buell Trucking, and most recently MCE Garbage (McGillivray's).
Jess had a big heart and often put others before himself. He was always giving a helping hand working in his shop fixing things for others and gathering firewood for those in need. Jess had a love for kids and considered them all family and was known to fill them up with sugar and Mountain Dew. He had a quirky sense of humor and a story for everything. He would show you how much he cared by giving you the middle finger with the biggest smile on his face.
The outdoors is where Jess enjoyed spending his time. He loved horseback riding, snowmobiling, side-by-side riding, camping, hunting and fishing. While Jess was working in his shop or partaking in his favorite activities, he was sure to have an ice cold Bud Light in his hand.
On July 16, 2022, Jess married his love Angela Thompson and accepted her kids as his own. He quickly earned the nickname "Ginger" by her girls.
Jess was preceded in death by his mother, DeLila North; grandparents Darv and Ann North, and Art and Mabel North; cousin Charlie Christman; uncle Tim North; and aunts Peggy North and Margarette North.
Jess leaves behind his love, Angela Thompson and her children, Julius, Abagail and Isabel Thompson of the family home in Osburn; daughter Natasha Stebbins; grandson Kason Stebbins; stepdaughters Victoria (Dwight) Wick/Sjogren, Amber (Kyle) Hamilton and Kyla Cole; step grandchildren Skyler, Tayzlee and Tatum; father Jerry North; sister Sandy Funk; brothers Jack (Debbie) North, Jay (Kathy) North, Shane (Kim) North, Wade North and Leroy (Corina) North; and too many aunts, uncles, cousins, nieces and nephews to name.
A celebration of Jess' life and potluck will be held at 4 p.m. Saturday, Feb. 4, 2023, at the Wallace Elks in Wallace, Idaho.
In lieu of flowers, donations can be made in Angela Thompson's name at Potlatch Federal Credit Union in Osburn to help her with family expenses.
Recent Headlines
---