Nieves C. 'Bess' Groves, 80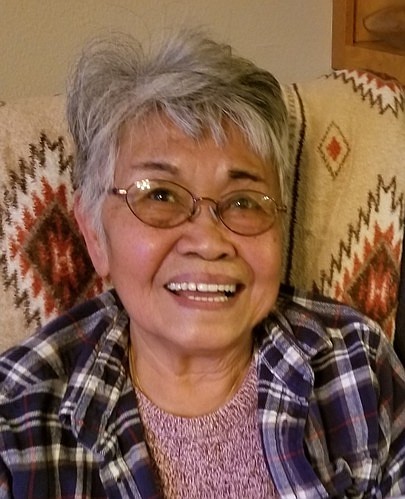 Nieves C. "Bess" Groves of Mullan, Idaho, 80, joined her beloved husband and her Lord Jesus Christ on March 24, 2023.
Bess was born Aug. 5, 1942, in Cebu City, Philippines, to parents Juan Cabanlit and Gosefa Zapanta. Bess met her true love, Stephen J. Groves, while Steve was stationed in the Philippines, serving in the United States Navy. They were married March 17, 1967, and Bess was soon introduced to the beauty and climate of North Idaho. Bess enjoyed the life of a Navy wife and truly loved God and the United States of America. After Steve's 20 years of service, they retired in 1984 to Mullan to be with family, raise their children and enjoy life. Bess loved her small town and when not volunteering at the Catholic Church, was often seen taking care of her plants and flowers, spending time with her dog, bowling, dining at the Outlaw Tavern, going on long walks and "cruising the town" in her golf cart or side by side.
Bess is preceded in death by her husband, Stephen J., her son, Edgar, and her nine siblings.
Survivors include her two sons, Stan (Julie) Groves and Samuel D. Groves; her precious grandchildren, Michael, Summer, Dakota and Paris; and 10 great-grandchildren.
A celebration of Bess' life will be held July 15, 2023, at the Morning Club at 117 Hunter St., in Mullan, Idaho, beginning at 1 p.m. Food and drinks will be provided. The family asks that any donations be made in Bess's honor to either St. Michael's Catholic Church in Mullan or to the Morning Club.
Memories of Bess and messages of condolence may be shared with her family online at www.shoshonefuneralservice.com. Shoshone Funeral Services, Kellogg, is assisting the Groves family with arrangements.
Recent Headlines
---