BOCC addresses concerns, continues to work together
by
JOSH McDONALD
Local Editor
|
March 14, 2023 1:00 AM
WALLACE — The Shoshone Board of County Commissioners is working hard — not just to help guide and govern the county, but also to find the balance in how they allow residents to be involved with their processes.
As with anything new, people have a tendency to speculate and point fingers — and one of the more prevalent rumors has been that certain people are being given an exceptional amount of latitude with the new BOCC during their meetings.
BOCC chairman Dave Dose isn't afraid to confront these rumors and wants residents to know how they too, can be involved in the county's political landscape if they so chose to.
The first thing that Dose wants folks to understand, is that while pointing fingers at the old establishment can be easy and a way to score some political points, that isn't the BOCC's agenda.
"I have so much energy for the future and only so much to put into the past," Dose told the News-Press. "I don't agree with everything that was being done before, so I ran for the job. I'm not going to bad mouth, I don't want to chew on those guys."
The current board isn't trying to do the Democrat or Republican thing — but instead do what is best for the county itself, regardless of party lines.
This begins with the board's views on transparency.
One of the more noticeable ways that they've done that is to include a public comment period in almost every meeting.
"I go around to every person in the room and give them two minutes," Dose said. "It might be off-topic, but every citizen will be afforded the same amount of time on any topic. When you give the impression that they don't have the right to speak, people get upset."
Commissioner Tracy Casady agrees with this strategy and believes it is only helping them find their footing as a group.
"Public comment is allowed with a two-minute limit rule," Casady told the News-Press. "As a new board, we are learning and want to make sure we hear everyone, but also realizing when we need to stay on point with our meetings to utilize our time efficiently. I believe we will keep improving."
This is also why Dose and the rest of the BOCC are striving to ensure things like handouts and worksheets are made public and available at every meeting so people don't have to request them or feel like something is being kept from them.
This strategy also helps county employees make better use of their time at work.
"We're going to look for ways to cut down on requests because they do use a lot of resources," Dose said. "We aren't going to dissuade them from making the public requests, we're just going to try to get them the information before they ask."
Casady was the technical incumbent to the board, but had only been in the commissioner's seat for a few months — however, her prior experience in the county clerk's office gives her particularly strong insight into the world of public records requests.
"Every record request and/or complaint must be followed up on per Idaho Code," Casady said. "These can be time-consuming depending on what is requested, but it is our duty to provide the information."
Attempts have even been made to seemingly drive a wedge between the commissioners themselves.
When a recent request was made to the board last month for a meeting to "hear complaints against an elected official," and that there was a need to "meet w/all BOCC to discuss complaints with a commissioner," Dose subsequently denied the request after a meeting with the other two commissioners and discussing the request with them.
"The board has no business hearing a complaint against a coworker that we have no authority over," Dose said. "If you want to come and complain about my public works director (FOR EXAMPLE), you have that right. And we have the authority to go and correct them if need be, but don't complain to me about an elected official — that would just be gossiping. We told them we couldn't hear their case and that it wouldn't be appropriate."
Dose also subscribes to the idea that not every problem requires a formal meeting — sometimes a simple private conversation over a cup of coffee is all that is needed, and can even be more significant in the long run if quality lines of communication are opened up.
"They wanted a public showdown, I suggested that they simply go to coffee with the person and talk it all out," Dose said.
Dose doesn't want to detract from people using the rights and protections that they have in place — things like requesting meetings with them or even using the Idaho Attorney General's Office if a complaint has validity — but he also believes that sometimes the simple solution is the better one.
This isn't the first time this board has had to cut rumors off in their tracks either.
After being elected in November, it was rumored that Dose and fellow newcomer Jeff Zimmerman planned to cut staff in order to save money.
This wasn't true and while it took a few months, several meetings with the different departments, and meetings with the county's blue-collar employees, the new-look BOCC made inroads with their new coworkers.
Perhaps this new BOCC is giving citizens more latitude than what they're used to seeing — but their goal is to do it as fairly as possible.
The BOCC is nearing their 100-day mark together and Dose feels like the group is on the right track — both in working together and working for the community.
"We work quite well together and Tracy has been wonderful to work with," Dose said. "So far we all three have agreed on about 99% of the issues because I think all three of us are interested in figuring out how to do a better job, save some money, and take care of the taxpayers."
Commissioner Jeff Zimmerman was given the opportunity to be a part of this story, but yielded his time to Commissioner Dose.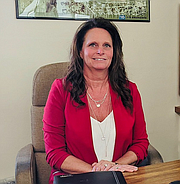 Recent Headlines
---