Wallace HELPS at Bartenders Ball
COEUR d'ALENE — Wallace came in clutch at the 11th Annual Bartenders Ball, as business owners in the town came in first in multiple categories.
The annual event happened this past Saturday, as The Silver Corner Bar and Cogs Gastropub represented the Silver Valley and headed to the Coeur d'Alene Casino to try its hand at the competition.
The charity-sponsored event helps raise funds to support Help Every Little Paw (HELP), rescue abandoned, stray or neglected animals, and provide medical attention, spay and neuter programs, socialization rehabilitation, and food to animals in need.
Silver Corner Bar co-owner Jocelyn Bachman, with local celebrity bartender Siobhan Curet winning the gold place prize of Judges Choice for Best Drink, People's Choice for Best Drink, and being the Champions of the 2023 Bartenders Ball — marking their third straight championship.
The Silver Corner served "Peach Be With You," which contained Makers Mark 46, Peach Shrub, lemonade and aromatic bitters.
"We have been taking our cocktail shrubs to the Bartenders Ball from the beginning," Bachman said. "And we have always done a shrub drink. People are still learning what shrubs are, and don't really understand it, so we felt like the bartender's ball is a good venue to showcase something new."
This year, Bachman explained that her husband Mathias found some beautiful organic peaches made into many peach shrubs.
"Every year, we see what we have a lot of and what shrubs we have that show the most promise and the most deliciousness. We started planning our cocktail around January and started really playing around."
Bachman continued that she made her bitters in 2011, which are also used in many signature drinks.
This is the fourth year the Silver Corner has attended the Bartenders Ball and was sold early on as it goes to a great cause.
"We're all about it for the pets," Bachman said.
The owners of Cogs Gastropub in Wallace were also in attendance for the first year and came back with first place for Best Bar Appetizer and Best Overall Booth Design.
"This was my first time ever participating or attending," said Alex Mayberry, co-owner of Cogs Gastropub. "I heard they sold over 350 tickets, and I served at least 500 portions of my dish."
Mayberry served her signature Martini Mashed Potato that she created years ago at a restaurant in Fairbanks, Alaska, but with some slight changes.
"In Alaska I used lobster, so it started out as a Lobster Martini Mashed Potato, however for this event I changed it up and used shrimp."
Cogs Gastropub also won the Best Overall Booth Design for their Steampunk-themed booth and costumes.
"Rick Ligenza with Up Ten Weld spent a lot of time creating the backdrop. Barb Strother really brought all the talent with making the design steampunk and the way it came together," Mayberry said. "It was a team effort. Rick and his wife Leigh did all the equipment design, Barb Strother had the eye for it all, and her husband Stu was the announcer. I also had my bartender Dusty Spencer with me. I couldn't have done it without her, she showed up in costume and absolutely worked her tail off."
Those in attendance could also vote for their favorite food and drink item by giving their white ticket to the booth of their choice, with the overall winner decided by weighing the rankings of both categories. Votes could also be sent in by text or online, as people could send in a vote, for $1, with all proceeds going to the local charity.
"The two Wallace booths were right next to each other," Mayberry said. "So we definitely had the loudest, brightest corner representing Wallace. I was shocked by how many people from Wallace were there in support."
Bartender's Ball awards are broken down by judges' decisions, people's choices and an overall winner. Five judges are chosen specifically for their refined pallets, grading the drinks and food on specific categories such as taste, appearance, creativity and originality. Then, attendees could vote for their favorite food and drink item by giving their white ticket to their booth of choice, and the overall winner is decided by weighing the rankings of both categories and the $1 votes.
Help Every Little Paw is a 501(c)(3) nonprofit organization dedicated to the health and happiness of all pets. They achieve their goal by helping companion animals with emergency medical attention, spaying and neutering, socialization rehabilitation and food through raising necessary funds.
For more information on Help Every Little Paw, visit its website at Helpeverylittlepaw.org.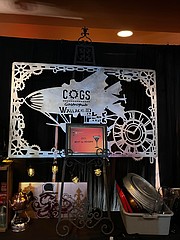 Recent Headlines
---