James Derbyshire, 71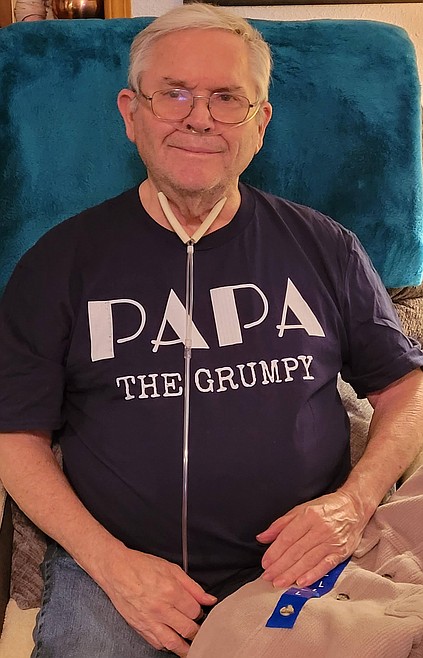 James "Jim" Lee Derbyshire, 71, of Kellogg, Idaho, beloved husband, father, grandfather, brother and friend to many, passed away March 15, 2023, at his home in Kellogg surrounded by his family. Jim was born on April 27, 1951, in Spokane, Wash., a son of the late James Richard Derbyshire and Marilyn (Hawley) Derbyshire Decker.
Jim attended Kellogg High School before enlisting in the U.S. Army. He fought for his country in the Vietnam War, re-enlisted and then served in the National Guard until he retired in 2011. He had a wide variety of skilled knowledge (including a degree as a Machinist) but was a longtime entrepreneur. He proudly operated J.A.S Janitorial with his wife and daughters. He was pleased to support the local economy and often hired folks who needed a "hand-up." Jim was an incredibly giving and kind man, even if he growled about it from time to time.
Jim married Penny Eaton on Aug. 28, 1970, in Coeur d'Alene, Idaho. Jim and Penny had three children: Jennifer, Alecia and Sarah. Alecia passed away in 2016. His family knows she was waiting for him in Heaven — happy to be reunited with his daughter.
He enjoyed dancing with his "dearly beloved," his forever bride, Penny. He loved going for drives — windows down, radio up, singing along to every song with his gorgeous singing voice (which he reserved only for private occasions or worship). He adored his daughters and their families, especially his grandbabies. They, affectionally, called him "Grumpy" or "Papa." He was thrilled to answer each of these, along with "uncle" and "brother." He would have been surprised to hear the many mentions his family has received of "mentor," "father figure" or "hero".
In addition to his parents and daughter, Alecia, Jim is preceded in death by his siblings, Rita Jean, Richard Bruce, Denyce Vina (Derbyshire) Hall, Robert James and Francis Eugene Decker.
Survivors include his loving wife of 53 years, Penny Derbyshire of the family home in Kellogg; two daughters, Jennifer (Arthur) Drobny of DeBorgia, Mont., and Sarah (James) Simmons of Kellogg; five grandchildren, Kayla Walsh, Isaac Wilkerson, Jacob Wilkerson, Audrey Burkgart and Sally Simmons. He had a very special relationship with his nephew, James Roberts; his "honorary kids," Ruth and Roger Barker (and their family) and the Revilla family (Katie, Derrick and their kids). He was loved by his numerous nephews, nieces, cousins, aunts, uncles, and countless people who passed through his life in need of support and kindness.
Memorial services with military honors will be held at 11 a.m. Saturday, March 25, 2023, at the Mountain View Congregational Church, 525 W. Cameron Ave., Kellogg. A reception will follow the services at the church. If you would like to bring a dessert, Jim loved all kinds of lemon treats that included lemon bars, lemon meringue pies, etc.
Shoshone Funeral Services, Kellogg, is assisting the Derbyshire family with arrangements. Memories of Jim and messages of condolence may be shared with his family online at www.shoshonefuneralservice.com.
Recent Headlines
---