Joseph F. Grismer, 87
Joseph F. Grismer, M.D., 87, passed on to his heavenly home on Saturday, May 6, 2023, at Rockwood Estates in Spokane, Washington. He was born in Wallace, Idaho, on November 15th, 1935, to George and Anita (Murphy) Grismer, the fourth of six children in the Grismer family.

He served as a Captain and a Doctor in the Air Force, two years of active duty, and eight years in the reserves. He did a residency in psychiatry at Stanford. After seven years in private practice, he entered the VA as a clinician and administrator. In 1996, after 21 years of service, he retired as Chief of Psychiatry at the Spokane VA. In retirement in Wallace he facilitated the restoration of the library, City Hall, and Academy Park, receiving the Citizen of the Year award for 1998.

He enjoyed old cars, trips to Palm Desert, and visiting with family and friends. Two generations of nieces and nephews cherish memories of his visits to their families, the board games they played with him, the projects he did for them, the movies they saw together, the holidays they shared with him, the conversations they had with him, the guidance he gave to them, and the immense generosity and kindness he always showed to family.

He is survived by his sisters Mary Shand of Spokane, Washington, and Anita May of Salinas, California.

A memorial mass will be held on Saturday, May 20, 2023, at 1:00 PM at St. Alphonsus Catholic Church, 214 Pine St., Wallace, ID. Inurnment at a later date will take place at St. Thomas Cemetery, Coeur d'Alene, ID. Donations in Joseph's name may be made to the Joseph F. Grismer Endowed Scholarship Fund at Gonzaga University or to the favorite charity of one's choice.
Memories of Joseph and messages of condolence may be shared with his family online at www.shoshonefuneralservice.com. Shoshone Funeral Services, Kellogg, is assisting the Grismer family with arrangements.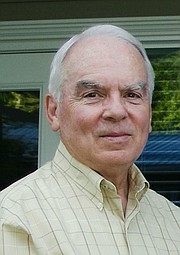 Recent Headlines
---