The Inland Northwest is blanketed with smoke and haze on Wednesday with air quality concerns. A big October storm arrives this weekend with rain, wind, and mountain snow.
Stories this video appears in: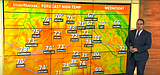 October 19, 2022 10:37 a.m.
Temperatures to plummet this weekend as a much colder, wetter, and windy weather pattern takes hold.