Rain returns to the area on Monday, and with off and on showers throughout the week, we could see another .25"-.50" of rainfall. Snow levels should remain at 3000 ft or higher, but some wet snowflakes wouldn't be out of the question for the higher spots around town Monday morning.
Stories this video appears in: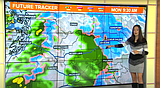 October 24, 2022 11:04 a.m.
Cold rain could be mixed with snow near 3000 ft
Cold rain could be mixed with snow near 3000 feet