Grouse Creek fire near Mullan contained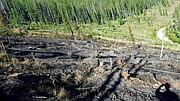 MULLAN- Shoshone County has now had its first wild fire of the season.
Kjell Truesdell, Idaho Department of Lands (IDL) Fire Warden, reported to the Shoshone News-Press (SNP) that a five-acre forest was active one and a half miles northwest of Mullan, Idaho in the Grouse Creek area Tuesday afternoon.
Reported at approximately 1 p.m., the fire was fought by a 15-person crew comprised of IDL firefighters working in collaboration with the Mullan Volunteer Fire Department (MVFD) and Shoshone County Fire District No.3 (SCFD3).
Utilizing a helicopter equipped with a water bucket, a water tender from SCFD3, and a dozer, crews were able to establish fire line around the fire's perimeter approximately five hours later- completely containing the blaze.
Truesdell said that crews worked diligently throughout the following day- conducting an "extensive mop up" operation and ensuring that "100 percent of the heat" had been taken out of the fire area.
The fire was officially declared out around Saturday morning.
Aside from some private timberlands being affected, the fire caused no damage to people or property.
The cause of ignition remains undetermined, but is currently under investigation.
Truesdell was appreciative of all who assisted IDL with the operation.
"(we) appreciate the assitance from Shoshone Dist. No.3 and Mullan Volunteer Fire," He said.
"Also, a big thanks to the Shoshone Sheriff's 911 Center and the great descriptions of the fire's approximate location. It allowed our resources to respond quickly."
Recent Headlines
---