Kellogg has a new superintendent!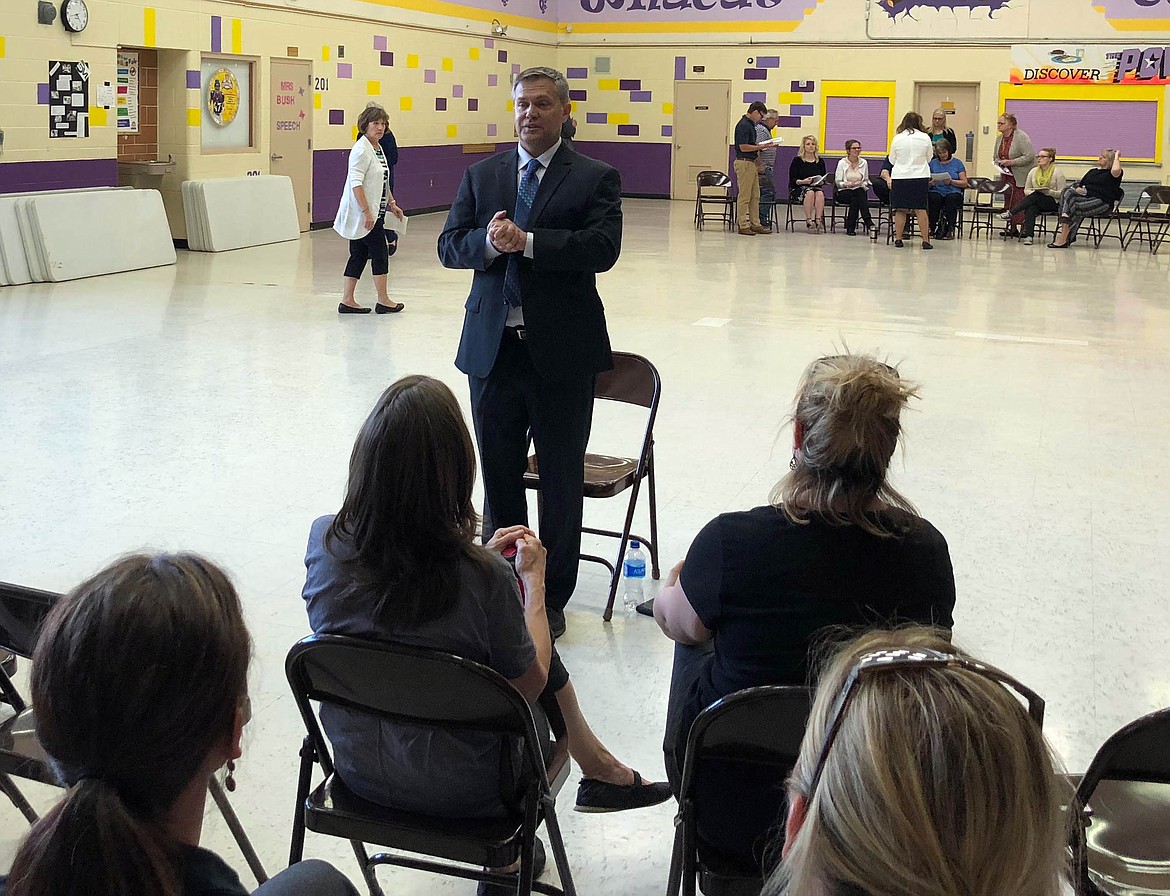 Photo by Josh McDonald Lance Pearson addresses the crowd during the Kellogg School Board's meet and greet event on Thursday night. Pearson was chosen later Thursday evening by the board to be the new superintedent of the Kellogg School District.
by
JOSH McDONALD
Local Editor
|
April 26, 2018 11:51 PM
KELLOGG – After weeks of searching, the Kellogg School Board (KSB) announced that Lance Pearson has accepted the position of Kellogg School District superintendent.
The search began a few months ago following current superintendent Woody Woodford's formal announcement of retirement, beginning in July of this year.
Pearson was one of two final candidates and is the current superintendent of Victor Public Schools in Victor, Montana.
Pearson beat out current KSB curriculum director Nancy Larsen for the appointment.
Following weeks of reviewing candidates, conducting background checks, and hosting formal interviews, KSB hosted a meet and greet event last Thursday afternoon to allow community members the opportunity to ask the candidates questions.
Following the 90-minute question and answer session, KSB went back into executive session and deliberated for over three hours before making their announcement. "As you can see, it took us awhile," KSB chairman Art Krulitz said. "Both of these candidates are tremendous candidates and we agonized over this decision. Both candidates have great skill sets and I'm sure either one would have done us a fantastic job. But in the end we had to pick one."
KSB trustee Todd Sheppard then made the motion to hire Pearson as the KSD superintendent, which was passed unanimously.
The board used information gathered through reference checks and through the use of a recent social media survey to conduct formal interviews that were held prior to the meet and greet.
Krulitz then took a moment to thank all of the candidates for applying, but also gave a heartfelt thanks to Larsen, who was sitting in attendance.
"Nancy, you were a tremendous applicant," Krulitz said. "Like I said, we agonized over this and I just want to thank you for your willingness to go through this process. We really appreciated that."
Partial results from the social media survey are available on both the Kellogg Jt. School District 391 and Shoshone News Press Facebook pages.
Pearson will take over as KSD superintendent on July 1, of this year.
Recent Headlines
---