Officials searching for body in CDA River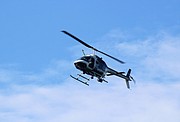 ENAVILLE – Search and rescue teams are currently combing a stretch of the Couer d'Alene River looking for the body of a deceased individual.
SCSO Undersheriff Holly Lindsey told the News-Press that their agency received a 911 call at approximately 1 p.m. Friday afternoon from a fisherman near the Snake Pit in Enaville.
The fisherman stated that he saw what he believed to be a body floating past him on the river. Search and rescue efforts from SCSO and the Kootenai County Sheriff's Office kicked up shortly after.
"We are just here to either confirm or deny (the report)," Lindsey stated.
Crews are utilizing a helicopter and a drone in conjunction with search teams on (and below) the water. Their search area includes the stretch of the river from the Snake Pit to the Cataldo boat launch.
Based on the description and location given by the witness, Lindsey confirmed that the body is not that of 69- year old Lionel Harding-Thomas.
It is believed that Harding-Thomas was carried off by the river near Elizabeth Park in late April.
Details of the body shared by the fisherman to SCSO are not being released at this time.
The Shoshone News-Press will continue to follow this story as it develops.
Recent Headlines
---