Free community Wi-Fi now available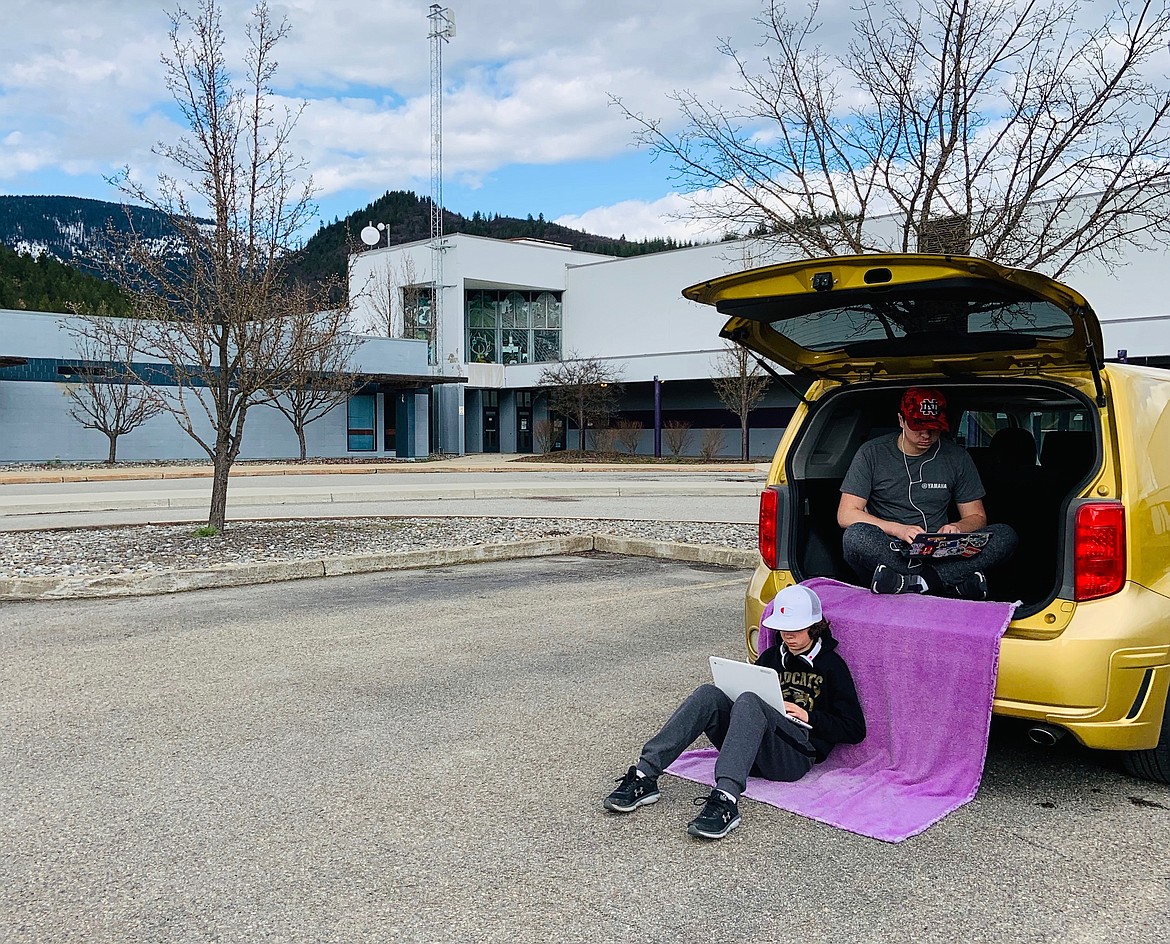 Photo by ARIANA MCDONALD Brothers Hayden Anderson and Radley Groth enjoy the use of the Silver Valley Community Wi-Fi as they work on homework from the parking lot of the Kellogg School District Administrative Annex. The Wi-Fi is being provided through a partnership between the Kellogg and Wallace school districts, the Silver Valley Economic Development Corporation, J&R Electronics and Ednetics to provide several different community Wi-Fi locations.
by
JOSH McDONALD
Local Editor
|
April 7, 2020 12:10 PM
KELLOGG — The Silver Valley Economic Development Corporation, in conjunction Kellogg School District, J&R Electronics, Ednetics and the Wallace School District, have launched Silver Valley Community Wi-Fi.
The announcement came late last week with a full network launch on Monday. The free Wi-Fi network was put into place to help locals (who may have no other option available) to help them complete homework, apply for unemployment, pay bills or complete other essential tasks that require the internet.
According to KSD technology director and the Silver Valley's resident tech guru, Simon Miller, the idea for drive-in or curbside internet was inspired by the many local restaurants who have adopted the same concept.
Miller lauded the folks who came together to make the project happen, including SVEDC director Colleen Rosson, who has, along with Miller, been an advocate for better internet access for Silver Valley residents for years.
"Working with Colleen is something I've enjoyed doing since getting to know her. We have been in an ongoing discussion and collaboration on any and all ways we can continue to pursue getting better broadband for the Silver Valley," Miller said. "The partnership with J&R Electronics was another wonderful collaboration that was formed without hesitation. The J&R crew have been ramping up their ISP (internet service provider) service in the Silver Valley and (they) jumped at the chance to help during this crisis."
Features and benefits of the Silver Valley Community Wi-Fi include:
- Access to reliable fiber-based internet to complete essential tasks
- Ability to remain in your vehicle to protect your health and that of your community
- Has limited hours of availability and content filters to assist with appropriate use
Rosson's personal and professional love for the Silver Valley, along with the people who share her thoughts and goals for the area, are really a big part of her motivation for tirelessly working on projects such as this one.
"It goes without saying that Simon is dedicated to our community, so he is a natural go-to for many ideas. J&R Electronics have roots in the valley and have demonstrated their dedication with being the only ISP who found a way in, rather than roadblocks to provide quality internet," Rosson said. "It was quite phenomenal how well things worked out when we started talking at the onset. We all came together with a desire to work for the community, put together some ideas and started working to make it happen. The school district's commitment to serving our residents brought it all together. I feel that it can be a model for other communities in Idaho who need connectivity today and beyond."
The Silver Valley Community Wi-Fi is currently available at the Kellogg site, specifically the old Kellogg Middle School near the district office at 800 Bunker Ave. Additional sites will be coming online soon in Cataldo, Pinehurst and Wallace. This is a free service to the community as we navigate these strange times.
For more information on the Silver Valley Community Wi-Fi, locations, networks and passwords, and times available visit https://sites.google.com/view/silvervalleywifi/.
"As far as how many people might use the service, I can't say," Miller said. "But I can say wholeheartedly that like our KSD Meal program, if just one person benefits from this effort, it will be worth it. We want to do as much as we can to help our community."
Recent Headlines
---