State bound!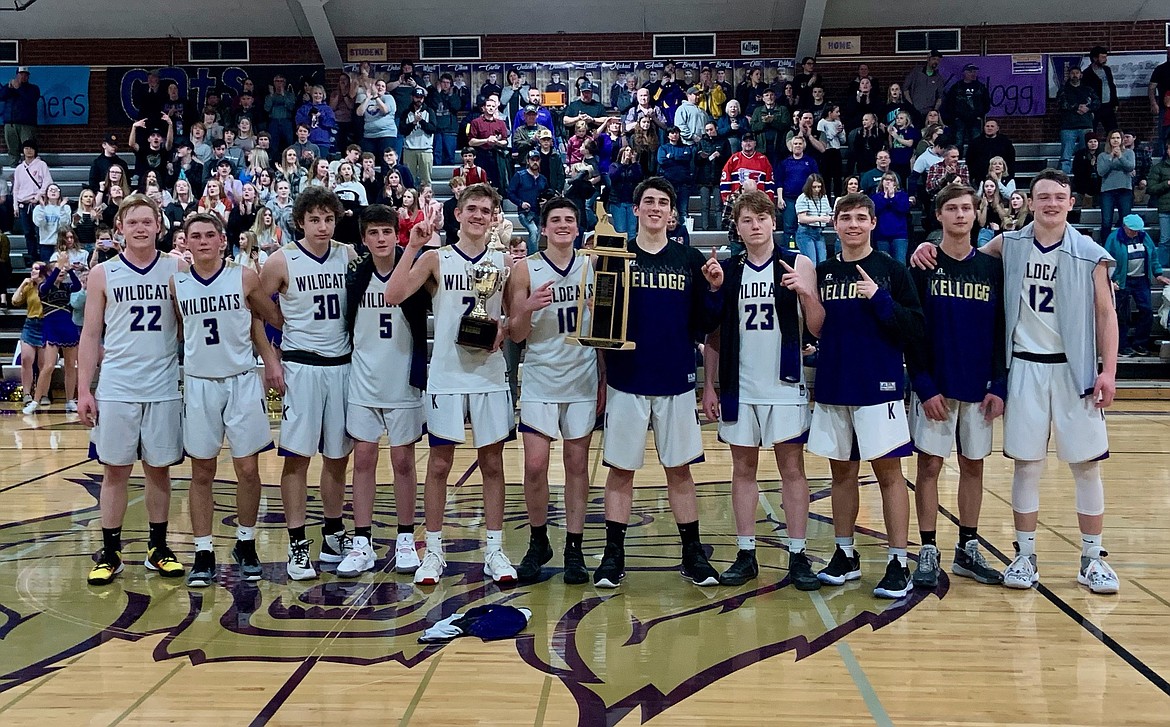 The Kellogg Wildcats clinched a berth at the 3A State Tournament following their 53-43 win over Timberlake on Wednesday night. Pictured (from left) are team members Brandon Miller, Taylor Bush, Logan Jerome, Riply Luna, Graden Nearing, Kolby Luna, Gavin Luna, K.J. Walker, Brayden Hoffman, Tanner Groves and Tyler Oertli.
Photo by ARIANA McDONALD
by
Josh McDonald
Staff Reporter
|
February 28, 2020 8:41 AM
KELLOGG — ON TO STATE! ON TO STATE!
With about 15 seconds left in the fourth quarter, the Kellogg crowd began serenading the Kellogg Boys Basketball Team as they clinched their seventh consecutive District Tournament Championship with a 53-43 win over Timberlake at Andrews Gymnasium.
At times it wasn't pretty, at times it was flat out ugly, but unlike last year where late game heroics were needed to get the win, this time around it was a stretch mid-way through the third quarter where some tough defense put the Tigers in a hole they couldn't get out of.
After trailing 21-19 at halftime, it was time for the 'Cats to go back to basics.
In your face, high pressure defense.
That defense resulted in a 15-6 run for Kellogg that forced Timberlake to play an almost desperate style of basketball during the final frame.
"We came out pretty fired up in the third quarter," Kellogg Coach Jeff Nearing said. "They were playing pretty physical and we had to find something to match that physicality. We had guys flying around on defense and that led to some opportunities for us."
Physical may be an understatement, but the Wildcats showed the same resilience that guided them to another Intermountain League championship just a week ago.
This matchup had a lot of intrigue headed into it as it was the third meeting between the two teams in the last 26 days and the fourth meeting between them this season.
Timberlake senior Jacob James, a former Kellogg student who had transferred to Timberlake just prior to his freshman year, had been a thorn in the side of the Wildcats, despite Kellogg holding a 2-1 record against them prior to Wednesday night.
"All weeklong we told the guys, 'don't let a Kellogg guy come in here and beat you, we are not letting him beat us,'" Nearing said. "We wanted to force them to try and beat us with someone else. James had 26 against us the other night, we didn't want that to happen again."
His team agreed.
James, who was announced as co-MVP of the IML following the game tonight, was held to just four points.
"James is a hell of a player," Nearing said. "He's one of the best all-around players to come out of the IML. For us to hold him to four is just awesome."
The other half of that co-MVP?
None other than Graden Nearing, the Wildcats star shooting guard.
Graden would finish with 17 points in the win.
Kellogg's co-MVP played almost the entire game, getting breaks that last for seconds as opposed to minutes, but his ability to stretch a defense and facilitate an offense really makes him an incredibly valuable asset for Kellogg.
"I think I knew we had after Kolby (Luna) had that steal where he stripped Jacob and then got fouled," Graden said. "That's where I started to feel confident and then I think we all started to really feel it."
Graden was on the receiving end of some of the aforementioned physicality, but fortunately he had some backup in the form of Gavin Luna, who took umbrage at how his teammate was being fouled.
"I'm lucky, I have this guy to fight my battles for me," Graden said of Luna.
Luna inserted himself between Nearing and a Timberlake player after some extracurricular shoving following a late foul.
"I told him that he didn't want any of it," Luna said of his opposition.
Luna, also an IML all-league player, battled his way to respectable 12 points, but his leadership and willingness to adjust his game for his team really stood out in the win.
"They were playing physical and I wasn't getting some of the looks that I normally like to get," Luna said. "I moved out to the freethrow line and took some shots that I didn't like, but I needed them to respect my shot from the elbow. I think it opened up some other stuff for us."
Both Graden and Luna were teammates with James during middle school and AAU ball, to say they are familiar would do a disservice to how well they know each other's games.
"It can be hard to play against him," Graden said. "It kinda makes me mad that he didn't stay because I think it would have been awesome for us to play together here."
"We want to be friends for sure," Luna said. "But on and off the court is a lot different."
Both Graden and Luna were excited for another trip to the 3A State Tournament, but wanted to make sure their teammates knew how appreciative and proud of them they were.
"Every guy on this team works their ass off," Graden said. "Whether it's practice or in limited minutes."
Luna followed it up saying, "It's not all about the guys who get the most minutes. It's about guys like (Tanner) Groves and (Brayden) Hoffman, or like K.J. (Walker), who didn't get to play as many minutes tonight. Everyone on this team works hard and earned this for us."
Kellogg senior Tyler Oertli was also selected to the All-IML team.
Coach Nearing was also named IML Coach of the Year and was very candid about his team following the win.
"I love these guys," Nearing said of Luna and Graden. "But I really love this team."
Kellogg will take on Sugar-Salem in the opening round of the 3A State Tournament next Thursday, March 5, at 6:15 p.m. at Meridian High School.
---