Mask up, Wallace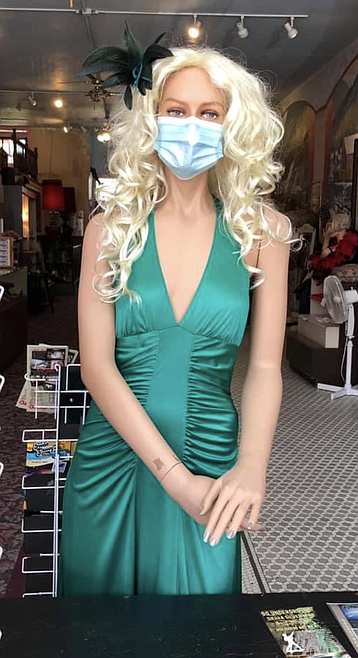 On July 15, the Oasis Bordello Museum in Wallace announced in a Facebook post that it would be requiring the wearing of masks in vintage Wallace fashion: "Back in the day, the girls insisted customers wear protection to avoid spreading disease. Today, we are keeping that tradition alive and asking you to wear a mask upon entering the museum."
Photo courtesy of the OASIS BORDELLO MUSEUM
by
CHANSE WATSON & JOSH McDONALD
Hagadone News Network
|
July 28, 2020 10:33 AM
Resolution sparks local debate
WALLACE — Shockwaves were sent through the Silver Valley and North Idaho last Friday morning when the Wallace City Council unanimously voted in favor of a resolution asking residents and visitors to begin wearing masks in all public places. Mirroring a similar resolution passed by the city of McCall in southern Idaho, Wallace is now the first and only city in Idaho's five northern counties that has passed this type of legislation.
The passage of the resolution came on the heels of the Panhandle Health District Board of Director's decision Thursday to enact a mask mandate throughout Kootenai County.
Once news got out, there was a significant amount of chatter among residents, both in public and on social media, where the decision seems to have split the population of both the residents of Wallace, as well as the rest of the Silver Valley.
Wallace City Councilwoman Heather Branstetter explained to the News-Press that the real cause for the resolution stemmed from the fact that Wallace boasts two things: A significant elderly population and being the No. 1 tourist destination in the Silver Valley — and one of North Idaho's biggest annual draws in general.
Branstetter vocally supported the unanimous decision by the council and highlighted how she's proud of her city for taking the reins concerning the issue of wearing masks.
"We've been talking it over for a little while now and we decided that we would show some leadership," Branstetter said. "We want to protect our little town, and we get more tourists here than anywhere else in the Silver Valley. We also have a high number of older residents to take into consideration."
While the official language is still being worked on by the city's attorney, it is known at this point that what has been passed is a resolution — not an ordinance. This means that there are no repercussions for disobeying the requests that were outlined in the resolution.
Despite the lack of teeth in the resolution, Branstetter hopes that residents will effectively hold each other accountable and that peer pressure might compel residents and visitors alike to mask up.
No one within the Wallace City Council is advocating for any kind of bullying or harassment, but instead they hope residents will take precautions for the sake of their entire town to effectively stay open — albeit with the use of masks.
Branstetter also hopes that people will lean more on current science and medical advice when making their decision.
"There's a lot of people out there quoting pseudoscience," Branstetter said. "But there is actual science to show that masks are effective in slowing the spread of this virus."
Based on the language in the McCall resolution, public places are defined as but not limited to — retail business establishments, government offices, medical, educational, arts and recreational institutions, public transportation, including taxi cabs and ridesharing vehicles.
There are a few exemptions to the order, including:
• Children under the age of 5.
• Persons who cannot medically tolerate wearing a face covering. A person is not required to provide documentation demonstrating that the person cannot medically tolerate wearing a face covering.
• Persons who are hearing impaired, or communicating with a person who is hearing impaired, where the ability to see the mouth is essential for communication.
• Persons, including on-duty law-enforcement officers, for whom wearing a face covering would create a risk to the person related to their work, as determined by local, state or federal regulators, or workplace safety guidelines.
• Persons who are obtaining a service involving the nose, face or head for which temporary removal of the face covering is necessary to perform the service.
• Persons who are eating or drinking at a restaurant or other establishment that offers food or beverage service, so long as the person is able to maintain a distance of 6 feet away from persons who are not members of the same household or party as the person.
• Outdoor public places where a person can employ social distancing as recommended by CDC where the person is able to maintain a distance of 6 feet away from persons who are not members of the same household or party as the person.
There are currently no fines or penalties for not following the legislation, but the City Council could implement some if they move on from the current resolution and pass a city ordinance.
Shoshone County Sheriff Mike Gunderson explained that at this time, there is nothing for his deputies to enforce while the action remains a resolution.
"It's just like the state recommendation that came out," he explained. "It asks that you should wear a mask, not that you have to."
The council hopes that residents will follow the resolution so it doesn't have to consider passing an ordinance.
If Wallace or any other city in Shoshone County passed such an ordinance, Sheriff Gunderson states that enforcement would be an overwhelming challenge.
"There's really no way we can enforce something like that," he said. "We're so busy with calls for service, how do you add calls for someone not wearing a mask on top of that?"
Kellogg Mayor Mac Pooler told the News-Press that if Shoshone County continued to spike in cases, he would certainly consider an ordinance involving masks.
"If we in the Silver Valley get this horrendous spike of 50 or 100 cases a day, then we better take a hard look at not necessarily closing everything down, but pushing the mask issue. That seems to be the thing that is most helpful."
With or without a resolution or ordinance, Gunderson stresses that people not wearing a mask is not an emergency.
"Please don't overload the 911 system just because someone isn't wearing a mask," he said. "There's just nothing we can do about it right now."
"If an ordinance was passed," he added, "we would continue to educate and encourage people before any enforcement would be done."
The Wallace mask resolution will remain in effect until Wallace Mayor Lynn Mogensen rescinds it.
Recent Headlines
---