Paul N. Cahill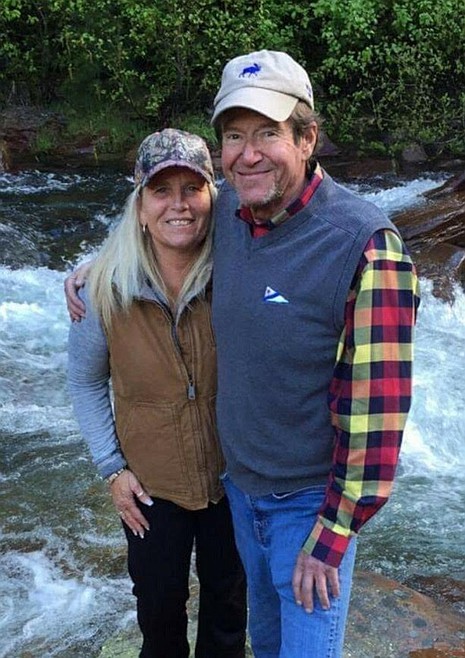 This reminiscence of Paul has been delayed several months due to the impact of the Corona virus on our lives and our schedules. The interim has however afforded us a deeper perspective on our friendship with Paul and the integral role he played and the close connection he had to the Silver Valley especially our little community in Burke. His presence, like the weather, was often unpredictable, and dramatic, but like a summer rainstorm ending a hot, dry week, was always welcome and very refreshing.
Paul N. Cahill, died Wednesday, January 29, 2020, unexpectedly in his home on Canyon Creek, likely the result of a diabetic coma. Paul lived in Burke for the last seven years across the creek from the Hecla/Star Mine. He so enjoyed the look and feel of the Canyon, the creek, the mist shrouded mountains with their many moods, and even the long, snowed-in winters. That affection explains to some degree his decision to trade a lifelong residence in Seattle for the solitude of Burke. OK, maybe solitude during the weekdays, just not on the weekend with its endless, ceaseless, interminable parades of ATV's, SUV's and RV's.
Paul was born March 22, 1952, in Seattle, WA, and spent his childhood and much of his adult life there, cajoling the education system, eventually working for a distributor of medical equipment in Seattle, eventually managing the Washington, Oregon and California markets. He built a network of personal and professional friendships that promoted him to leadership in civic and charitable organizations, such the Salvation Army where he served as the Committee Chair for the Adult Rehabilitation Center. Paul was married once, but the divorce was ancient history, and he been a comfortable bachelor by the time he settled in Burke.
For almost a decade Paul rented his house to tenants who ran to disorder and chaos, causing the appearance and integrity of the house and property to suffer. But Paul decided to save the house and together with Norm's welcome expertise began a series of restorations, replacing and repairing walls, ceilings and floors, adding a bedroom and office space, a patio with spa, and landscaping with a lawn, trees and ornamental gardens. As the renovations neared completion, Paul made the move from Seattle and into his house in Burke. He furnished his home with the articles from his life: his great grandfather's chair, a favorite aunt's dresser, pictures of the family home in Seattle. He would say the Burke canyon offered a welcome respite from the hectic pace of Seattle. He became a steward of the canyon, and Burke in particular, embracing close friendships with neighbors like Lisa Johnston, together making Burke a vibrant community.
Paul soon grew restless without work, and in the winter of 2015, took a job at Lookout Ski and Recreation Area, operating a groomer on the ski slopes during the night shift. How someone who drove a Volkswagen Beetle talked his way into a job operating a ski slope groomer will forever remain a mystery. But Paul loved to ski, and the job had the benefit of free access to the lifts. The night shift proved difficult, causing Paul to change to ticket sales for skiing in the winter and Hiawatha Trail sales and management in the Summer. The interaction with the public better suited his social skills. Not that it wasn't exasperating at times. There would be many stories he would tell of belligerent customers and their arcane expectations, and how he calmed and defused the situation. Paul had a rare combination of kindness and focus that got the attention and cooperation of even the most irritated customer.
Paul was responsible for posting the daily weather and ski conditions at Lookout. He would rise at 5 am, pickup Lisa a few doors down, and drive to the ski area. He drove his yellow Volkswagen convertible even in the winter, and even over the early unplowed roads. Apparently, he never got stuck. Although, in time, the rigors of the day and the drive began to wear on him. After five seasons at Lookout Pass, Paul took the winter off and retreated to Palm Desert, CA for a visit with friends and family. On return, he decided he needed to work in daylight hours and closer to home. He took a job with Dave Smith in Kellogg, not in sales, but in field reconnaissance, roaming the back lots with co-worker Brian. He was working there at the time of his death.
Paul knew almost everybody, in almost every venue. He'd had for example long conversations with The Judge, Richard Magnussen, in the Metals Bar. And certainly, everyone seemed to know him, often with great affection. Most of the younger generation referred to him as Uncle Paul. His network of friends reached through the Silver Valley, and out to Seattle and southern California. He would readily drive six hours to Seattle for a Mariners game, a christening, a doctor's appointment, or a weekend with friends. It was enigmatic how much he wanted to stay connected to his Seattle network but preferred to live in Burke. His expanse of interests ran from the Salvation Army to Ducks Unlimited, to exploring Idaho's trails and byways in his ATV with his friends Jim Hayman and Dr. Hank. He was a Principal in Silver Valley Venture Capital Group, LLC, and determinedly maintained his membership in the Seattle Tennis Club.
For a while Paul had a very large golden lab, named Tahoe. Paul loved that dog. The dog loved Paul. He would run Tahoe behind his Volkswagen convertible driving up the Burke road. If it wasn't raining or snowing, the convertible's top would be down. Then a tired Tahoe would ride back in the passenger seat dripping smiles over the side.
A year ago, while visiting Palm Desert, Paul found an odd curio, a large, metal, golden wishbone in one of the desert antique shops. Although not gold, Paul was very pleased and kept it as a centerpiece on his living room's coffee table. His friends thought the wishbone curious and largely inappropriate. But we know exactly why he liked it and displayed it prominently in his home. Paul was a romantic. An Optimist. A make-a-wish kind of a guy. The wishbone was his talisman, like the dreamcatchers of native Americans, something to hold our dreams and aspirations, a symbology that has been part of humanity since its origins. Paul's rescue of the house in Burke from oblivion and his attachment to Burke and the Canyon were clear manifestations of that romanticism, as was the great affection he felt for his enormous circle of friends and family. We husband the idea that his spirit has been captured by that golden, metal wishbone and will give it a place of honor in our home to inspire optimism and a determination to persevere for us all.
Paul possessed an elegance that was easy and non-pretentious. It manifested in his home, his decorations, his yard and his attire. And he lent that to those around him as well as to the
community of Burke in which he chose to live. A few years ago, Wallace designated itself the Center of the Universe and placed a commemorating cast-iron manhole cover in the intersection of Bank and Sixth Street. Accordingly, Paul was our center, the axis about which we all revolved. Whether in the depths of Winter, Spring's mud season, the glorious Summers or the heralding Autumns, we would be looking forward to him showing up at our door and hearing his news from the Silver Valley, Seattle and the around the world. For those among to whom we are drawn, by their charisma, audacity, compassion, and strength, we are helpless in the sharing of our souls. How can we not mourn their loss? Paul left us much too soon. We will miss his warmth, his generosity, his hospitality, all his stories, and the delicious rack of lamb dinners he delighted in preparing. There is an emptiness now in our hearts.
Paul was preceded in death by his parents, Todd and Ann Cahill, and his favorite aunt Sally Cahill Brookbank, and numerous aunts and uncles. He is survived by his siblings, Barbara Cahill, Nancy Cahill and, Steven Cahill, two nephews, Ben and Sam Friedlander, two nieces, Lucy and Anna Given, his lifelong friend Gregor Miller, as well as his extended families in Seattle, WA, and the Burke Canyon.
Rest in peace, Mr. Cahill. The Burke Canyon is a better place for having known you.
Ivan and Margo Linscott Burke, ID July 6, 2020
---