Wildcats' vets ready to turn some heads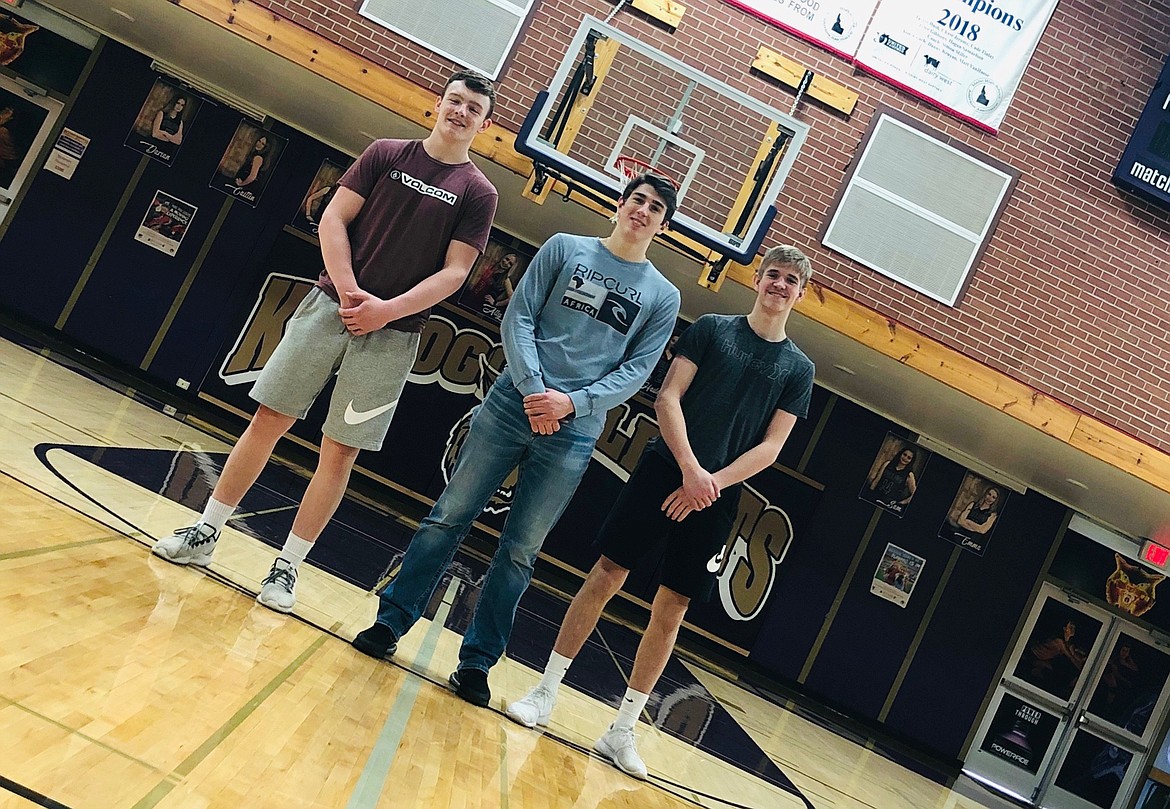 Kellogg had three players named to the Intermountain All-League team. Pictured (from left) are Tyler Oertli, Gavin Luna and IML co-MVP Graden Nearing.
Photo by JOSH McDONALD
by
JOSH MCDONALD
Staff Reporter
|
March 3, 2020 1:00 AM
KELLOGG — The Kellogg Wildcats are about to embark on their eighth trip to the 3A state tournament in the last nine years, but something about this team feels different.
This isn't Kellogg's deepest team, it isn't one built on local star power, instead it feels more blue-collar.
Led by a trio of soft-spoken seniors, the team has put together another successful season and is now shifting its focus to making the most of its last opportunity in Meridian.
Graden Nearing, Gavin Luna and Tyler Oertli were named to the Intermountain All-League team following their District Championship win over Timberlake, with Nearing being named co-MVP.
This group of young men represent the interesting dichotomy that is the 2019/20 Wildcats.
Luna, a third-year varsity starter and two-time all-league selection, is the Wildcats' foundation.
With a steely demeanor and veteran wisdom, Luna is rarely ever the guy in the spotlight for Kellogg, but is more than capable of being the man when the situation calls for it.
Nearing, also a two-time all-league selection, has been on a tear for Kellogg since last year's state tournament when he was named as a member of the 3A all-tournament team as well.
Since then, the uber-smooth shooting guard has wreaked havoc on opposing defenses while also finding his groove on the less glamorous side of the ball too.
Oertli is where things get interesting for Kellogg.
An intriguing blend of size, strength, speed and raw ability, there is a good chance that if Luna and Nearing continue to do the things that they do on a nightly basis, if Oertli can play like he did during the Wildcats' IML schedule, Kellogg should stay on the right side of the bracket well into Saturday afternoon.
Oertli's teammates have been waiting for him to unleash the animal they knew was hiding behind the mild manners and impressive physique and now they are seriously enjoying seeing it on the floor with them.
"All year long coach was telling Tyler, 'you're 6-foot-3, you're 220 pounds, use it,'" Nearing said. "But now he just bullies kids down low. Like he's figured it out."
"When he's down there and he's rebounding well it really changes who we are as a team," Luna said "When he is on the floor he creates extra opportunities for us on offense and he takes them away from other teams. He's a game-changer for us when he's on the floor."
Oertli couldn't help but grin as he listened to his teammates talk about his improved game, but, as it is with the entire team, he made it about the team instead of himself.
"I didn't really see it coming," Oertli said about his award. "But I was just so happy to be out there with these two guys. That meant a lot to me."
Kellogg's advantage will likely lie in its defense, which can be suffocating at times and then at other times can be completely shut down.
It has been the great equalizer for a team that sometimes falls victim to dry spells in scoring.
"I think individually we are really different, but as a team our defense is probably where we are strongest," Nearing said. "We have guys who can really get after it on that side of the ball which usually opens things up for us on the other end."
Nearing will talk like he isn't a quality defender, but his long arms, foot speed and intuition about passing lanes usually leads to a couple of open court steals for the Wildcats.
Kellogg will be walking into the 3A state tournament as a marked team.
The Wildcats never really get treated like they "belong" in the field of eight and over the years have come into the tournament perceived as favorites, as well as substantial underdogs.
Despite playing the defending state champions from Sugar Salem, these teams seem to be equals in nearly every possible category.
Kellogg, the fourth-ranked team in the tournament and third overall in state power rankings will be matched up against the third ranked team in the tournament and fourth overall in the state power rankings.
Kellogg collectively has not finished higher than third place at the state tournament over the last few decades, this team in particular has players who have competed for consolation championships (fourth place) during the last two seasons only to come up short at the very end.
"This year we feel like we are one of the best teams down there," Luna said. "We feel like we are a team that the other teams are scouting. Being the underdog can be nice, no one expects anything from you. But this year, we're confident in who we are and what we're doing."
As leaders on the team, the bulk of the load falls on their shoulders, including making sure that their teammates are ready to go.
"We gotta make sure that we can keep the younger guys relaxed," Oertli said. "We have five seniors, we all know how to play ball. We'll be fine if we keep our composure and play our game."
Luna put it best following the Wildcats' district championship win last week.
"It's not all about the guys who get the most minutes," he said. "Everyone on this team works hard and earned this for us."
---