Pandemic not stopping blood drives, as need goes up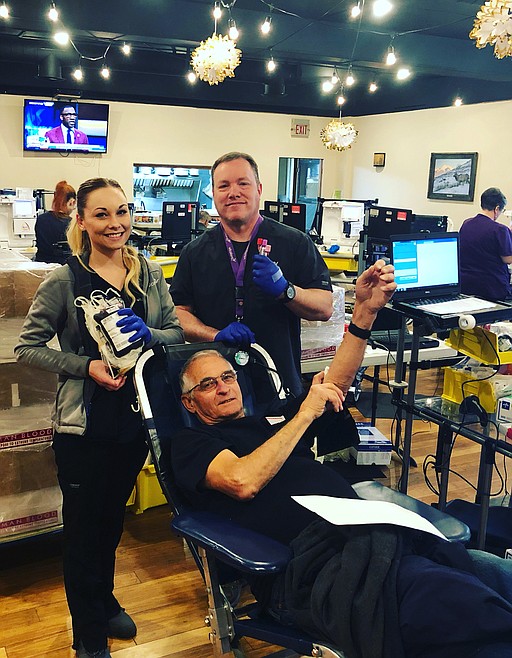 Phlebotomists Emily Moseanko and Brian Bazar help longtime blood donor Eldon Lassley finish up his donation during a recent blood drive at the Kellogg Elks. There is another blood drive scheduled for April 7.
Photo by JOSH McDONALD
by
Josh McDonald
Staff Reporter
|
March 24, 2020 1:00 AM
KELLOGG — Despite the COVID-19 pandemic sweeping across the globe, Vitalant wants folks to know that blood donations are still needed.
As emergency rooms across the country fill up, the need for blood donations also rises and community blood drives like the one scheduled for April 7, are vital for regional blood centers.
Vitalant's North Idaho Territory Manager Rob Ballison wants folks to know that donating blood is still safe despite the pandemic and that necessary measures are being taken to reduce the risk associated with coming into a public area.
"It is definitely safe to donate and we are taking extra precautions to make sure that our sites remain as clean and germ free as possible," Ballison said. "We are also practicing social distancing at blood drives using an inside setup like the one at the Elk's in Kellogg. We are taking the donor's temperatures as they enter the building, if it's above 99.5 then the person is denied entry into the blood drive. Chairs and high contact areas are wiped down after each donor, even the chair that a donor sits in to wait for screening is being wiped down after the person is called back."
Ballison's comments echo those of Vitalant's leadership, who hope people understand their dire need, while also acknowledging that they will follow the directions of public health institutions.
"Blood drives are not mass gatherings. They are more like a health care necessity, not at all like a concert or convention," said Dr. Ralph Vassallo, Vitalant's chief medical and scientific officer. "But obviously, if public health officials order closures, blood drives associated with those organizations would close."
Obviously, if a person is feeling ill in any fashion, they shouldn't attempt to donate blood.
Ballison is hoping that they can get one of their usual strong turnouts in the Kellogg area, similar to others that have happened regionally, since the bulk of the drama surrounding the new coronavirus began.
Many of their usual locations have yielded lesser than normal results or have canceled their drives all together, something that puts a real dent in their ability to supply blood to local hospitals.
"As you can imagine, COVID-19 has put a tremendous strain on our blood supply. Not only here but across the nation," Ballison said. "Places that usually host blood drives have opted to work remotely, high schools and universities have closed, and blood drive turnouts have been lower than normal. The exception being Wallace and Bonners Ferry, which each had tremendous blood drives within the last couple of weeks."
COVID-19 may affect the respiratory systems of the people infected, but one in seven hospital patients still require blood from a donor which requires a steady amount of donors that is growing less and less in the current climate.
"Most people don't realize that there is already a strong patient need for blood at the hospitals we service," Ballison said. "It's not necessarily COVID-19 related, it's a need that is always there and doesn't take a break. Thank you all for your past support, the Silver Valley Community is amazing and we're hoping for a strong turnout to start reversing this downward trend."
Founded in 1943, Vitalant is one of the nation's oldest and largest nonprofit transfusion medicine organizations and provides blood and special services to patients in more than 1,000 hospitals across 40 different states.
The Kellogg Community Blood Drive is scheduled for Tuesday, April 7, at the Kellogg Elks from 1-5:30 p.m.
---