Around the World in 80 Days
by
CHANSE WATSON
Hagadone News Network
|
May 29, 2020 3:28 PM
Silver Valley Fuller Center supports international fundraising challenge
Correction: Judy and Verne Blalack's city of residence has been updated to Cataldo, rather than Osburn.
The Silver Valley Fuller Center for Housing has a long track record of helping out in the local community. Because of the recent COVID-19 pandemic though, they and the rest of the community have the opportunity to help out on a global scale.
Ellen Arguimbau and Judy Blalack with the Silver Valley Fuller Center are inviting people across the area to join them in participating in the newly created Global Home Challenge.
For several years now, Fuller Center International has sent teams of bicyclists across the country to promote wellness and assist with projects. One of these teams even makes its way through the Silver Valley most years.
"Of course, this year with the coronavirus, they decided that they couldn't send a team," Arguimbau said.
In lieu of the teams making their nationwide bike rides, Fuller Center International came up with the idea of the Global Home Challenge: Virtual Tour Around the World in 80 Days. This 50,000 land-mile journey will include "visiting" locations across the globe that the Fuller Center has members and projects in.
The teambuilding aspect of the tour comes from the worldwide participation needed to advance the tour from location to location.
Participants are encouraged to record the miles they walk, run, bike, swim or whatever their activity of choice is, and submit it to Fuller Center International via a RidewithGPS account or submitting them manually online.
To help raise money for the Fuller Center, participants can register to receive a customizable fundraising page, then share the link with potential donors.
"Canceled volunteer events and fundraisers threaten to halt our mission of helping families worldwide have a healthy, decent home in which to thrive — right when they need it most," the Fuller Center for Housing website states. "Funds raised will enable us to build 80 homes in 16 locations most in need of our help right now, even at this time when travel is not possible."
Another option when registering is joining a Global Builders Virtual Team that works together to sponsor entire homes.
Arguimbau, the founder of Team Silver Valley, has inadvertently been training for months for this virtual tour.
"In early March, when the first coronavirus case hit Idaho, I thought, 'I gotta keep myself healthy.' So I decided that everyday that I could, I was going to go out and ride my bicycle to stay mentally and physically healthy."
By just keeping to her promise to herself and recording her miles, Arguimbau is doing her part to support the Fuller Center.
As for Judy and Verne Blalack, they've pledged to walk to the post office in Cataldo from their home everyday to contribute to the cause.
Those who want to participate and/or join Team Silver Valley can simply visit www.fullercenter.org/global-home-challenge/. Participants can also track the progress of the fundraiser and tour from this website.
The challenge will be active from May 29 to Aug. 16.
For more information, contact Ellie Arguimbau by phone at 208-783-1804, email her at Arguimbau@frontier.com or visit www.globalhomechallenge.org.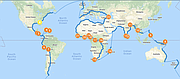 Recent Headlines
---