Wallace pool project out for bid… again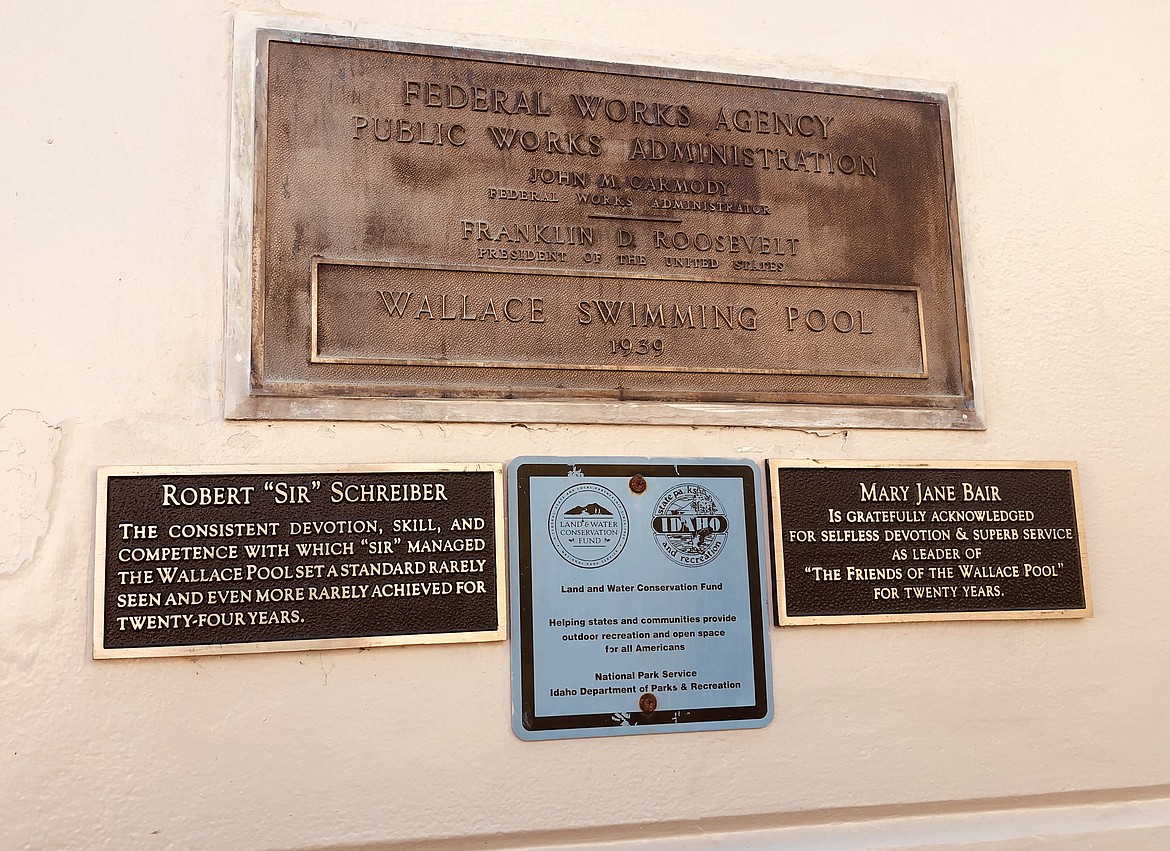 The plaque outside the Wallace swimming pool.
Photo by JOSH McDONALD
by
JOSH MCDONALD
Staff Reporter
|
October 16, 2020 2:37 PM
WALLACE — Swimmers rejoice, some very good news came out of the Wallace City Council's October meeting last Wednesday night.
The Council made the motion to approve putting the expensive repair project for their beloved swimming pool out for re-bid.
This isn't the first time the project has been re-bid. It was in November of last year that they rejected the first bid they received before putting it out for another just a few months later.
The first bid in 2019 came in at $726,000, which was almost $300,000 higher than what they had anticipated from their engineers. The next bid came in February of this year at $818,000, which was also subsequently rejected.
Both bids, for a full repair of the pool, came from contractor S&L Underground and were a far cry from the $450,000 that engineering firm Terracon had estimated over the summer.
The initial bid came as a bit of a shock to city officials, who were expecting something more between Terracon's estimate and a rough $500,000 estimate from city engineer Jim Roletto. The second bid was higher due to costs associated with a planned winter construction effort, which requires specialized equipment and materials.
Financial concerns were the driving force behind the declinations. The Council had hoped that after they declined the bid last fall that they would attract multiple bids the second time around, but they did not.
"We gambled and I hate to say it, but it didn't work out in our favor," Wallace Mayor Lynn Mogensen said during that meeting back in February.
According to Councilman Dean Cooper, the city is now only $12,000 short of having $800,000 available after pooling (pun intended) all of their last few years' pool operating budgets, as well as various donations and grant monies.
The city is still pursuing other grant funding opportunities as well in hopes of ensuring that they can financially cover any bid that comes in around the same numbers as before.
According to City Clerk Kristina Larson, they hope to have the bidding open as soon as next week and would like to potentially have the project completed in time for the 2021 summer season.
The whole repair process began in 2018, when pool manager Ed Chilgren noticed that the pool was losing copious amounts of water overnight with no evidence of where it was going or how it was getting out. Following numerous attempts to determine the issue and repair it, no solution could be found.
In the time since, multiple avenues for funding and several different ideas for repairing have been explored.
For more information on the project, or to donate toward the repairs, please contact Wallace City Hall at 208-752-1147.
---