Silver Valley Sports Recap: Sept. 14-20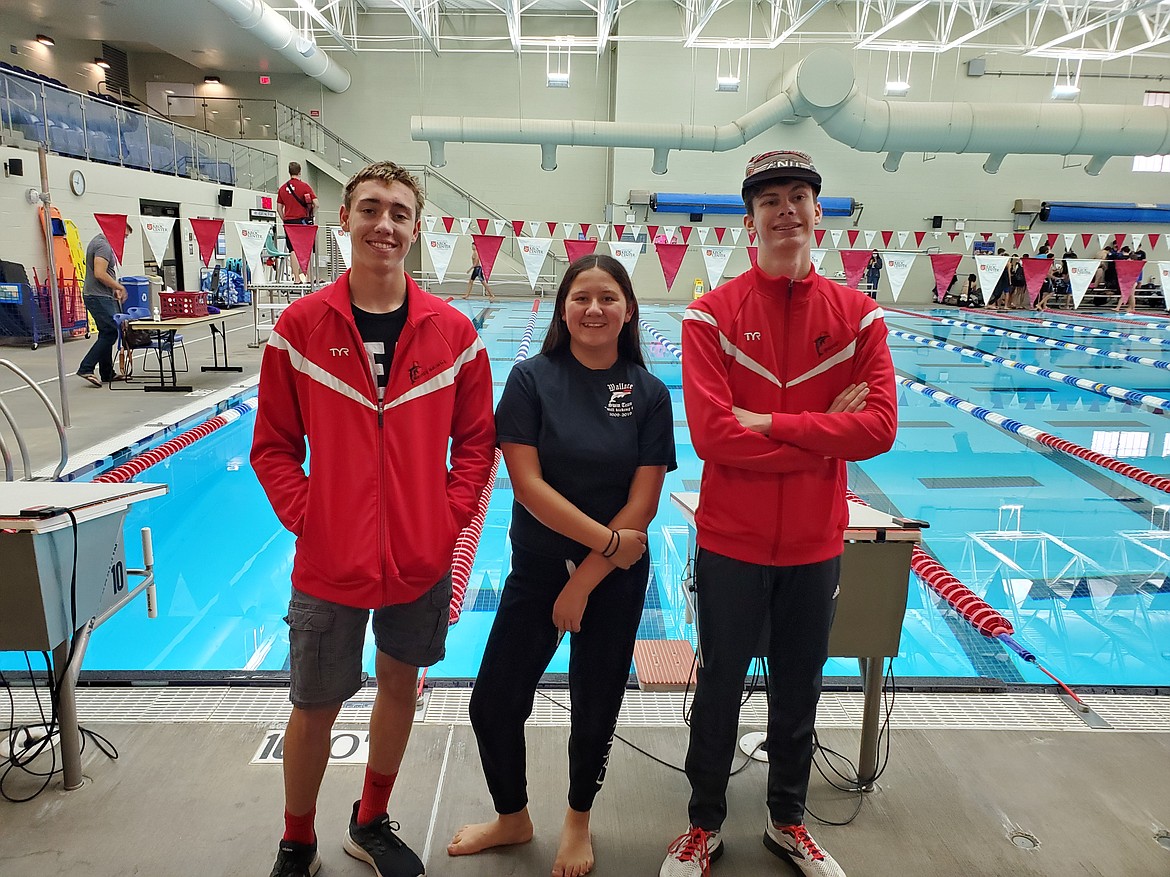 Wallace swimmers Ayden Hasz, Francis Conboy, and Dorsey Pearson competed against 5A competition last weekend at the Kroc Center. The swimmers set a few personal records and one long standing school record was shattered at the event.
Courtesy photo
|
September 21, 2020 10:39 AM
WALLACE SWIMMING
9/19
COEUR D'ALENE –– The Wallace Miners Swim Team showed significant improvement during their second swim meet of the year against Coeur d'Alene and Lewiston High Schools at the Kroc Center.

Sophomore Ayden Hasz shattered a school record in the 100-yard butterfly with a time of 1:20.98, the previous record of 1:30.89 was set by Philip Chilgren in 2014, Hasz finished second overall.

Hasz also finished third in the 100-yard breaststroke with a time of 1:27.30.
Junior Dorsey Pearson improved the 500-yard freestyle school record by 1:24 with a time of 6:35.68 and a third-place finish.

Pearson set the previous record the last time he swam the event as a Freshman.

Pearson also finished fourth in the 50-yard freestyle with a time of 26.2, which is .33 seconds off the school record set in 2011.
Last week Pearson improved his 100-yard freestyle school record with a time of 58.02.

Representing the girls, Sophomore Francis Conboy has improved her person best times with every competition this season.

Conboy has dropped her 100-yard freestyle time more than 20 seconds from her last year's personal best and dropped another two seconds off her 50-yard freestyle 47.93 from last week's meet.
WALLACE VOLLEYBALL
9/15
Wallace d. Clark Fork
CLARK FORK — Chloe Cielke had 24 kills for the visiting Miners, who had fend off the surging Wampus Cats down before coming up big in the final set, 25-17, 25-23, 19-25, 26-28, 15-12.
"They battled," Wallace coach Katie Bauer said of her team. "Clark Fork's really good and we always struggle here, so just them mentally staying in it and pulling out a win was really huge for them tonight. So that's really what stood out for me, that they pulled it through after dropping a couple sets, so I was really proud of them for that."
9/17
Wallace d. Mullan
WALLACE –– The Miners only needed three sets to dispatch their Silver Valley rivals 25-14, 25-19, & 25-15 at Kirby Krulitz Court.
Riley Valley had her fingerprints all over the game for the Miners with six kills, four aces, and 16 assists.
KELLOGG VOLLEYBALL
9/15
Kellogg d. St. Maries
KELLOGG –– The visiting Lumberjack gave the Wildcats all they could handle, but the sibling tandem of Hailey and Maddie Cheney made sure that Kellogg got the 5-set win 25-15, 23-25, 25-14, 23-25, & 15-13.
The Wildcats came out swinging, but St. Maries had a counterpunch for every run Kellogg went on, mix that with a few unforced errors and head coach Steph Brunner thought her team flirted with disaster.
"We let one or two errors turn into five or six in a row," Brunner said. "We need to focus on fixes and how we will get the ball back and then maintain the upper hand."
Tempo was an issue for the Lady 'Cats, but they received some big time play from their freshmen which was a bright spot for Brunner in an otherwise frustrating showing.
One freshman in particular, 5'11" Maddie Cheney, made an impact serving, hitting, and blocking in a way that was well beyond her years and made for a fun combination with her junior sister.
"I feel like all our freshmen played well tonight, but Maddie had a phenomenal night," Brunner said. "Hailey was a force in the front row blocking just about whatever came her way."
While Hailey finished with 20 kills, Maddie had a handful of her own as well as five aces for the Wildcats.
MULLAN VOLLEYBALL
9/16
Mullan d. St. Regis
ST. REGIS –– Co-op'd teammates were friendly foes as the visiting Mullan Tiger knocked off the host St. Regis Tigers in four sets.
No stats or scores were received for this matchup.
KELLOGG FOOTBALL
9/18
Kellogg at Orofino canceled.
OROFINO –– Poor air quality on Friday and Saturday killed any possibility of the Wildcats making the trip to Orofino for their nonleague match-up with the Maniacs.
As of right now there is no word as to if the game will be rescheduled.
Kellogg is set to host Grangeville this Friday in Kellogg.
KELLOGG CROSS COUNTRY
9/16
Wednesday's cross country meet featuring Lakeland, Kellogg, Priest River and Immaculate Conception at Twin Lakes Elementary was postponed due to poor air quality in the area.
No word yet on a rescheduled date.
---