Hecla donates $100K to pool project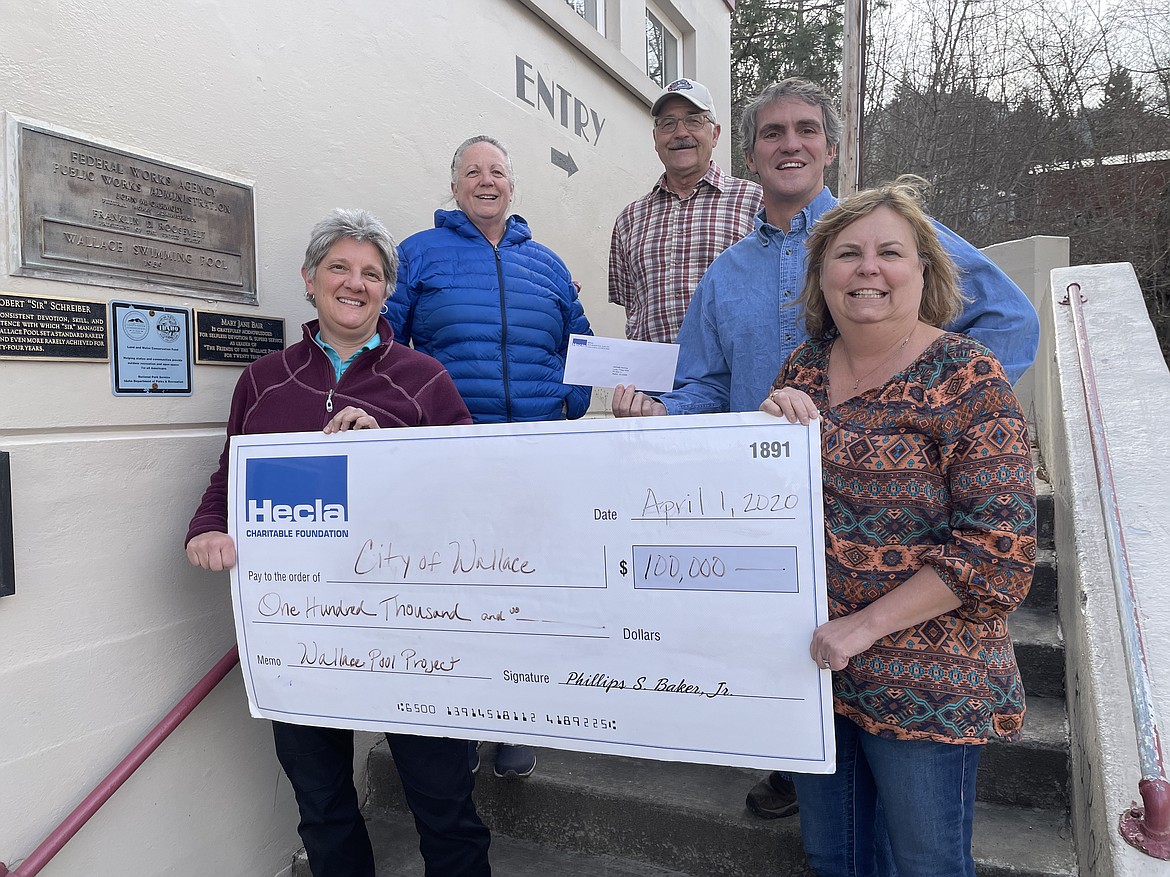 Michelle Horning (right) presents Wallace Mayor Lynn Mogensen with a check for $100,000 for the Wallace Pool Project on Thursday. In the background (from left) are Wallace City Council members Michele Bisconer, Elmer Mattila and Dean Cooper.
Photo by JOSH McDONALD
by
JOSH McDONALD
Local Editor
|
April 1, 2021 5:31 PM
WALLACE — A huge donation has given the Wallace Pool Project a massive boost toward getting the 80-year-old swimming pool reopened.
On Thursday evening, the Hecla Charitable Foundation presented a giant check (both literally and figuratively) to Wallace Mayor Lynn Mogensen and members of the Wallace City Council for $100,000 — which is to be put toward the project's completion.
"We're so happy that we were able to participate in such an important project for the community," Hecla Human Resources Manager Michelle Horning said. "It will be so great to see the pool up and going again."
Mogensen and councilman Dean Cooper were over the moon with their thankfulness for Hecla's generosity.
"Thank you so much," a near emotional Mogensen said to Horning.
"This gift helped get other people to give as well," Cooper said. "It really has stirred a whole lot of people getting involved. There is a lot of pride in the pool here in Wallace."
This money puts the city right around $800,000 toward the Pool Project, which should give them plenty of money to begin the process of getting the pool repaired and reopened.
There is also a $225,000 community development block grant that the Council elected to pursue late last year, which would put the available monies at the disposal of the city over the amount of several bids that they rejected over the last couple of years.
The Wallace City Council voted in favor of pursuing the grant during a special session in early July 2020, that also included a public forum that was held in September of that year.
Accepting the grant and bringing federal money into the project changes some of the criteria for bidding on the project, which means the project will be going out for bid for a fourth time.
The first bid came in at $726,000, which was almost $300,000 higher than they had anticipated from their engineers.
The next bid came in February of this year at $818,000, which was also subsequently rejected.
Both bids, for a full repair of the pool came from contractor S&L Underground and were a far cry from the $450,000 that engineering firm Terracon had estimated in 2019.
Now, if they can get more aggressive bidding, they will have more than enough money to cover the costs of the repair, but should they not they will have enough money to cover even a lone high dollar bid. The most recent round of bids did include one with a lower dollar amount from ClearWater Construction, but accepting the community block grant changed the direction the city decided to go.
"The goal is that late this summer we'll be swimming," Cooper said.
Mogensen would also like to extend a huge thanks to Cooper for all of his hard work in fundraising for the pool project.
The Shoshone News-Press will continue to follow this story.
Recent Headlines
---