Heriberto Garcia, 67
|
February 11, 2021 8:15 AM
March 16, 1953 – Feb. 6, 2021
Heriberto Garcia, of Moses Lake, Wash., the man, the myth, the legend, the magician… is now resting peacefully with his passing on Feb. 6, 2021, at the age of 67. Born in Crystal City, Texas, on March 16, 1953, he was raised in Comonfort, Guanajuato, and Moses Lake; the proud son of Jorge and Josefa (Hernandez) Garcia.
Heriberto graduated from University of Guanajuato earning degrees in mathematics, chemistry and physics. An avid learner, he continued his education at Big Bend Community College when he moved back to Moses Lake at the age of 20. There he took classes in electronics and began his career in farming. At the age of 25, he started his family, and from that point forward, his "bambinas" became his life. At the age of 27, he began working for his lifelong friend, Art Prior, and quickly became their irrigation specialist until his retirement.
His kind heart and sly sense of humor made him a popular storyteller at family gatherings. Ever the entertainer, he loved performing his latest magic tricks to his many nieces and nephews. As a gifted artist, he never hesitated to draw a quick picture to put a smile on your face or show a visual of what his next project would look like.
Heriberto was always willing to lend a helping hand, often putting himself second to help anyone in need. This extended to the animals he loved and cared for throughout his life, from his pet hedgehog, "Lucresia," to the many "Charlies," you could find a furry companion not far from him.
He is survived by his daughters, Zugey (Andy) Garcia and Stephanie (Scott) Garcia-Coleman; grandkids Zara and Amaya Ward, and Isis and Raven Garcia-Coleman; brothers Jorge (MaElena) Garcia, Manuel (Josephina) Garcia, Ambrose (Adela) Garcia, Jose Melquiades (Maria Paz) Garcia, Javier (DeAndrea) Garcia and Felipe (Connie) Garcia; sisters Angelina (Joaxin) Galvan, Maria Eva (Jose) Aguayo, Marta Garcia and Maria Elene (Enrique) Hernandez; as well as several nieces and nephews. He was preceded in death by his beloved parents, Jorge and Josefa; sister Enedina Parra and brother Jose Luis Garcia.
Heriberto had a great smile that lit up the room, his smile and shining light lives on in the hearts of all he touched. His new adventures in heaven are sure to be great stories he will get to tell us someday.
Services will be held at 11 a.m. Friday, Feb. 12, 2021, at Bell Tower Funeral Home, 3398 E. Jenalan Ave., Post Falls, Idaho. A Zoom link will be posted on his online memorial for those who wish to attend virtually. Please visit Heriberto's online memorial and share stories at www.belltowerfuneralhome.com.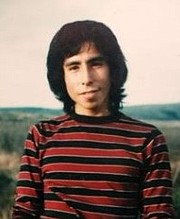 ---