SCSO seeks info on stolen campers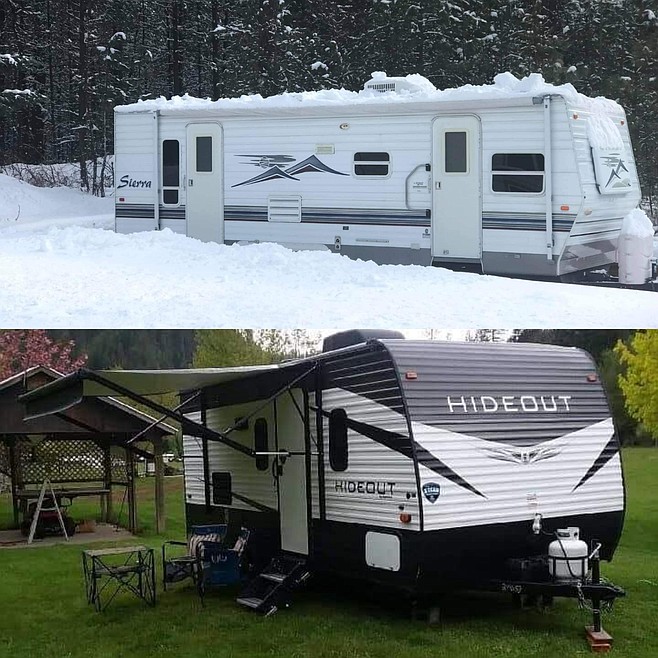 (Top) The 2003 Sierra Forest River and new Keystone Hideout that were stolen from a storage lot in Smeltervile last week.
Photo courtesy of JAMIE McGLOTHERN
by
CHANSE WATSON
Managing Editor
|
February 22, 2021 3:13 PM
SMELTERVILLE — The Shoshone County Sheriff's Office is seeking information on a grand theft case that occurred early last week.
SCSO Lt. Jeff Lee states that on Feb. 18 around 2:14 p.m., their office received a report of two campers being stolen from a lot at S&S storage at 200 Washington Street in Smelterville.
The campers, identified as a 2003 Sierra Forest River and a newer Keystone Hideout, are believed to have been taken sometime during the day that Thursday.
Sierra Forest River co-owner Jamie McGlothern states that the burglars grinded the lock off the front gate to gain access to the lot. She added that law enforcement recovered a cellphone and a receipt from Walmart at the scene that could have belonged to the suspect(s).
S&S is currently offering a $1,000 reward for information leading to the recovery of the two campers. The storage lot currently stores roughly 20-30 campers at this time.
"The more people aware of the situation and more eyes out there looking for the camper, the better!" McGlothern said.
Lt. Lee asks anyone with information to contact deputy Ferraro by calling SCSO at 208-556-1114 and reference case number 01-2021-00148.
---