This is absolutely a drill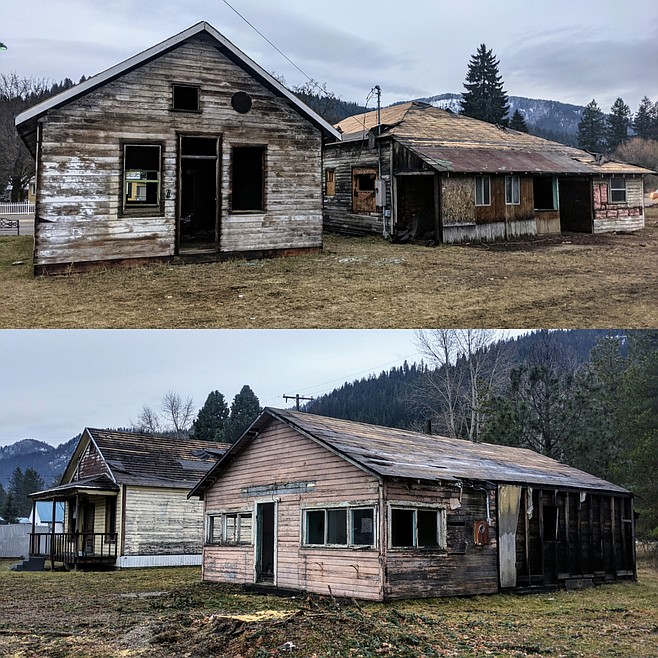 The three homes in Osburn set to be burned by fire crews this Saturday. So if you're in the area of 505 Mullan Ave. that day and you see flames, don't panic! It's all part of the plan.
Photo by CHANSE WATSON
by
CHANSE WATSON
Managing Editor
|
January 12, 2021 8:00 AM
OSBURN — They say that there's no substitute for the real thing. When it comes to running into burning buildings, the saying definitely holds up.
In an effort to get some of the less experienced firefighters some actual hands-on time with the real thing, Shoshone County Fire District No. 1 and other participating agencies will be lighting-up a few derelict structures in Osburn this coming Saturday.
SCFD No. 1 Cpt. John Miller and Lt. Cycle Hanan explain that crews with SCFD No. 1, Mullan VFD, Prichard/Murray VFD, and possibly SCFD No. 2 will gather on Jan. 16 at 505 Mullan Ave. and conduct live fire training exercises on three old homes that have certainly seen better days.
The structures, donated to SCFD No. 1 by Idaho Mine Technicians in November 2020, will allow crews the opportunity to perform a multitude of different exercises including ladder deployments/positioning, search and rescue, building construction, forcible entry, and hose deployment/advancement. Crews have already been using the property and building for the past two months, so they're pretty familiar with the terrain already.
"We will have many different options the day of," Cpt. Miller said. "We have had an ongoing volunteer fire academy for the last two months, so we are building off some of the course work from that. These trainings will emphasize on search and rescue, fire dynamics, pumping operations and fire attack."
With the help of instructors from Selkirk and Spokane Valley FD helping out, crews plan to ignite the structures in an "all natural" way by using wood. For training purposes, some hay might even be used to generate more smoke.
Of course, all the neighbors of the property and the appropriate utility entities have been made aware of the burning as well.
SCFD No. 1 is thankful to Idaho Mine Technicians for their donation to the district, as these types of training opportunities that give a lot of volunteers their first "real environment" experience don't present themselves everyday.
"We have been fortunate in our area to have about one property a year," Miller said. "However, time is needed to ensure quality training and safety measures. These training sessions take a few months to develop and implement properly."
"Training opportunities like this do not come up often," Lt. Hanan added. "Especially, multiple structures on the same property. These training burns are designed to allow all fire districts the opportunity to train together and better serve our community."
So remember, if you see flames coming from 505 Mullan Ave. in Osburn this Saturday, there's no need to panic — it's all part of the plan.
---