Galena Mine doubles annual production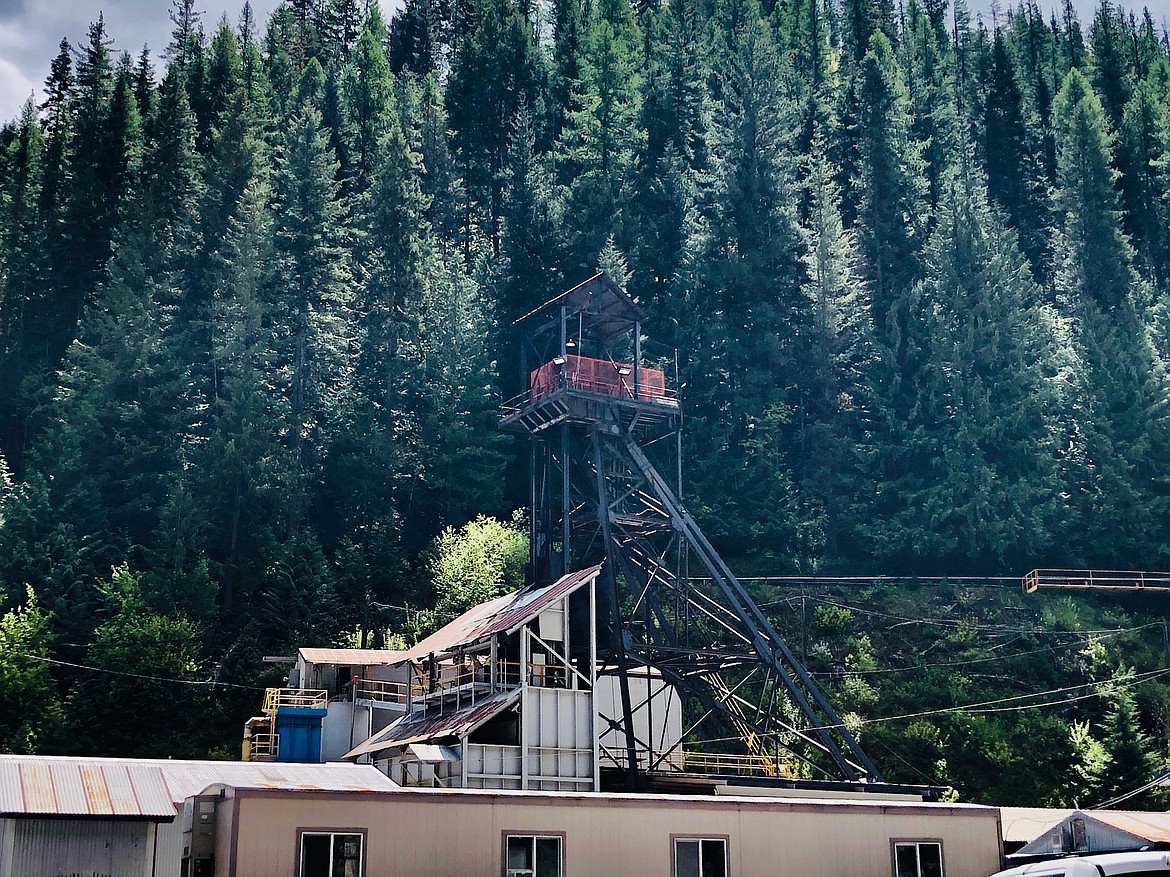 The Galena Hoist towers over the Galena Mine Complex. The Galena Mine is in the midst of several different rehabilitation projects, all falling under the umbrella of its Recapitalization Plan that has pumped millions of dollars into the mine for several improvements to infrastructure, equipment, as well as exploration.
Photo by JOSH McDONALD
WALLACE — The Galena Mine Complex reported a 100% year-over-year increase in production for their fourth quarter reports thanks largely in part due to the efforts of their Recapitalization Plan, which began in October 2019.
According to a recent release from Americas Gold and Silver Corp. the Galena's production increased from 160,000 ounces of silver and 2.6 million pounds of lead in 2019, to 295,000 ounces of silver and 5.8 million pounds of lead in 2020.
According to company management, the mine is confident in their belief that they can increase those numbers by 1.8 to 2 million ounces of silver by 2022. This belief is based on the results of exploratory drilling that was completed as part of the Recapitalization Plan in the mine's 360 Complex.
With these increases will also come the need to further develop and rehab the Galena's facilities, which includes replacing the current hoist and conducting further rehabilitation on the 3700 and 4300 levels — with an estimated cost of $20 million.
Ongoing development on other levels is moving forward as expected, including the 5500 Level — where a new drill station is expected to be completed this month.
This drill station will be key for the company's plan to access the Triple Point, as well as the down dip extension of the 360 Complex. The Triple Point is where the mine's 175, 185 and Silver Veins are projected to converge. This area is projected to be 100 meters below historical workings of the mine and so far, all of the projections have AGSC officials excited to continue the exploration efforts.
Additional exploration of the 72 Vein is also in progress, which was discovered in 1999 and mined from 2000 through 2006 and has produced more than 9.5 million ounces of silver. It was a significant contributor during the period when the Galena Complex produced more than 5 million ounces of silver per year.
The company is targeting further mineral resource additions at the Galena Complex for the remainder of Phase 1 drilling through June 2021 with expectations of least 50 million ounces of silver.
The success at the Galena has company officials sighing in relief as one of their other sites has struggled with complications from winter weather and COVID-19.
The Relief Canyon Mine in Nevada, was expected to hit commercial production by the end of 2020, but unfortunately several key people at the mine contracted COVID-19, which — along with other factors slow their progress down.
Officials at AGSC believe they will be back on track later this month and at full production in May.
"The Galena Complex is demonstrating the positive impact of having a diversified portfolio of assets and commodities," Americas Gold and Silver President & CEO Darren Blasutti said. "While I am disappointed by the unexpected delay in declaring commercial production at Relief Canyon, the health and safety of our workers far outweighs pushing to declare commercial production. We are having a strong start to 2021 at Relief Canyon, our key employees have returned to the site and the stacker is operating well. We look forward to declaring commercial production at Relief Canyon shortly."
Recent Headlines
---