Silver Valley Sports Recap: Jan. 18-24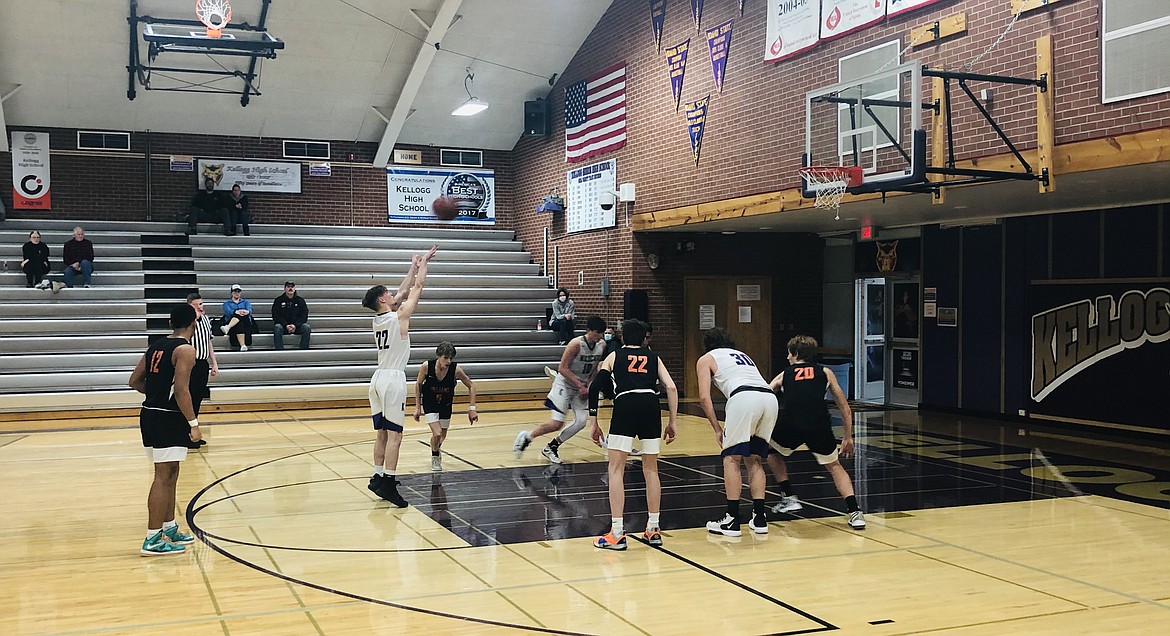 Kellogg's Luke Frolich launches a free throw during Kellogg's win over Post Falls JV.
Photo by JOSH McDONALD
|
January 25, 2021 11:23 AM
KELLOGG WRESTLING
• Jan. 19
IML Duals
SPIRIT LAKE — The Wildcats ran through Priest River and Timberlake before falling to Bonners Ferry.
With the win, the Badgers looked up the Intermountain League team championship and will host the district wrestling tournament next month.
Head coach Scott Miller isn't one to mince words, especially with his team performing at such a high level prior to the loss to Bonners.
"Our goal was to win the IML Duals so we could host the district tournament so not doing so was disappointing, but at the same time it let us know on things we need to work on," Miller said. "I thought our lightweights performed really well in all three duals but in the Bonners Ferry match we let some matches get away from us."
• Jan. 22-23
LEWISTON — The Wildcats were able to shake some of their previous IML loss off later in the week, finishing in third place at the Clearwater Classic.
Rubbing shoulders with a few teams they'll see at the state wrestling tournament, as well as few of the larger schools in the region, it was a huge confidence booster for a team that has dealt with a lot over the last few weeks.
"I thought we as a team took some very positive steps this weekend," head coach Scott Miller said. "Winning our pod was very exciting but our team earned it with wins over 5A Lewiston and 4A Sandpoint. Then we had to survive against St. Maries which is important because it is learning how to deal with adversity. Weiser just out wrestled us but we were able to get some good individual wins that will help us with state seeding. We gave Coeur d'Alene a 42-0 lead but then really fought back so I was proud of our team for that too. Overall, it was a good weekend for us."
Clearwater Classic results:
Round 1: KELLOGG 60, Clearwater Valley 21
Round 2: KELLOGG 54, Lewiston 34
Round 3; KELLOGG 42, St. Maries 36
Round 4: KELLOGG 53, Sandpoint 27
— Kellogg Wins Pod A —
Round 5: Weiser 51, KELLOGG 27
Round 6: Coeur d'Alene 45, KELLOGG 37
WALLACE BOYS BASKETBALL
• Jan. 19
Lakeside 76
Wallace 63
PLUMMER — It could wind up being a building moment for Lakeside coach James Twoteeth.
Although for at least the first eight minutes of a Scenic Idaho Conference matchup, it might not have seemed like it.
Vander Brown had 31 points, 10 rebounds and six assists for the Knights, who beat the Miners without three starters due to quarantine from a close exposure to COVID-19.
"We had to bring up some JV kids, and our subs really stepped up," Twoteeth said. "Vander, he did a really good job and it could be a blessing in disguise because it helped build his confidence."
JJ Hall added 18 points and Brutis SiJohn added 13 points for Lakeside.
"Both Vander and JJ really stepped up tonight," Twoteeth said. "We got through it and got a win."
Carter Bailey scored 19 points for Wallace.
Wallace 13 11 17 22 — 63
Lakeside 15 28 15 18 — 76
WALLACE — Tesky 6, Farkas 11, Hogamier 6, Bailey 19, Morin 2, Denson 11, Hull 4, Hammerberg 0.
LAKESIDE — L. Matt 3, V. Brown 31, SiJohn 13, Q. Hall 3, J. Hall 18, P. Brown 0, Louie 2, C. Matt 6.
• Jan. 22
Wallace 46
Genesis Prep 45
POST FALLS — It was over.
Genesis Prep coach Jeff Hironaka saluted Wallace coach Corey Miller and started toward the locker room, celebrating the program's first Scenic Idaho Conference win.
A few minutes later, it was the Miners that were celebrating.
Carter Bailey hit two technical free throws with no time remaining after a Genesis Prep fan was given an unsportsmanlike conduct technical foul, allowing the Miners to claim a 46-45 win over the Jaguars at The Courts at Real Life on Friday night.
Bailey had missed a go-ahead 3-pointer as time expired. As the teams were leaving the court, officials called the technical and asked both teams to return to the court.
"It was tough for the kids," Hironaka said. "We were in the locker room celebrating a win, then were told to come back out and we walked back into the locker room as losers. It's tough because it's not like the kids did anything to take away from it. We were 6 of 15 from the free-throw line and could have had some cushion. Our kids competed and I feel bad for them. There was nothing I could say to boost their spirits."
"It was the weirdest ending to a game that I've ever been a part of," Wallace coach Miller said. "Big props to Carter. He had to sit out there by himself forever and make those shots. It was awesome for him."
Caleb Schroeder scored 13 points, and Nathan Weeks and Ayson McLuskie had 10 points each for Genesis Prep.
Bailey scored 18 points for Wallace.
Wallace 8 16 11 11 — 46
Genesis Prep 8 11 11 15 — 45
WALLACE — Tesky 3, Farkas 2, Hogamier 7, Jaramillo 0, Bailey 18, Murdock 4, Denson 8, Hull 2, Hammerberg 0.
GENESIS PREP — Weeks 10, Gonzales 3, Schroeder 13, Rubert 0, Showder 0, Specht 3, Daniels 6, McLuskie 10, Russworm 0.
KELLOGG BOYS BASKETBALL
• Jan. 20
Kellogg 66
Post Falls JV 51
KELLOGG — Riply Luna had 21 points, six assists and three steals, going 4 for 5 from the free-throw line in the fourth quarter as the Wildcats beat the Trojans JV at Andrews Gymnasium. "We struggled to close out the game against Bonners Ferry (last Saturday), and tonight we really took care of the basketball," Kellogg coach Mike Martin said.
"We had one turnover in the fourth quarter and finished 8 for 9 from the free-throw line. We really closed out the game the way we're supposed to. It's good to see us going in the right direction."
Kolby Luna had 22 points, going 4 of 7 from the 3-point line for Kellogg.
Jack Sciortino scored 15 points for the Post Falls JV.
Post Falls JV 13 14 14 10 — 51
Kellogg 16 15 16 19 — 66
POST FALLS JV — Smith 4, Naylor 3, Shields 2, McCarthy 12, Tebbe 2, Jacobson 1, Gibson 3, Bowie 4, Sciortino 16, Butler 2, Cooper 2, Summers 0.
KELLOGG — R. Luna 21, K. Luna 22, Groves 1, McLean 0, Frohlich 10, Walker 0, Jerome 12, Lonn 0, Hoffman 0.
• Jan. 23
Priest River 65
Kellogg 48
PRIEST RIVER — Trentyn Kreager scored 19 points as the host Spartans defeated the Wildcats, who fell to 0-2 in Intermountain League play.
Logan Jerome scored a game-high 20 points for Kellogg.
"We played very well," Priest River coach Kevin Wylie said. "We started out with great energy at both ends of the floor and we did a great job defensively forcing tough shots and rebounding the ball."
Kellogg 10 12 10 16 — 48
Priest River 15 18 13 19 — 65
KELLOGG — Miller 0, R. Luna 4, K. Luna 10. Mclean 0, Groves 5, Maciosek 0, Frohlich 2, Walker 7, Jerome 20, Lahn 0, Hoffman 0.
PRIEST RIVER — Mathews 10, Butler 2, J. Nortz 12, Kreager 19, Marinello 4, Barrett 14, D. Nortz 0, Yount 4.
WALLACE GIRLS BASKETBALL
• Jan. 20
Kellogg 58
Wallace 44
WALLACE — Hailey Cheney scored 31 points for the Wildcats in a win over the Miners at Kirby Krulitz Court.
"We played with a lot of energy and hustle but struggled in the first half to get much going," Miner head coach Nichole Farkas said. "After scoring just 15 first half points and being down by 20 or so in the second half, we made a run and cut the lead to 10. Kellogg is a good squad and tough matchup for us, so I am really happy with the determination shown by the Lady Miners."
Jaden House scored 22 points for Wallace.
Kellogg 19 15 15 9 — 58
Wallace 7 8 13 16 — 44
KELLOGG — VanHoose 1, Jerome 5, Karst 0, Coe 6, Hill 6, Nearing 5, H. Cheney 31, Reed 4, M. Cheney 0.
WALLACE — Specht 0, Cielke 6, House 22, Phillips 4, Welch 8, Burmeister 2, Hemphill 0, Hunter 0, Bergem 2.
MULLAN GIRLS BASKETBALL
• Jan. 21
Lakeside 74
Mullan 27
PLUMMER — Jolissa Holt scored 23 points for the Knights in a nonleague win over the Tigers at Ron Miller Court.
Ashlee Holt added 19 points for Lakeside.
The Knights were missing two starters due to COVID-19 protocols.
"Dahyiitihi White made a 3 toward the end, got the crowd excited — what crowd we had," Lakeside coach Chris Dohrman said, noting the freshman's first varsity points. Talowa Fallingwater scored 16 points for Mullan.
Mullan 13 1 8 5 — 27
Lakeside 18 14 21 21 — 74
MULLAN — Waters 2, Haig 2, Stahle 0, Fallingwater 16, Charvez 0, Frazier 5, Dykes 2.
LAKESIDE — A. Holt 19, Havier-Gorr 8, J. Holt 23, White 3, Lawrence 2, Wienclaw 6, Rivera 0, Tsawklai 0, Matt 4, Lowley 1, Marchand 2, Allen 6.
MULLAN BOYS BASKETBALL
• Jan. 21
Mullan 54
Lakeside JV 43
PLUMMER — For the first three quarters, it was looking like Lucky's night. Then, foul trouble hit.
Lucky Matt, a 6-foot-5 freshman, scored 21 of his 23 points in the first three quarters, including 15 in the first half, before fouling out early in the fourth for the Knights JV, who fell to the Tigers at Ron Miller Court.
"Mullan switched to a zone and that collapsed our inside game," Lakeside JV coach Jess Arthur said. "That led to a lot of offensive fouls on Lucky."
Luke Trogden had 29 points and six steals, and Riley Trogden had 12 points, 10 rebounds and three blocked shots for Mullan.
"I thought we played a lot better in the second half," Mullan coach Paul Elston said. "We played much better defense, probably our best to date this season."
Mullan 12 16 10 16 — 54
Lakeside 19 12 10 2 — 43
MULLAN — L. Trogden 29, Zingler 2, R. Trogden 12, Nelson 11, L. Pettit 0, S. Pettit 0, Layton 0.
LAKESIDE — Rivera 3, Callahan 2, Matt 23, Jones 2, Brown 7, Nomee 2, Martin 2, Key 2, Allen 0, Fulton 0, Sperber 0, Smith 0, Janson 0.
KELLOGG GIRLS BASKETBALL
• Jan. 23
Kellogg 54
Priest River 22
PRIEST RIVER — The visiting Wildcats improved to 6-6, 2-1 Intermountain League with the win over the Spartans (3-12, 0-5).
No other information was available.
---