FCC Commissioner, Ziply CEO tour Galena Mine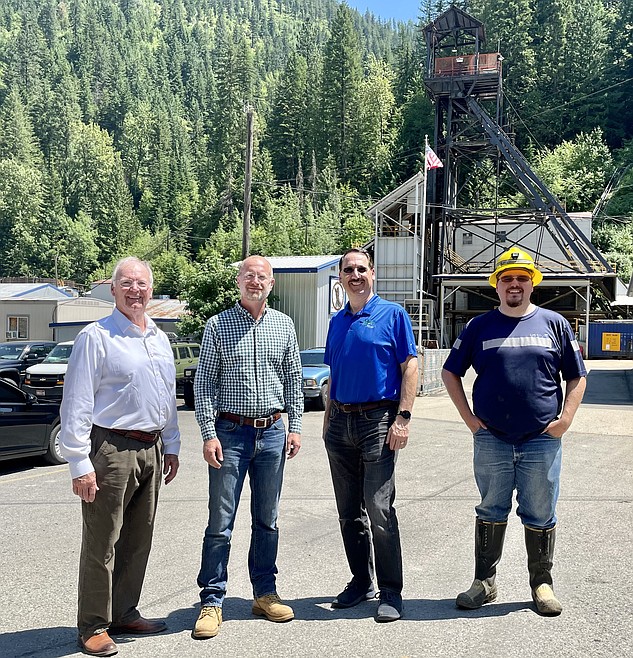 (From left) Idaho Department of Commerce Director Tom Kealey, FCC Commissioner Brendan Carr, Ziply Fiber CEO Harold Zeitz, and Galena Mine IT specialist Levi Page stand in front of the mine hoist last Thursday, following the tour of the complex.
Josh McDonald
WALLACE – An interesting rendezvous occurred at the Galena Mine Complex last Thursday when representatives with Ziply Fiber, the Federal Communications Commission, and the Idaho Department of Commerce met to talk about rural broadband expansion.
The Galena was picked as a meeting spot for this talk because of the recent internet upgrades it has received. The opportunity to get these upgrades was made possible through state and federal money granted to Ziply (and other providers like them) to expand their services into rural America quicker than they originally planned to.
The primary drivers for local internet expansion to places like the Galena have been money provided through the Coronavirus Aid, Relief, and Economic Security Act (CARES) and the Rural Digital Opportunity Fund (RDOF) through the FCC.
"We work with all kinds of agencies on the state and federal level," Ziply Fiber CEO Harold Zeitz said. "If there's state and federal level money coming in from the CARES Act or RDOF, we look at those dollars and say, 'well now...this money will help us build Wallace and build Kellogg much faster than we already would have. It's really allowing us to build out further and faster."
Thanks to the already distributed CARES Act funding, Ziply was able to complete their recent work in Kellogg and Wardner- giving many residents and businesses in that area the opportunity to access gig-speed level internet. When the RDOF funding comes in later this year, Ziply then plans to push east in the Silver Valley and begin a six-year build plan to set up similar high-speed internet services in Wallace, Osburn, and surrounding areas.
After receiving a tour of the mine complex, FCC Commissioner Brendan Carr explained that one of his top priorities is to "bridge the digital divide" and "make sure every single American has a fair shot at next-gen connectivity."
The Silver Valley was just the first of many stops for the Commissioner, as he plans on visiting several other rural communities in the Pacific Northwest to see the effects of new internet upgrades and learn what else can be done back in Washington.
"We're seeing really a story that's typical across the country. Some really great success stories."
While much has already been done, Carr stresses that the work isn't over yet.
"We're not raising the 'mission accomplished' flag," He said. "There's still too many parts of the country that don't have high-speed service. Just driving down here looking at the bars on my phone go from four to nothing and four to nothing- that confirms obviously that we need to continue to get the job done."
Idaho Commerce Director Tom Kealey stressed that it has been a big deal to Governor Brad Little to expand connectivity to the rural parts of the state.
"(We're)building out a better broadband map, updating it, and adding some tools. We've been working closely with providers like Ziply and others to identify where the gaps are and how we do that."
Following the creation of the Idaho Broadband Taskforce in 2019, 125 Idaho communities have benefited from CARES Act funds in terms of internet upgrades- including a few in Shoshone County. Governor Little also recently signed Senate Bill 1199 into law, directing $45 million toward new investments in internet connectivity for underserved areas.
At the Galena Mine, better internet is one way that the facility can improve productivity, while gaining efficiency and safety in the ways they operate.
Levi Page, the IT specialist at the Galena Mine, discussed the various ways that upgraded internet has helped, and will continue to help, the facility.
The 200 mbps upload and download speed in the mine are among some of the fastest connections in the valley- a far cry from the mbps they used to have.
"With that we've been able to greatly increase our connectivity and improve our online security. We are also able to have better communication with our corporate office," Page said.
With the new upgrades, the mine can access, read, and share images and digital models both in house and at their corporate offices in Toronto, Ontario, Canada.
Page elaborated that bringing connectivity underground was one of the facility's biggest goals with the internet upgrade.
"This will help people be able to stay underground longer, complete their work quicker, and not have to travel as far to complete tasks," Page said. "It will also allow us to install sensors that we will be able to use to do things like turn pumps on and off, manage air flow, things like that. Right now it's a static system and requires a lot of manpower for certain tasks."
Managing those things will, in turn, allow more flexibility at the mine for things like scheduling.
With the mine currently working toward their goals with their Recapitalization Plan, adding high speed internet access to the facility only helps move that along.
As far as safety is concerned, the mine can now add underground cameras to monitor activity, carbon monoxide and dioxide levels, air pressures and air flows, all of which make a mine safer to work in.
"We could know immediately if there was a fire," Page said. "We could help keep people even safer once we get that connectivity down there."
Recent Headlines
---