Tiger star appears on top 10 list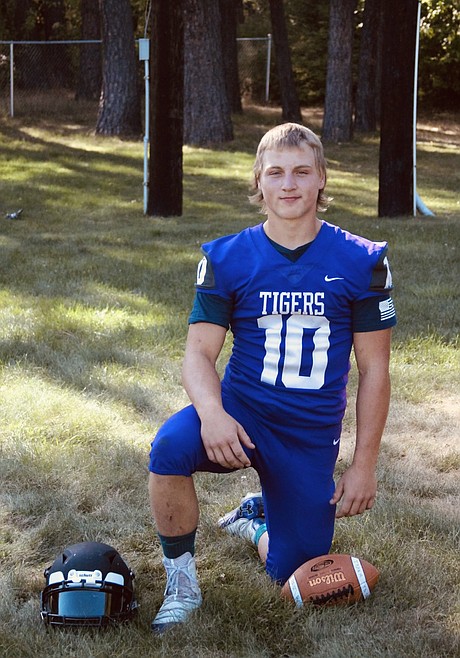 Mullan football player Luke Trogden was recently named one of Idaho's top 10 defensive linemen by Idahosports.com.
Courtesy photo
by
JOSH MCDONALD
Staff Reporter
|
July 16, 2021 7:00 AM
MULLAN — Tiger senior Luke Trogden was recently featured on a list of some of Idaho's heaviest hitters and it should have Tiger fans excited.
Popular prep sports website Idahosports.com recently had Trogden listed on their '2021 Football Preview: Top Defensive Linemen.'
The list featured athletes from all six of Idaho's sports classifications and sitting squarely in the thick of it was the Silver Valley's very own Trogden.
The mullet-wearing monster from Mullan played all over the field for the Tigers in 2020, but he left an indelible mark on the defensive line. Here's what Idahosports.com had to say.
"The 6-0, 205 lb. senior racked up 71 tackles, eight tackles for loss, 11 sacks and four forced fumbles, while also moonlighting as a running back on the Tigers' co-op squad with St. Regis, Montana."
Head coach Stetson Spooner is never shy when it comes to heaping praise on his guys, but with Trogden he sees an almost scary amount of potential that is also being noticed by several college scouts of all levels.
"Luke is a Swiss Army Knife of a player," Spooner said of his All-State defensive player. "He has some of the best hands on the team, both defensively and on offense. The kid just makes plays all the time for us."
With high school football right around the corner, it's possible that no team is more prepared for a deep run than the Mullan/St. Regis Tigers who came up on the losing end of a semifinal final match with eventual 1A DII champs Dietrich.
But with Trogden being another year older and that much more experienced — don't be surprised if you see the Tigers hanging one of those big white banners in November.
For the full list of Idaho's top defensive linemen, visit Idahosports.com.
---