Silver Valley air quality remains Unhealthy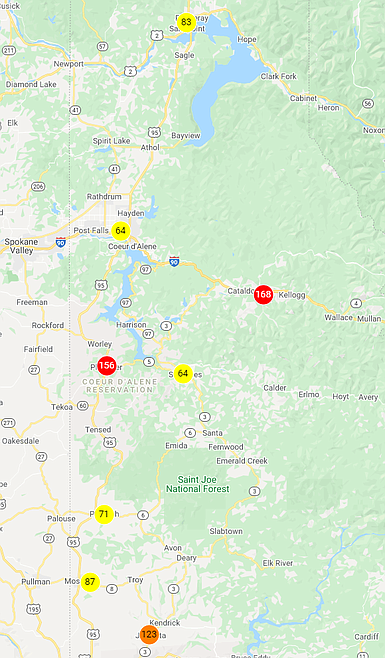 by
CHANSE WATSON
Managing Editor
|
July 19, 2021 1:43 PM
PINEHURST— The Idaho Department of Environmental Quality (DEQ) has reports that the air quality rating in the Silver Valley is at 168 AQI and remains in the "unhealthy" level, as of 12 p.m. Monday morning.
This means that everyone may begin to experience health effects and members of sensitive groups may experience more serious health effects.
During this period of heightened poor air quality, the DEQ recommends avoiding strenuous outdoor activities, shortening the time of such activities, or canceling those activities all together.
According to Idaho Department of Lands (IDL) in Cataldo and satellite images of our region, the accumulation of smoke is coming from the multiple wildfires burning in the Pacific Northwest.
"Smoke is being pushed into the area from fires in California and Oregon by the current Southwest wind pattern," IDEQ Air Quality Manager Shawn Sweetapple said. "There is also a Red Flag warning for the area with forecasts including potential for lightning over the next two nights. The Character Fire Complex continues to periodically send smoke into the Silver Valley."
The Silver Valley currently collects its air quality data from the normal air monitoring station in Pinehurst and a new mobile monitor in Kellogg. The Kellogg station reports Unhealthy AQI readings as well as of noon on July 19.
Smoky air is considered to be a form of particle pollution and it can be harmful to your health.
Particle pollution has been linked to a number of health problems including coughing, wheezing, reduced lung function, asthma attacks, heart attacks, strokes, and even death.
The DEQ rates air quality using a series of numerical values.
0-50 is good and 51-100 is moderate, but after 100 things get dangerous and there are specific warnings that apply to people with varying sensitivity.
The full chart describing these ratings accompanies this story and can be referenced.
For more information visit the IDEQ website at www.deq.idaho.gov/air-quality and click on the air quality index to follow the region's forecasted air quality.
---