Man arrested for shooting in airport firefighter camp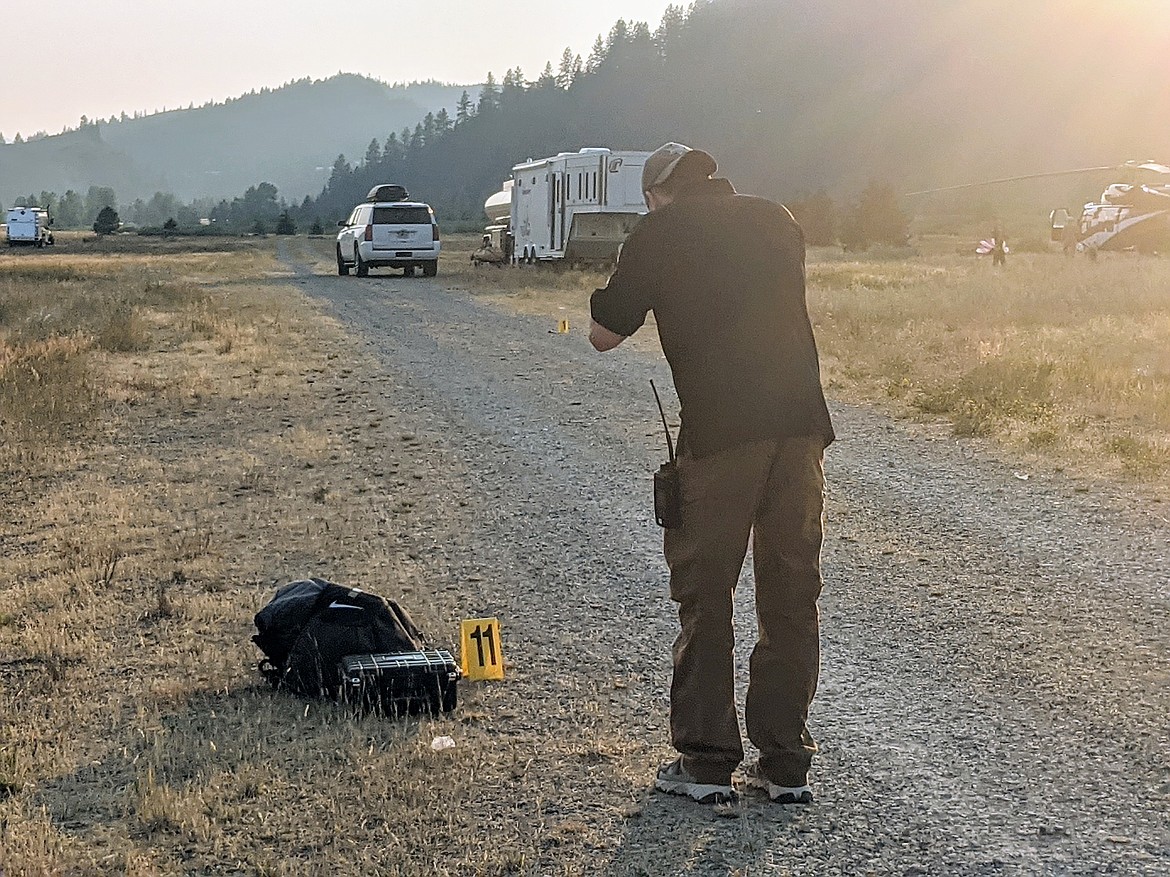 SCSO Cpt. Jeff Lee photographs evidence marked at the scene of the shooting at the Smelterville Airport on Saturday.
Chanse Watson
by
CHANSE WATSON
Managing Editor
|
July 20, 2021 7:00 AM
SMELTERVILLE — A Washington man was arrested over the weekend following a bizarre incident at the Shoshone County Airport in which he fired off multiple rounds from a handgun.
Shoshone County Sheriff's Office Capt. Jeff Lee tells the News-Press that law enforcement received a 911 call at approximately 5:52 p.m. reporting that an armed subject was approaching fire personnel in their helicopter at the airport.
The Shoshone County Airport, located at 926 Airport Road, has recently become a staging area and temporary camp for wildland firefighters and aerial units that have been combating the Character Complex, Trestle Creek Complex and Cougar Rock Complex wildfires.
The armed individual, identified as Joshua Di Jon Forrest, 24, of Auburn, Wash., initially started out on Interstate 90 at Milepost 48 when his vehicle ran out of gas. While still with his vehicle, he made phone contact with Idaho State Police dispatch and the two parties worked through getting a service to assist him. An ISP trooper from the Rose Lake area was also sent to the location as dispatch spoke with him.
By the time the trooper made it to Smelterville though, events at the airport had already played themselves out.
For unknown reasons at this time, Forrest had ended his call with ISP dispatch, made his way over to the airport, and began making demands to fire personnel while brandishing a handgun. A 911 caller even reported that the subject was attempting to steal a helicopter.
At 5:57 p.m., a SCSO deputy arrived on scene and quickly located the armed suspect. Forrest then discharged his handgun several times into the ground and into the air as fire personnel were fleeing the immediate area. It is possible that he fired his weapon at a vehicle that was driving away from him, but no evidence has been found that it, or any other vehicle or structure, was hit.
At that time, the responding SCSO deputy ordered the suspect to drop the weapon and he complied soon after. Forrest was taken into custody without incident with the assistance of a second SCSO deputy and the Idaho State Police trooper who was responding to the original fuel call. Several other SCSO deputies and law enforcement units arrived shortly after.
Throughout the ordeal, no law enforcement officers discharged their firearms and no one was injured.
Forrest's motivations for his actions remain nebulous, as neither he nor his vehicle had any signs of drugs present. He is currently facing charges of aggravated assault stealing from/interfering with/or destruction of aircraft or navigation facilities, and exhibition or use of a deadly weapon.
"It was a miracle that no one was severely injured during that incident," Lee said. "But due to the quick response by our deputies, the incident was stopped quickly and with no injuries to anyone."
SCSO states that the investigation is ongoing and no further information will be released at this time.
---