Stateline Complex Wildfire update for July 21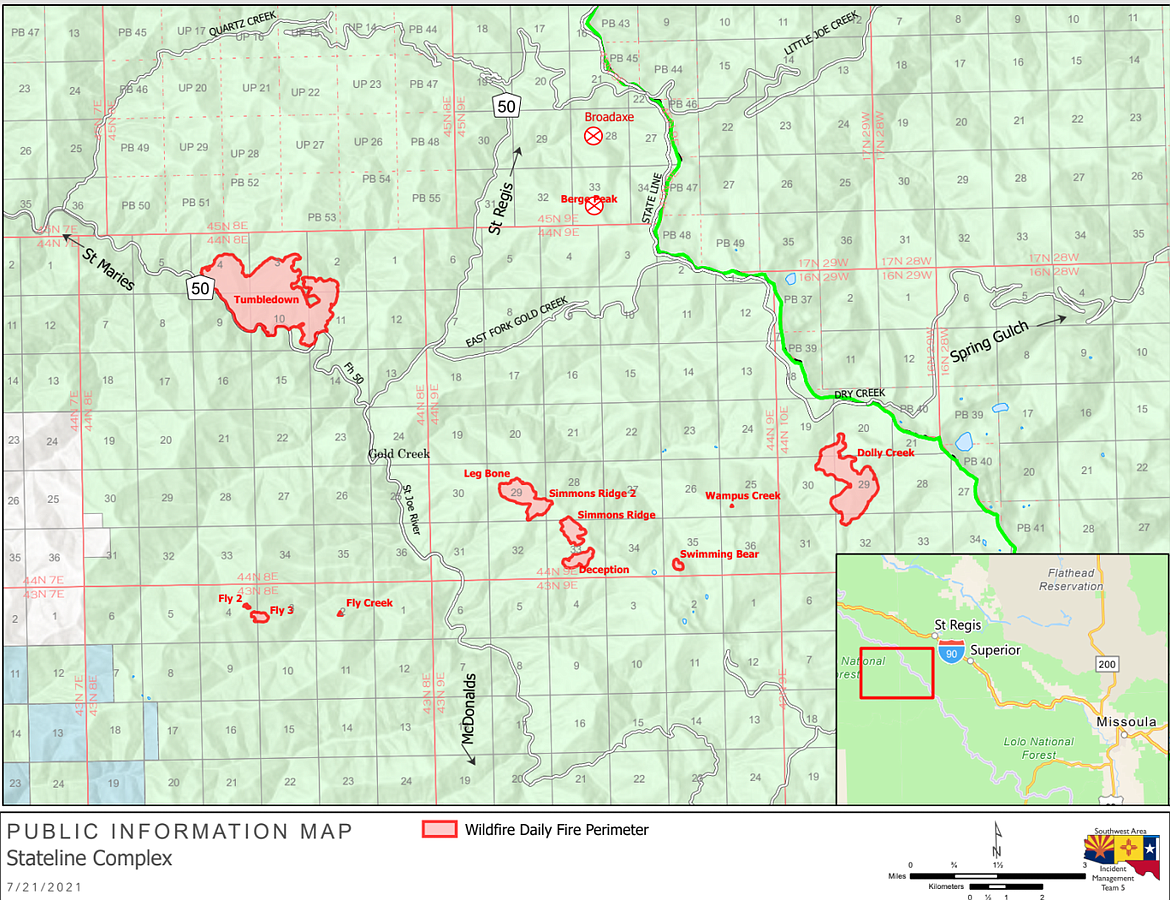 Acres: 2,147 acres
Personnel: 205
Cause: Lightning
Containment: 0%
Start Date: Wednesday, July 7, 2021
Location: 6.5 miles SW of St. Regis, MT
Fuels: Mixed conifer
Announcement: Several closures are in effect and a temporary flight restriction is in place across the entire Complex. Highway 50 remains closed between Bluff and Bruin Creek as well as Gold Flat Campsite and several trails within the St. Joe Ranger District.
Overview: The Stateline Complex comprises 13 fires within its boundary, with Tumbledown and Dolly Creek continuing to be the largest. The complex as a whole has a full suppression, values-driven strategy that utilizes a mix of tactics including direct, indirect and point protection. The remote location, steep terrain, limited access, distance between fires, and lack of suppression resources is challenging firefighting efforts and logistical support.

Fire Update: Fires within the Stateline Complex are burning at a slow, steady rate of speed in mixed fuels and forest types including sub-alpine fir in higher elevations with a transition down to pine, mixed conifer, and brush fuels in lower elevations. Crews have begun indirect suppression tactics including building fire line and conducting some fuel mastication work. Personnel anticipate varying terrain to assist in slowing and stalling the fires' spread, however critically dry fuels still hold a high potential for fire activity. Crews will continue to monitor fire activity and prep indirect firelines, while providing point protection as needed for values at risk including the I90 corridor, multiple communities in Idaho (Avery) and Montana (DeBorgia, Haugan, St. Regis, Superior), and some timber management areas, among others.
Weather: On Wednesday, July 21, 2021, a weak but dry cold front will generate gusty south to west winds with gusts up to 25 mph. By Thursday, temperatures will increase, with hot and dry conditions continuing into the weekend. The area remains under a Red Flag Warning through the evening of Wednesday, July 21 and the likelihood of dry thunderstorms will persist through mid-week.
Closures: As of July 20, 2021, a temporary flight restriction is in effect for the entirety of the Stateline Complex area. The following also remain closed: St. Joe River Rd/Highway 50 between Bluff and Bruin Creek; FSR 1216 from its junction at Highway 218 to its terminus; Gold Flat Campsite (T16N, R30W, Section 23); several trails and areas within the St. Joe Ranger District. The latest information is available at the links below.

Restrictions: Stage II Fire Restrictions are in effect for the Coeur d'Alene and Grangeville dispatch areas.

---