A hoopin' good time!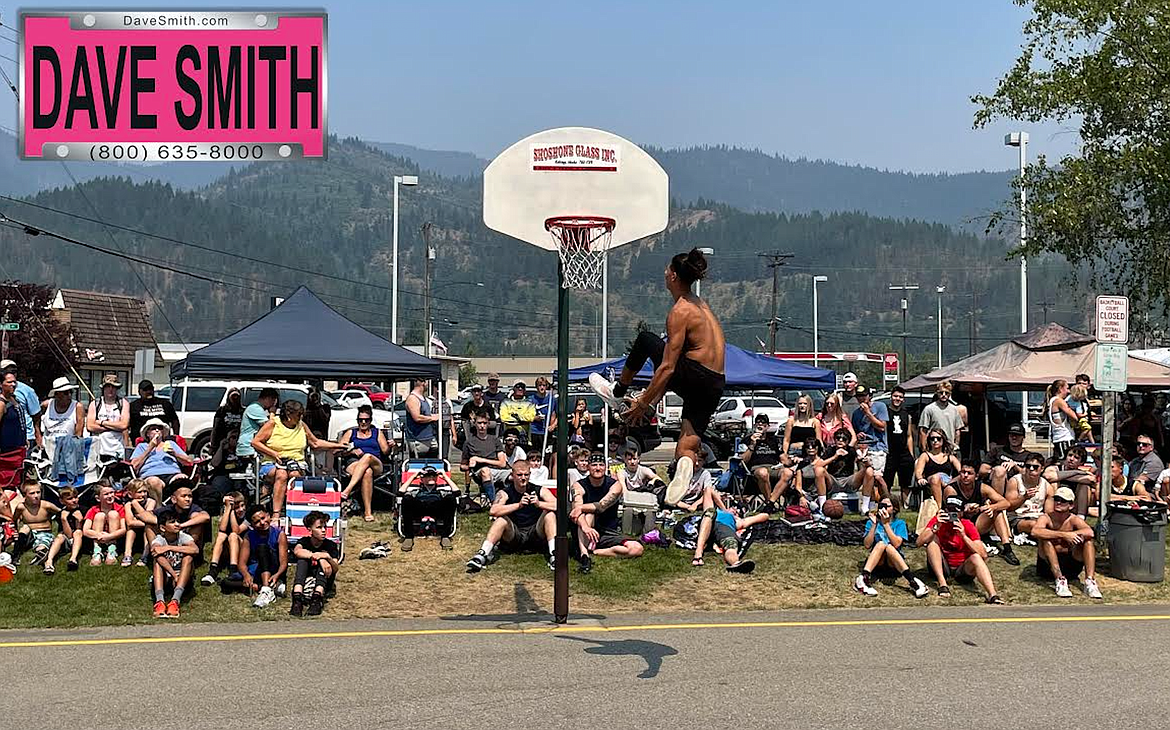 Jalen Skalskiy goes between the legs during the dunk contest at the 2021 Silver Hoops 3-on-3 Basketball Tournament in Kellogg.
JOSH McDONALD
by
JOSH McDONALD
Local Editor
|
July 27, 2021 11:22 AM
KELLOGG — A little heat and some smokey air wasn't enough to slow down the return of one of the Silver Valley's most popular events.
The Silver Hoops 3-on-3 Basketball Tournament attracted 104 teams from across the region over the weekend, all of whom were itching to get their first taste of 3-on-3 basketball action in almost two years.
According to Jeff Colburn, a longtime organizer of the tournament, this year was an average year in terms of attendance — but in light of it being the first year back after COVID canceled the event last year, he and the planning group responsible were pleased with how the event ran.
"The Silver Hoops committee was very happy with the way the tournament went this year," Colburn said. "We thought it was the smoothest event to date. We had plenty of volunteers and all the players and parents were just happy to be outside playing again."
As one of the Silver Valley's largest summer events, Silver Hoops is a big one for area hotels and restaurants — particularly those in Kellogg, where the entire city park becomes a basketball player's paradise.
But the biggest takeaway from Silver Hoops may not be the championship T-shirts, or even bragging rights associated with every single win and loss that happens.
The biggest takeaway was the seemingly palpable feeling of normalcy that was in the air as folks made their way from the park, to the pool, and into the courts at Teeters Field.
"People were excited to get back to the things in life they enjoy that were canceled last year," Colburn said. "Silver Hoops is great — as it is a two-day event and people are here almost all day so it keeps people in town for a couple days eating at our town's restaurants, buying groceries and staying in local lodging. It is a great and growing event for our community that provides a chance for people to compete, old teammates from high school get to come back and play together, volunteers are able to make money for their respective nonprofits and it brings a lot of people to town. It is a great win/win event for our community."
Former Lakeland High School standout Jalen Skalskiy thrilled the crowd during the dunk contest on Saturday, including a between-the-legs jam that won him the $100 prize.
Colburn also extended a thanks to the city of Kellogg for getting the basketball courts ready for the event, including fresh paint, weed eating and repairing the cracks in the asphalt.
•••
This story is brought to you by Dave Smith Motors, a proud sponsor of all Silver Valley athletics!
Recent Headlines
---