Nancy Carole Gribble, 72
Beloved mother, grandmother and sister, Nancy Carole Gribble, 72, of Mullan, Idaho, passed away May 1, 2021, at her home in Mullan. She was born Oct. 17, 1948, in Iroquois, S.D. Nancy was the daughter of Bernelle and Shirley (Melstad) Brown.
Nancy attended schools in South Dakota, Arizona and California. She moved to Mullan in 1970 from California.
Nancy met the love of her life, Ron Gribble, while working on the first female brush crew for the U.S. Forest Service at the Shoshone Work Camp. Nancy and Ron were united in marriage on April 2, 1971, in Mullan.
Nancy was a homemaker, but she had also worked as a clerk at the Excel Foods in Wallace, had served in housekeeping for the Silver Wood Good Samaritan in Silverton and finally, she worked at the Shoshone County Courthouse in Wallace in housekeeping; she then retired.
Nancy was so dedicated to her community and the people residing here, of whom she loved; she volunteered at the Captain John Mullan Museum, she helped to prepare luncheons for the Mullan Seniors, served for the Senior Companions and helped to council battered women. Nancy also volunteered and rang the bell around Christmas time for the Salvation Army and had volunteered for the March of Dimes.
Nancy loved and enjoyed her family and grandchildren, scrapbooking, putting together photo albums, gardening, reading, sewing, quilting, attending Saturday night dances with her companion Charlie and attending her grandchildren's functions and events.
Nancy is survived by three sons, Jeff (Lisa) Griffis of St. Regis, Mont., Jason (Kresta) Gribble of Mullan and Jeremy (Amy) Gribble, also of Mullan; 11 grandchildren; her companion of seven years, Charlie Newell of Mullan; four sisters, Diane Brown of Hayden Lake, Idaho, Cheryl (Mike) Groth of Cataldo, Idaho, Janice Hoskins of St. Regis and Audrey (Craig) Olson of Kalispell, Mont.; and one brother, Steve (Gail) Brown of Hayden Lake. She is also survived by numerous nieces and nephews. Nancy was preceded in death by her parents; her husband, Ron Gribble who passed away April 26, 1999; two children and two brothers.
A celebration of Nancy's life will be held at 11 a.m. Saturday, May 8, 2021, at the Morning Club in Mullan. A reception and potluck luncheon will follow the celebration; everyone is welcome.
Nancy loved to make everyone smile and always saw the good in people. She loved to help everyone and wanted only happiness for the people she loved.
The family suggests memorials may be made to a Mullan charity or to a Mullan community effort, in memory of Nancy.
Shoshone Funeral Services & Crematory, Kellogg, Idaho, is entrusted with services. You may share your memories of Nancy and sign her guest book at www.shoshonefuneralservice.com.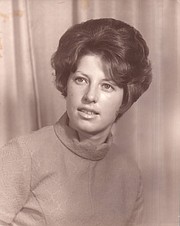 ---