Depot Day embraces online contest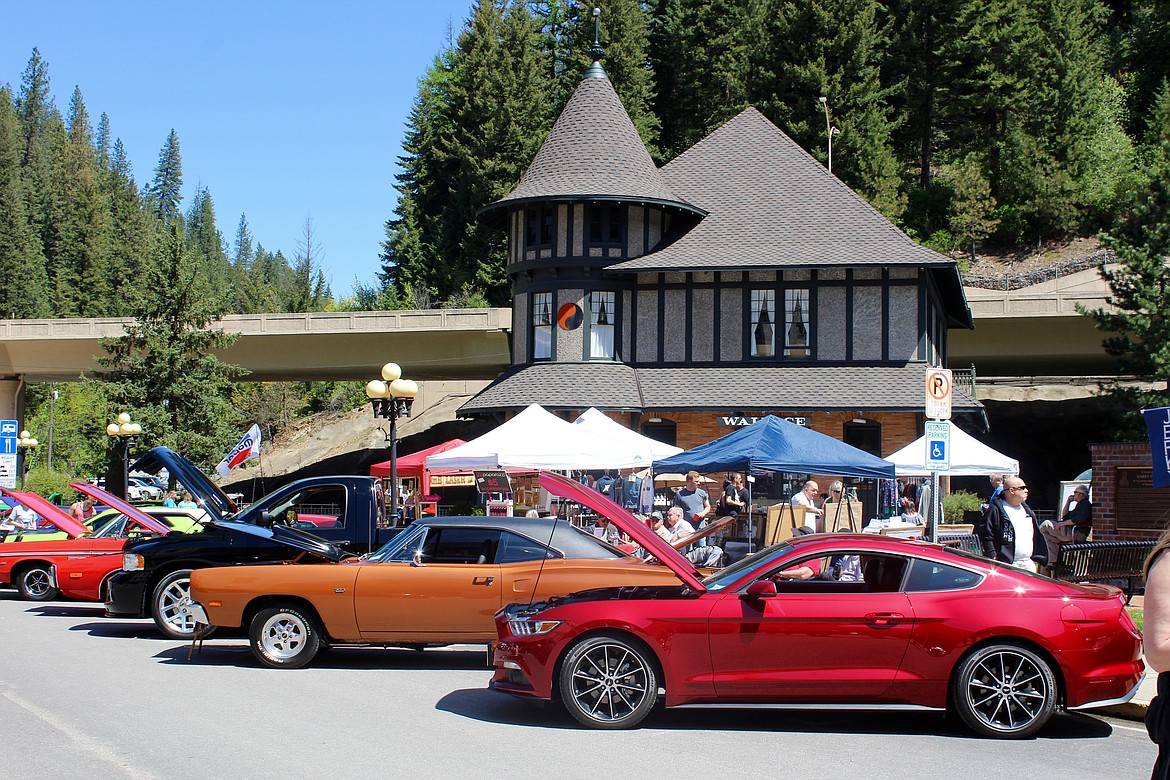 Photo by CHANSE WATSON Classic cars and vendor booths in front of the Northern Pacific Depot Railroad Museum for the 33rd annual Depot Day Car Show.
by
CHANSE WATSON
Managing Editor
|
May 4, 2021 7:00 AM
WALLACE — The COVID-19 pandemic continues to influence the event schedule in the Silver Valley, as the annual Depot Day car show will once again be held online this coming Saturday.
Instead of classic cars lining the streets of downtown Wallace this year, photos of those same cars can fill your computer screen by checking out the virtual "No Show-Car Show" on the Northern Pacific Depot Railroad Museum website.
North Pacific Railroad Depot director Shauna Hillman explained that holding the in-person show just couldn't be done this year.
"The Depot is a city building, therefore that makes us have to abide by State of Idaho pandemic rules," she said. "So the Depot Day committee decided that it was too early in the recovery from the pandemic to bring 2,000 different people to town."
Despite the event being online though, Hillman has been informed that multiple car clubs are planning to drive their cars through town. Because of this, she invites anyone who wants to show off their wheels to drive through Wallace between 10 a.m. and 2 p.m. on Saturday.
The Depot Day committee has been collecting submissions from all over and displaying them for everyone to see on the special "No Show-Car Show" page.
So far, roughly 20 submissions have come in, but there's historically a large rush of registrations closer to the deadline.
To register, car owners simply fill out the registration form online and send in a picture of their car. In return, the owner will receive a dash magnet to show that their car participated in this year's unique event. The deadline to register and submit a car is Friday, May 7 at 5 p.m. PDT.
Hillman is hoping to reach 80 submissions — the same as last year.
Everyone who registers will be allowed to vote for the "People's Choice" award. The coveted "Best in Show" prize will be determined by judges and announced either Sunday or Monday.
The Depot Day car show is the primary fundraiser for NPDRM and has become a staple of the Wallace festival lineup.
While this virtual show won't bring in the same turnout as the real in-person event, Hillman is still excited to see people supporting a piece of Wallace history.
"The number of people that register because they want to support the NPDRM is overwhelming," she said."I'm a little bit excited to see how many will just come to cruise through Wallace!"
To see the virtual car show or to register, visit the NPDRM's website. Those wanting to register can also call the NPDRM at 208-752-0111.
The NPDRM will also be open normal business hours over the weekend.
---