Wildcat boys ride district championship into state match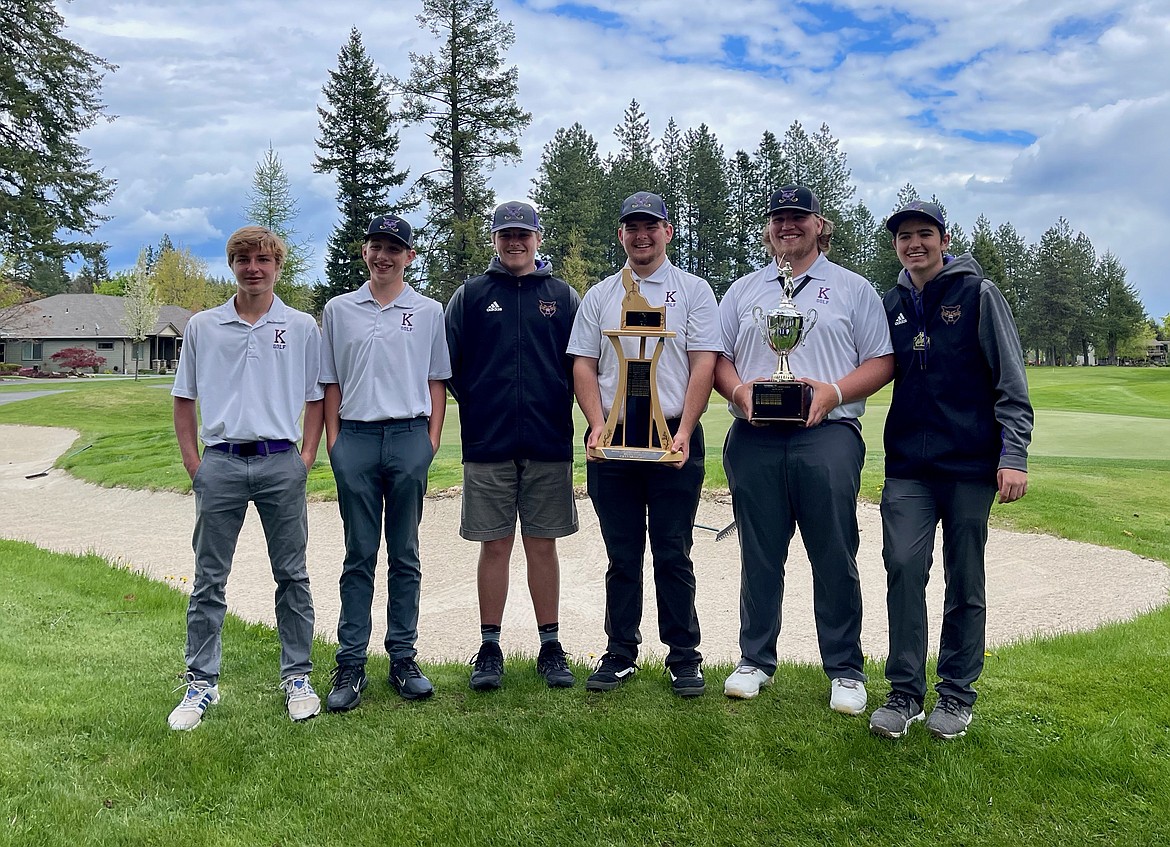 The Kellogg High School boys golf team stands with their Intermountain League regular season and district match trophies. The team is headed to state as the IML champs and will be joined by their female counterparts who took second at the district match. Pictured (from left) are team members Jaeger Hall, Stephen Paul, Ben Bristow, Robby Bublitz, Griffey Doerschel and Archie Rauenhorst.
Courtesy photo
by
JOSH MCDONALD
Staff Reporter
|
May 13, 2021 2:47 PM
KELLOGG — The Kellogg High School Golf Program is the gold standard for the Silver Valley as it pertains to high school athletics and 2021 is no different than previous years.
Earlier this week, the Wildcat boys shot their way to their 12th consecutive Intermountain League championship and 18th consecutive 3A state match appearance.
Led by Stephen Paul, the Wildcat linksters have romped through every league match this season and are heading into the state match as one of the favorites to bring home the big white banner.
Paul, who shot a one-over-par 73 to win earn the medalist honors at the IML District match, is just a freshman and along with talented veterans Archie Rauenhorst, Robby Bublitz, Ben Bristow and Griffey Doerschel are just two solid showings away from capturing the school's third championship in the last five seasons.
For the elder statesmen of the team, this coming Monday and Tuesday could be the crowning achievement in righting a wrong from last year's season that was cruelly ripped from them due to COVID-19.
"The Wildcat boys were pretty disappointed when they finished third at state in 2019. They then lost Taylor Bush and Graden Nearing from that squad after the canceled 2020 season," head coach Simon Miller said previously.
It was almost a certain top-2 finish that was expected last season, with Kellogg being the odds-on favorite, something that has stuck in the backs of every Kellogg golfer's mind this year.
Kellogg's last title was in 2018, when the state match was held at Twin Lakes Golf Course, which is the same site as this year's state match and also the same course that Wildcats won the district match at, so to say that the odds are very much favoring Kellogg right now might be a bit of an understatement.
In 2018, the Kellogg boys shot rounds of 323 and 330 for a combined score of 653 to win the 'ship, so their score of 338 during Monday's district match puts them right in the ballpark to do it again.
Kellogg's girls team is still young and basically learning as they go, but fortunately they are improving seemingly every time they step on the course.
Led by junior trio Allysa Milliron, Gracie Miller and Jezzy Hall, the Lady Wildcats finished second overall as a team at the district match to qualify for the state match.
Kellogg's "Fearsome Foursome," which also includes fresh(wo)man Elliot Hei, is a wildcard this year at the state match as they come in slightly under the radar, but with gobs of experience on the challenging Twin Lakes course.
There is no doubt in Coach Miller's mind that the Lady 'Cats can find themselves right in the mix for a trophy, but it will depend on how they navigate the tough, but familiar course.
The Wildcats have all of the pieces in place for both teams to contend and Miller hopes that his squad recognizes the opportunity in front of them without succumbing to any preconceived pressures.
"To say Wildcat Golf tradition is strong, would be a monumental understatement," Miller said. "But with that long streak of success and tradition also comes expectation. With expectation comes pressure."
3A State Golf begins on Monday, May 17, and runs through Tuesday with tee times starting at 8 a.m.
Wallace's Hayden Hogamier qualified as an individual and will represent the Miners during the 2A State Golf Match at Circling Raven Golf Course next to the Coeur d'Alene Casino.
---