Big name, small town
by
Jordan Thomas
|
May 21, 2021 12:00 PM
One hundred and seventy five years ago this week, James Frederick Wardner was born on May 19, 1846 and proceeded to live anything but a dull and idle life.
Jim Wardner, the namesake of Wardner, Idaho, detailed his time in the Silver Valley in his autobiography which was released in 1900. Wardner began telling his story by stating, "In recording the incidents, adventures, business affairs and unique experiences of a life that has never known idle moments and that has, in its feverish haste for gain, invaded nearly all countries and all climes, from the northern extremities of Alaska to the southern parts of Africa, I shall relate only facts and actual personal observations."
Wardner started his first business venture at 8 years old. He convinced his mother to loan him seventy five cents to buy a pregnant rabbit and sold the babies for a profit. He continued to spend his time making and losing money in various ventures all over the country. Wardner was a hospital steward for the Union Army in the Civil War, worked in pharmaceuticals, invested in a hog farm that failed, and many other things before he started mining.
In 1883, Wardner headed west to the Coeur d'Alenes, along with many others, in hopes of finding a fortune in the country's newest mining boom. Always looking for a new and prosperous business idea, Wardner first started a freighting business and hauled freight from Thompson Falls to Murray and also built a ditch to carry water to the diggings in Trail Gulch. He became a well-known member of the Murray community in his time there.

According to his autobiography, Wardner was on his way back to his family in the east in 1885, when he stopped at the saloon to say a final goodbye to his friends in Murray. After several drinks, he was standing in the street preparing to mount his horse and head for the train in Spokane when John Flaherty rode into town and proclaimed, "Say, Jim, I have seen a mine what is a mine. I have located both extensions, and I want you to go to work and git there as quick as you can." Knowing that something extraordinary must have happened to excite his friend, Wardner completely forgot that he was headed home and started towards what would become the Bunker Hill and Sullivan Mines.
Upon arriving at the site of the discovery, Wardner immediately reserved the water rights that would be needed to run the operation and offered up the money needed to fund it. After securing the Montana Territory's governor, Sam Hauser, as an investor, the mine was up and running. Not long after, the lively town of Wardner was started.
The town of Wardner boomed and people quickly flocked to the town. As he usually did, Wardner found more opportunities to make himself some money. He first bought and sold all of the corner lots in town for a profit and then founded the Bank of Wardner. After a little trouble starting out the bank did well. Wardner eventually sold his stake in the Bunker Hill and Sullivan Mines for a substantial sum and moved on to other adventures.
Jim Wardner was a well-known character throughout the western states. When he passed away his death was reported across the West. On April 3, 1905, The Daily Silver State in Winnemucca, Nevada reported that, "James F. Wardner, whose death in El Paso, Tex., is announced, was perhaps the best-known pioneer mining man of the Northwest... Wardner was connected with large mining deals from the Klondike to the Isthmus of Panama, had lost at least four fortunes, and at the time of his death was the owner of a quicksilver mine in Mexico."
Jim Wardner lived an extraordinary and unbelievable life that left its mark on the Silver Valley and the mining towns of the West.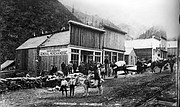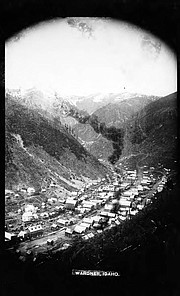 Recent Headlines
---