Silver Valley Sports Recap: Oct. 25-31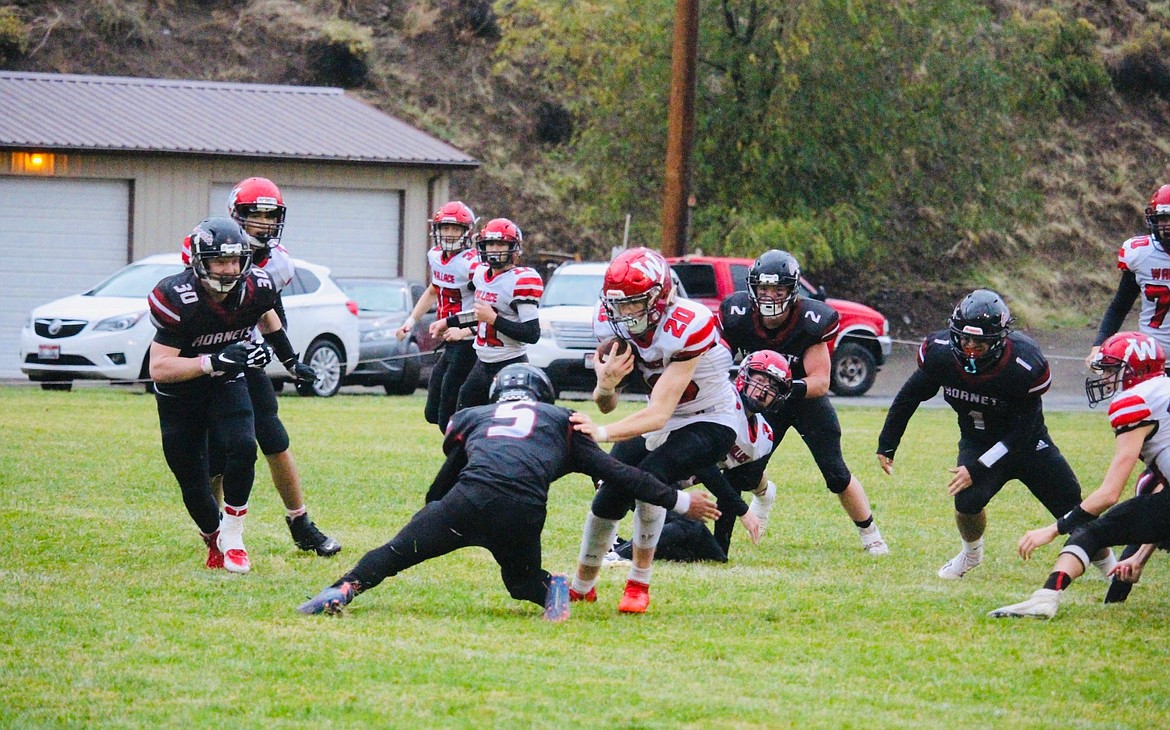 Wallace's Liam Murdock stiff arms an Oakley defender during the Miners' playoff loss to the Hornets last weekend in Riggins.
Photo by GINA WILKINSON
|
November 1, 2021 2:59 PM
KELLOGG FOOTBALL
Kellogg 30, South Fremont 35
REXBURG — A costly late penalty stalled a potential game-winning drive for the Wildcats who lost their playoff qualifier to the Cougars.
Played on at the neutral site of Madison High School, the 4-4 South Fremont made the 14-mile trip, while comparatively 6-2 Kellogg traveled 430 miles for the game.
The game was competitive from the outset, but the Cougars took an early lead that they held throughout the game.
Leading 15-8 at the intermission, South Fremont extended their lead in the second half, but not without some controversy.
From the 8-yard line, the Cougars completed a pass, but Kellogg's Kolby Luna delivered a crushing hit that forced the ball out where it landed in the hands of Wildcat defensive back Jaeger Hall who sprinted toward the opposite endzone.
The controversy lies in the fact that the sideline official called it a Cougar touchdown when it didn't appear that South Fremont's receiver or the ball had crossed the goal line.
Despite the disputed call, trailing 35-16, Kellogg stormed back into the game and cut the deficit to five with plenty of time left in the fourth quarter.
After forcing South Fremont to punt, junior quarterback Riply Luna had the Wildcat offense rolling deep into Cougar territory, but an illegal shift call took away a 20-yard gain and put the Wildcats at midfield where they stalled out.
For Kellogg it was a heartbreaking way to end what was an entertaining season that saw several records broken and had the Wildcats looking like real threats to challenge for a state trophy.
Kellogg will return several players, including both of the Lunas as well as newcomer Varick Meredith, along with their young core should be favored to contend for the Intermountain League championship as well as another playoff berth next year.
WALLACE FOOTBALL
Oakley 64, Wallace 8
RIGGINS — The Miners knew that they were going to be climbing as soon as they won their Kansas City Tiebreaker last Monday against Lakeside.
By virtue of winning that, they were "gifted" a first round matchup against championship-hopeful Oakley.
Poor weather made things difficult for both teams, but that didn't damped the competitive nature of the game.
The Hornets got after the Miners right away, but Wallace didn't back down, instead it was hard nosed football — but costly mistakes led to Oakley points.
"They were a strong, tough team, but we actually made them work for everything," Wallace Head Coach Jared Young said. "We played pretty well most of the time, just gave up some big plays at bad moments. Oakley will be a tough out this playoffs with their depth at the skill positions and they have some good linebackers, which made it tough on us running the ball."
Wallace put their scoring drive together to end the first half, going more than 60-yards before quarterback Landon Streeter punched a score in. He then hit Parker Goldade on a diving catch for the 2-point conversion.
For Young, getting his team back into the post-season was one of the early goals for the Miners, who had struggled over the last few seasons with low numbers and several injuries.
"The fact that we got to the playoffs was a big deal for this team this year, we had to battle to get there," Young said. "I am very proud of how our team hung together through adversity this year. I sure will miss the Seniors and their commitment to the program, and their leadership, they deserved to make it to the playoffs."
Wallace is losing seven seniors this year, which made up a large chunk of their program, but are returning several key players who will look to build off of their successes from this season.
KELLOGG VOLLEYBALL
3A State Tournament at Lake CIty High School
Oct. 29
COEUR d'ALENE — Despite riding a wave of momentum into the state tournament, the Lady Wildcats seemed a little flat-footed during their two-and-out appearance.
In their opening match, Parma used size to challenge Kellogg at the net, which made things difficult for the Wildcats who lost in four sets (12-25, 25-18, 21-25, 21-25).
After tying things up in set two it looked like the Wildcats would pull away, but their attacks stalled out and the Panthers advanced.
With the tournament's double-elimination, the loss didn't kill Kellogg's dreams of bringing home a trophy and they had a very winnable matchup ahead of them with Snake River.
However, the stalled play continued and Kellogg lost the battle of Wildcats in five sets (25-16, 22-25, 25-17, 23-25, 17-15).
The loser-out matchup was a game of runs and the Wildcats found themselves on the bad side of a Snake River run in the shortened final set to end their season.
Despite coming up short, head coach Steph Batchelder was proud of her team and their resilience.
"I'm proud that we never gave up and the girls fought 'til the end," Batchelder said. "Overall, we just couldn't gain momentum all at the same time which made it hard to string points together and get our energy to full force. I'm also proud that they won the sportsmanship trophy again this year."
KELLOGG CROSS COUNTRY
3A STATE MEET
EAGLE — Kellogg sophomore Makai Peak finished 13th overall in a crowded men's field to bring home a medal for the Wildcats with a time of 17:14.8.
Teammate Lacey Medina finished 38th overall in the women's race.
3A BOYS TEAM SCORES — 1, Sugar-Salem 42. 2, Snake River 47. 3, Kimberly 117. 4, Fruitland 143. 5, South Fremont 145. 6, Buhl 161. 7, Timberlake 208. 8, Parma 218. 9, McCall-Donnelly 232. 10, Coeur d'Alene Charter 239. 11, Bonners Ferry 268. 12, Marsh Valley 313.
STATE MEDALISTS (Top 20) — 1, Keegan McCraw, Snake River, 16:19.3. 2, Lincoln High, Snake River, 16:21.2. 3, Jack McManus, McCall-Donnelly, 16:53.2. 4, Brigham Dalling, Sugar-Salem, 16:57.6. 5, Mason Smith, Sugar-Salem, 16:59.9. 6, Logan Davis, Cd'A Charter, 17:03.5. 7, Porter Holt, Sugar-Salem, 17:06.4. 8, Grayden Devries, Kimberly, 17;07. 9, Jacob Barnhart, Timberlake, 17:10.3. 10, Connor Alexander, Bonners Ferry, 17:11.1. 11, Mason Lewis, Sugar-Salem, 17:12.2. 12, Connor Beck, South Fremont, 17:13.9. 13, Makai Peak, Kellogg, 17:14.8. 14, Leo High, Snake River, 17:23.4. 15, Brock Goodwin, Snake River, 17:24.2. 16, Dylan Ball, Sugar-Salem, 17:24.9. 17, George Spiers, McCall-Donnelly, 17:26. 18, Rylan Anderson, Snake River, 17:27. 19, Parker Dupree, Sugar-Salem, 17:28.3. 20, Bronson Beus, Parma, 17:33.4.
LOCALS — 49, Evan Howell, Timberlake, 18:19.4. 50, Izan Gonzalez Martin, Cd'A Charter, 18:20.7. 52, Nathan Russell, Cd'A Charter, 18:25.1. 53, Dylan Lord, Priest River, 18:27.1. 54, Dylan Nelson, Timberlake, 18:29.6. 55, Taylor Menti, Timberlake, 18:40.7. 59, Jacob Howell, Timberake, 18:49.3. 61, Mason Zollinger, Timberlake, 18:52.7. 63, Levi Bonnell, Bonners Ferry, 19:02.3. 67, Colin Fairchild, Bonners Ferry, 19:10.3. 72, Nolan Oyler, Cd'A Charter, 19:44.4. 75, Justin Strugar, Bonners Ferry, 20:09.8. 76, Wyatt Smith, Bonners Ferry, 20:10.6. 77, Jack Rigg, Cd'A Charter, 20:12.4. 79, Connor Smith, Cd'A Charter, 20:16.2. 80, Ryan Beckle, Bonners Ferry, 20:29.1. 86, Carson Dineen, Bonners Ferry, 22:29.6. 88, Andrew Magini, Cd'A Charter, 23:47. GIRLS TEAM SCORES — 1, Snake River 67. 2, Sugar-Salem 69. 3, South Fremont 82. 4, Weiser 126. 5, Kimberly 162. 6, Parma 177. 7, Coeur d'Alene Charter 187. 8, Bonners Ferry 197. 9, Filer 215. 10, Fruitland 218. 11, Timberlake 274.
STATE MEDALISTS (Top 20) — 1, McKenna Kozeluh, Cd'A Charter, 18:46.8. 2, Emma Hillam, Fruitland, 18:53.6. 3, Jaresa Jackson, Sugar-Salem, 19:25.2. 4, Cecily Eageton, South Fremont, 19:32.6. 5, Kailee Lerew, Weiser, 19:41.1. 6, Kylee Quinton, Weiser, 19:41.3. 7, Hailey Raymond, Snake River, 20:00.9. 8, Ryley Klingler, Sugar-Salem, 20:05.1. 9, Ainslee Miller, Snake River, 20:06.7. 10, Reagan Van Orden, Snake River, 20:10.7. 11, Alli Stastny, Kimberly, 20:11. 12, Christa Edler, Filer, 20:11.1. 13, Maya Kelsey, Filer, 20:30.5. 14, Sage Lyon, South Fremont, 20:38.9. 15, Breklynn Gee, South Fremont, 20:40. 16, Hailey Dalling, Sugar-Salem, 20:48.1. 17, Kendall Rynearson, Weiser, 20:55.1. 18, Sophia Dougherty, Sugar-Salem, 21:00.7. 19, Mckenzie Winegar, South Fremont, 21:00.9. 20, Allister Dillow, Snake River, 21:03.9.
LOCALS — 22, Natal Davis, Cd'A Charter, 21:09.6. 25, Camille Ussher, Bonners Ferry, 21:19.2. 26, Ceci Roemer, Bonners Ferry, 21:27.8. 35, Sydney Beckle, Bonners Ferry, 21:55.1. 37, Haileyann Johnson, Timberlake, 22:05.9. 38, Lacey Medina, Kellogg, 22:07.7. 48, Aubrey Jenson, Timberlake, 22:50.2. 50, Izabella Cornell, Timberlake, 23:05.3. 55, Jane Robinson, Cd'A Charter, 23:29.4. 58, Lauren Stephens, Cd'A Charter, 24:06.9. 59, Leah Moellmer, Bonners Ferry, 2411.6. 62, Jayden Byars, Bonners Ferry, 24:28.9. 63, Peyton Duffield, Cd'A Charter, 24:30.7. 67, Nora Thorshaug-Wang, Cd'A Charter, 25:06.1. 75, Liliana Brinkman, Bonners Ferry, 27:07.2. 76, Fallon Pryor, Timberlake, 27:22.5. 77, Trina Johnson, Bonners Ferry, 28:07.6. 78, Elisa Franchini, Cd'A Charter, 28:44.6. 79, Rachel Nelson, Timberlake, 28:50.6. 2
WALLACE SWIMMING
MOSCOW — The Wallace Swim Team will send a representative to the 4A state meet in Boise this weekend following the North Idaho Districts I and II 4A Championships meet at the University of Idaho Oct. 30.
For the second straight year, senior Dorsey Pearson qualified for the state meet in the 200-yard freestyle after posting a personal best and improving the school record to 2:07.01 and finishing fourth at districts. Pearson also improved in the 100-yard freestyle by almost two seconds at 56.45 to finish fifth.
"I'm excited to represent Wallace and the north districts in Boise next weekend," Pearson said.
Junior Aydin Hasz claimed fourth place in the 100-yard butterfly by improving his school record by almost three seconds to 1:09.5. He also finished fourth in the 100-yard breaststroke in 1:19.65.
Sophomore Kendra Korasick swam her best 100-yard freestyle race of the year for a dazzling fourth-place finish in 1:14.84, a two-second improvement on her personal best. The first-year Wallace Miner also swam the 50-yard freestyle in 33.11 for a 10th place finish.
Junior Jordan McNeil claimed 9th place in the boys 50-yard freestyle at 29.12, and freshman Gage Wood finished 13th in the same event at 43.50.
The Wallace boys entered a team into the 400-yard freestyle relay.
Recent Headlines
---